True Gynecomastia is the development of enlarged breast tissue in men usually caused by an imbalance of the hormones estrogen and testosterone. It can happen to any male at any time in their life and can greatly affect confidence and self-esteem.
At The Private Clinic we have a variety of treatments to get rid of gynecomastia or man boobs as they are more commonly referred to without surgery.
Surgical removal is often the most common way to remove gynecomastia which is performed in a similar method to surgical breast reduction for female patients. Unless you have a severe case of gynecomastia then a more minimally invasive method may be an option for you.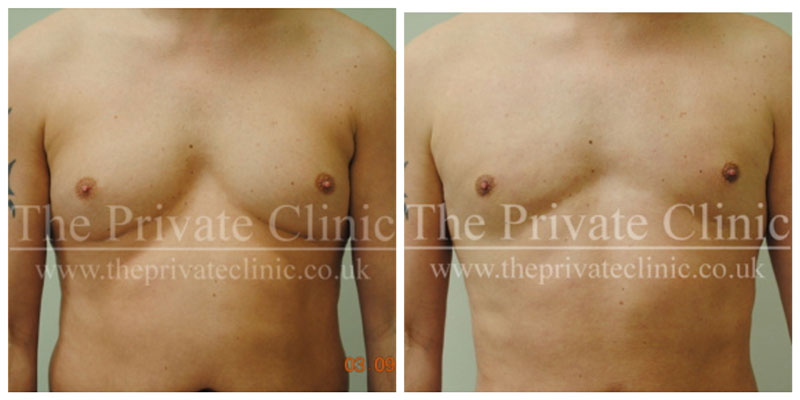 Our team of doctors and surgeons have extensive experience in treating gynecomastia and are able to offer vaser liposuction to men who have a mild form of gynecomastia and the appearance of soft breast tissue can often be effectively removed by vaser liposuction alone.
Vaser Liposuction is performed under a local anaesthetic with the option of sedation if requested. The fat in the chest area is liquefied before it is then removed from the body through a gentle suction process. The result is an overall reduction in fat with minimal scarring and little downtime.
Our team of expert surgeons for male chest reduction with vaser liposuction include; Mr Roberto Uccellini, Dr Dennis Wolf and Mr Maisam Fazel who work out of our UK Gynecomastia clinics in London Harley Street, Northampton and Birmingham.
While it can be true that losing weight and excess fat from the chest area can help to improve the appearance of the chest, this is only to some extent and diet and exercise often do not have a huge impact on the breast tissue. There are many claims of pills and home remedies to help cure gynecomastia but these often come with no medical proof and can often do more harm than good.
The only way to find out whether gynecomastia surgery or one of the non-surgical options is best for you is to schedule a consultation with one of our doctors or surgeons who will be able to conduct a comprehensive assessment of your condition and tell you what the best treatment is.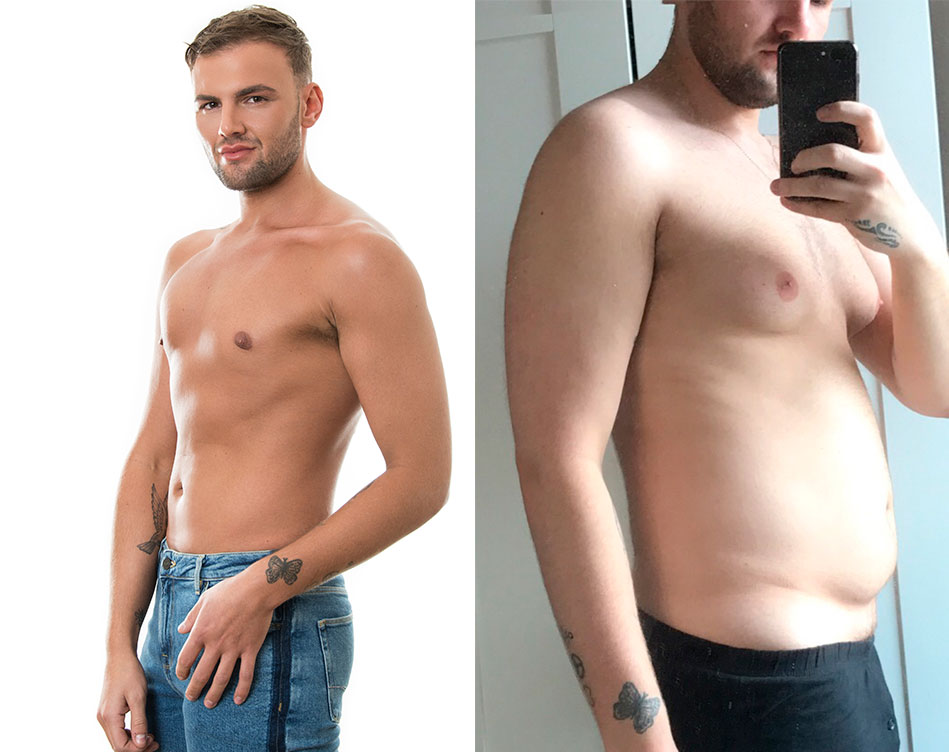 Click here to see more before and after photos of male chest reduction
Why You Should Choose The Private Clinic for Non-Surgical Male Chest Reduction?
By coming to The Private Clinic for your chest reduction procedure you can rest assured you are in the best possible hands and that you will get the results you were hoping for. We have carried out thousands of procedures.
Consultation with expert specialist surgeons who are very experienced in male chest reduction and gynecomastia.
24 hour patient helpline meaning we are only ever a phone call away should you feel the need to contact us.
As many post-operative care and appointments with your surgeon, doctor and nursing team as required.
One year cover for all surgical, hospital and nursing care, in case of any medical issue giving you peace of mind
Outstanding hospital and clinic facilities.
Competitively priced for our expertise and experience.
Comprehensive patient information, every step of the way.
Our excellent reputation for patient safety and satisfaction, honest advice and outstanding care means your journey with The Private Clinic will be an exciting experience to a newfound shape.
See our gallery of before and after photos here.
If you would like to arrange a consultation with one of our renowned specialists, please call us on 0333 920 2471 or click here.