Dealing with Gynecomastia and self confidence
GYNECOMASTIA & MALE CHEST REDUCTION
Home » Dealing with Gynecomastia and self confidence
Self-confidence and self-esteem are key statements that can help to define the way that a person feels about themselves and can really affect how you are in your career and in personal relationships. For men dealing with gynecomastia which is abnormal breast enlargement, it can become a big impact on their life.
Men that come to us looking for options describe struggling with a range of things from physical intimacy to sporting activities – all of which can be emotionally challenging and embarrassing.
It is a common misunderstanding that the enlargement of a male chest is down to being overweight. Excess weight can cause gynecomastia to be more noticeable but the majority of men with gynecomastia have already tried rigorous exercise and diets in hopes of changing the size of their breasts but in true gynecomastia, this is not always an effective solution.
True gynecomastia is when overly large male breasts are caused by an excess production of glandular tissue in this area. The extra tissue build up usually occurs during puberty due to the hormonal changes. For many, this gradually resolves itself on its own usually 1-2 years following the end of puberty. But for some, this does not happen and it is then that you would require direct removal of the tissue to help men reduce the appearance of male breasts and improve their overall chest contour.
Gynecomastia can occur in both or just one side of the chest and common symptoms include tenderness and swelling of the breast tissue. Other causes of the condition could be diet, aging, hormones, obesity and the use of some medications or steroids.
Many men choose not to seek medical help with gynecomastia because being able to show someone their chest can be challenging. Our team here at The Private Clinic are very understanding of the condition and treat all of our patients with dignity and respect. It is our aim to not only improve the appearance of the chest but to improve how you feel about yourself mentally too.
We have a range of gynecomastia procedures to offer those looking to reduce the size of their chest including;
Vaser Liposuction – Vaser liposuction for gynecomastia is one of our most popular options for male chest reduction. It is performed under local anaesthetic which means no overnight stay is required. The fat cells removed are permanently destroyed making it very unlikely they will occur in the same place again. Overall the treatment can help to give you a more sculpted and toned chest.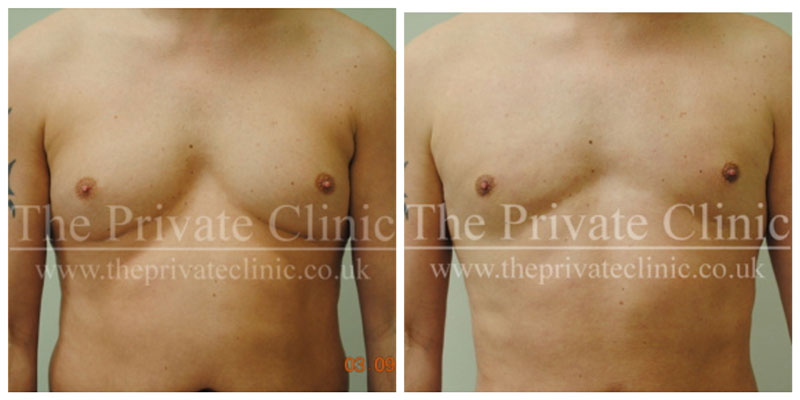 Micro Lipo – Micro lipo for gynecomastia is ideal for male chest reduction as it is often such as small area being treated. With those with only minor symptoms of gynecomastia this would be the best option as the smaller cannulas used reduces the risk of irregularities and depressions in the skin compared to regular liposuction.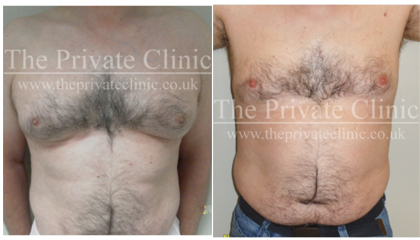 Surgical Liposuction Removal – Surgical liposuction for male breast reduction may be suggested to men who have a little more fat and tissue that may need to be removed. This is performed under general anaesthetic so you may be required to stay overnight but your surgeon will discuss this with you before you decide to book. Surgical liposuction does require a longer recovery period but this will only be suggested if the surgeon feels that the results from micro or vaser lipo alone would not give you the results that you desire.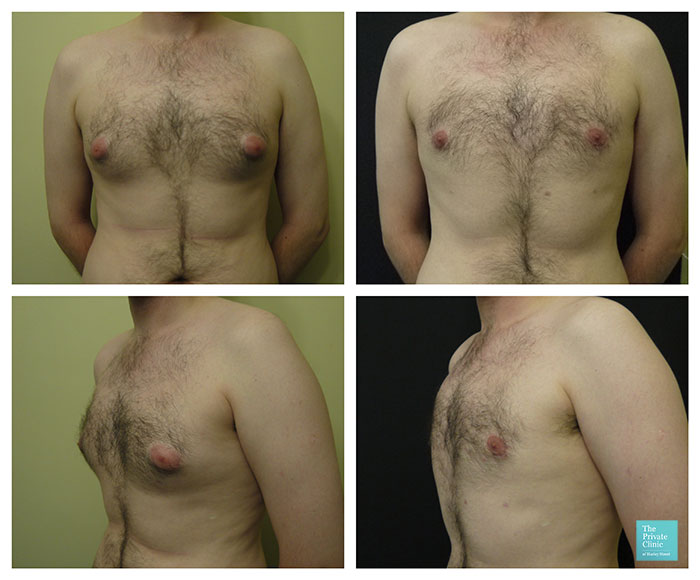 Patient Alex had recently lost 4 stone and despite this huge achievement, he was still feeling unhappy about the appearance on his body, his chest in particular. As he lost weight from other parts of his body, he noticed that his chest was not reducing in size and that it was becoming more noticeable as the rest of him was becoming slimmer and more toned. Alex found out he was suffering with a condition called Gynecomastia and began his research to seek medical advice to help him reduce the size of his chest. Alex had vaser liposuction with The Private Clinic to reduce the size of his chest and is overjoyed with the results.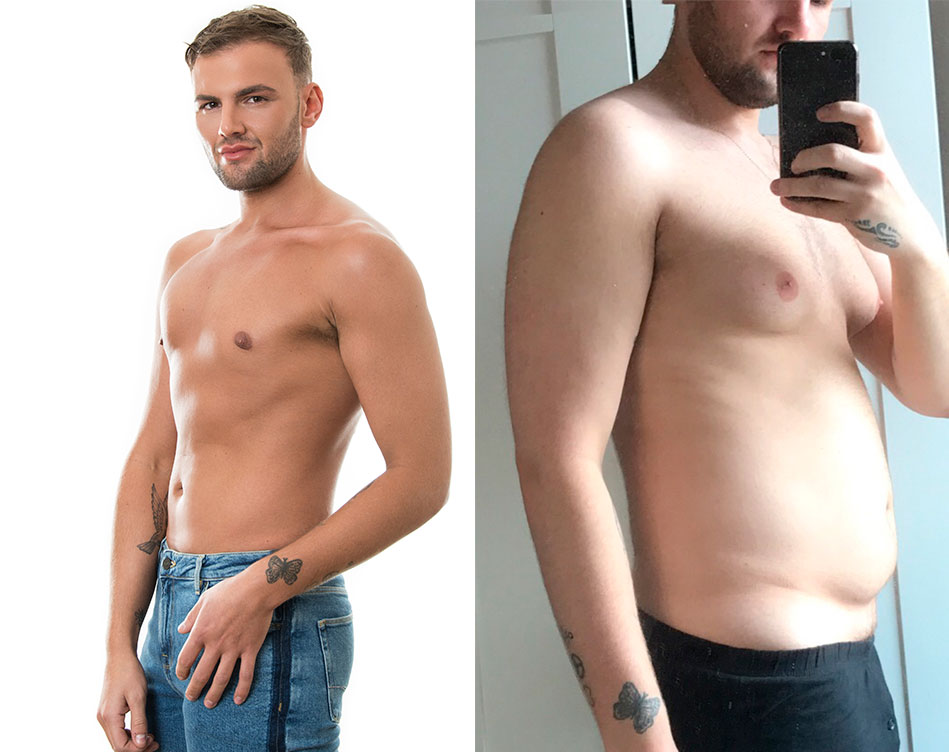 "This procedure has changed me for life! I can finally feel confident to take my top off on holiday and can comfortably wear t-shirts without having to hide in black baggy tops! It's completely changed my look; it's made me love me more."
Why choose The Private Clinic for Male Chest Reduction?
Our Microlipo treatment scored 9 out of 10 on TATLER Guide to Beauty and Cosmetic Surgery. We are the first to offer this revolutionary treatment in the UK.
We are the UK's leading non-invasive cosmetic group and have some of the most experienced nurses and laser practitioners in the country working with us. For over 35 years we have successfully treated thousands of patients.
By coming to us for your male chest reduction procedure you can rest assured you are in the best possible hands and that you will get the results you were hoping for.
There are no hidden costs.
We afford all our patients the right care well before, during and long after every procedure.
You will have a Patient Coordinator, who you can call as much as you need, throughout your Private Clinic journey.
You will only be treated by industry-leading, highly experienced doctors and surgeons.
Our nurses, technical assistants and therapists are all very experienced and well trained.
Our aftercare promise – you can call, email and visit us to discuss how we tailor-make each procedure and offer ethical and professional aftercare for every patient.
We are contactable 24/7, 365 days a year for patients.
We are competitively priced for the expertise and professionalism we provide every patient.
Please note that doctor's experience and advanced liposuction techniques are key things required to achieve the desired results. The Private Clinic has performed the highest number of minimally invasive liposuction treatments in the UK. We were the first to introduce VASER and VASER High definition to the UK, as such our doctors have unmatched experience when it comes to body contouring. Safety is our number one priority. Make sure to go to a qualified and highly experienced doctor to avoid disappointments.
To find out more about male chest reduction you can contact us on 0333 920 2471 or use our online contact form for Gynecomastia.