Hair Transplant Near Me
HAIR LOSS & HAIR TRANSPLANTS
Home » Hair Transplant Near Me
Looking for a hair transplant clinic near you? Where to get transplant in UK? There are several important factors you should consider before you make your decision:
Check Surgeon Credentials: Check the surgeons' experience in hair transplantation and for relevant qualifications and affiliation with relevant societies, for example, the International Society of Hair Restoration Surgery (ISHRS). Are surgeons are specialised in FUE (the modern, minimally invasive hair transplant method)?
Which hair transplantation methods are available?: Is the advanced FUE hair transplant technique used? Is U-FUE, the Unshaven Hair Transplant an available option? Does the clinic have a trichology department (if your hair loss is premature you may be referred to a trichologist, treating scalp and hair problems)?
Is a Face-to-Face consultation offered?: All reputable surgeons will require you to go undergo a face-to-face consultation pre-procedure, during which your scalp should be assessed and you should be provided realistic expectations.
Aftercare: Find out about the aftercare provided, including if and how many follow-up sessions are offered.
Are specialist techniques used? At The Private Clinic, for example, our surgeons use a unique approach to FUE, whereby only the healthiest of follicular units and selected. They are then transplanted into the same direction your hair grows, to achieve natural-looking results.
Check Before and After Photos: One of the most important research tasks to undertake, seeing before and after photos provides a realistic indication of what is possible to achieve with that clinic. Are results natural-looking and densely packed?
Check Patient Reviews: Finding out patients' first hand accounts of that clinic is an invaluable research source, giving an insight into the overall experience and results that can be obtained. Reviews may be found on the clinic website and sources such as consumer review website, Trustpilot, Facebook Reviews, Google Reviews and Patient Stories.
Check Clinic Certifications: Find out if the clinic offers CQC registered medical facilities.
Hair Transplants at The Private Clinic
At The Private Clinic, we are proud to offer world-leading surgeons for hair restoration in several of our clinics across the UK, who have attained extensive experience and impressive qualifications.
We choose to only offer the most advanced and effective hair restoration technique, FUE. The minimally-invasive, highly precise procedure extracts individual healthy follicular units from your donor area (often the back of the scalp), using a specialised punch device. Your surgeon will then manually transplant the grafts (extracted follicular units) into affected areas.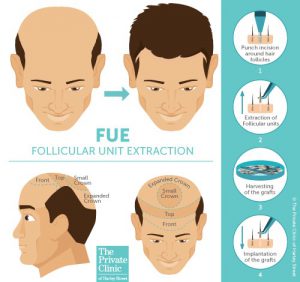 The popular procedure offers patient scarring that is largely undetectable, and no stitches are involved. And as we referred to, our surgeons perform a unique modified FUE method, to achieve more natural-looking results. We also are proud to offer U-FUE (Unshaven Hair Transplant), the revolutionary alternative to FUE which does not necessitate shaving before your hair transplant.
We are dedicated to patient care and aftercare, and offer highly thorough consultations with expert surgeons, detailed pre and post procedure instructions and unlimited face-to-face follow up sessions with your surgeon in the first year after your procedure. Although, we typically advise patients see us at approximately 6 weeks, 3 months, 6 months and 12 months post procedure.
Our FUE treatment is increasingly popular, and we are proud to have established a portfolio of international clients including CEOs and high profile individuals.
FUE Hair Transplant Before and After Photos
See more FUE Hair Transplant before and after photos here.
Hair Transplant Patient Reviews
"I have undergone multiple treatments with Dr Raja including a hair transplant and PRP. Throughout my whole experience I've been treated with respect and made to feel comfortable at all times, both my care on the day of my treatments and before/after has been amazing and way above what I expected. I would absolutely recommend Dr Raja and the wider team to anyone looking to undergo hair related treatments." – R Devlin, Hair Transplant Patient
"…. From the initial consultation with Dr Mouzakis, to the day of my transplant the team have been superb. The surgery was practically painless and very happy with my new hairline, all the team were constantly ensuring I was ok and were very professional. The Aftercare I have received has been great I've had phone call already to check how I am and can phone at any time if I need any advice …" – Sean, Hair Transplant Patient
The Private Clinic, Hair Transplant Clinics Locations
We are proud to present clinics nationwide, in convenient, highly accessible, while discreet locations, all offering world-leading hair restoration specialists:
The Private Clinic Harley Street, London -Hair Transplant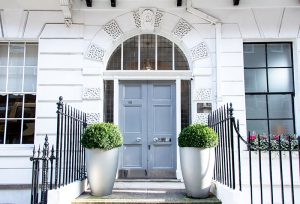 The Private Clinic London, is conveniently located in Harley Street, offering state of the art facilities and comfortable environments.
The flagship clinic presents world renowned hair transplantation surgeons, Dr Luca De Fazio, Dr Furqan Raja and Mr Michael Mouzakis.
Our Hair clinic at 98 Harley Street, W1G 7HZ, is in easy reach of several London areas including: Soho, Notting Hill, Kings Road, Bayswater, Hyde Park, South Kensington, Chelsea, Fulham, Battersea, Regents Park, Green Park, Kensington, St Johns Wood, Primrose Hill, Belgravia, Mayfair, Holland Park, Victoria, West End, Marylebone, Knightsbridge, Earls court and Fitzrovia.
The Private Clinic Birmingham -Hair Transplant

The Private Clinic Birmingham presents a clinical, safe facility, in an easily commutable location from surrounding areas.
Dr Ismail Ughratdar is available at our Birmingham Clinic for FUE hair transplant procedures. Highly experienced in FUE, Dr Ismail Ughratdar is one of the UK's leading neurosurgeons as featured on the BBC and is one of the most qualified doctors in the UK to offer hair transplant procedures.
Consultant Trichologist, Jane Mayhead also offers consultations for hair loss and concerns at our Birmingham clinic.
Our Birmingham Hair Clinic can be found on 88 Hagley Road, B16 8LU is in close reach of the following surrounding areas: Lichfield, Sutton Coldfield, Hampton in Arden, Leamington Spa, Stratford, Solihull, Shrewsbury, Kidderminster, Edgbaston and Harborne.
The Private Clinic Leeds -Hair Transplant

Our team at The Private Clinic Leeds provides a relaxed and personal service, committed to helping you achieve the results you want.
At The Private Clinic Leeds, we present our leading hair transplant surgeon; Dr Furqan Raja. Dr Raja is passionate in delivering quality care for his patients and has treated a number of celebrities. He maintains a special interest in restorative hair transplant surgery for burns victims and those with scarring.
Consultant Trichologist, Denise Knight also offers consultations for hair loss and concerns at our Leeds clinic.
Our Leeds Hair Clinic, at 45 Park Square North, LS1 2NP, is easily accessible from Farsley, Leeds city centre, Yeadon Wetherby, Pudsey, Roundhay,  Chappel Allerton, Scarcroft, Calderdale, Kirklees, Methley, Oulton, Stanningley, Otley and Harrogate
The Private Clinic Manchester -Hair Transplant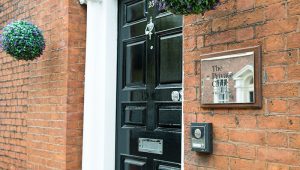 The Private Clinic Manchester offers an expert hair transplantation team in a comfortable, innovative environment, which receives excellent feedback from patients.
Our expert hair restoration surgeon; Dr Furqan Raja also provides hair transplant treatments at our Manchester clinic.
Our Manchester Hair Clinic is located on 25 Saint John Street M3 4DT. An easily accessible location, The Private Clinic Manchester is in close proximity to Hale/Hale Barns, Bowdon, Macclesfield, Leigh, Prestbury, Alderley Edge, Wilmslow Nantwich, Altrincham, Tarporley, Knutsford, Worsley, Cheadle and Deansgate.
The Private Clinic Northampton -Hair Transplant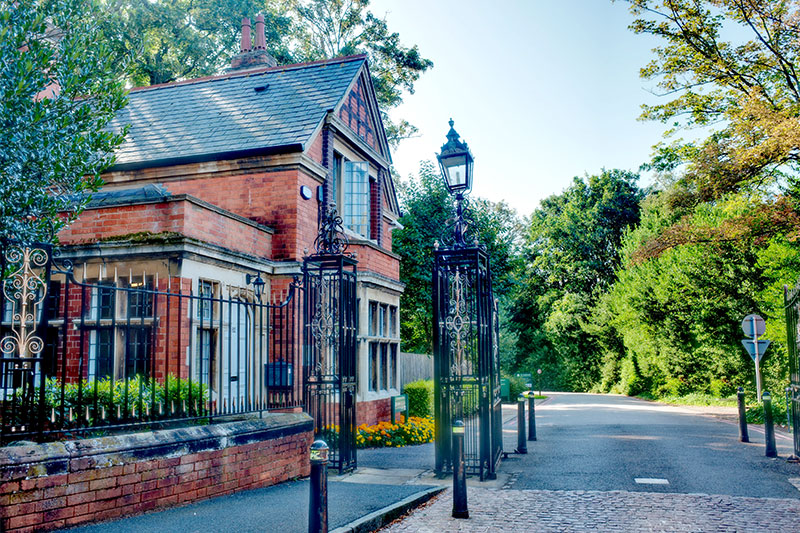 The Private Clinic in Northampton is located within St Andrew's Hospital grounds on the outskirts of Northampton city centre providing a peaceful and discreet setting for your hair transplant surgery consultation.
Our specialist hair restoration surgeon Mr Michael Mouzakis is available for FUE hair transplant consultations at our Northampton clinic.
Consultant Trichologist, Jane Mayhead also offers consultations for hair loss and concerns at our Northampton clinic.
Our clinic in Northampton is found at 82 Billing Road, NN1 5DF and easily commutable from the surrounding areas of Northamptonshire including; Yardley Hastings, Collingtree Park,  Boughton, East Hunsbury, Great Brington , West Hunsbury, Great Houghton, Grange Park, Little Houghton, Abington, Maidwell, Golf Lane, Harrington, Sandy Lane, Chapel Brampton, Wootton, Kelmarsh,, Abington Vale, Grendon , Weston, Kislingbury, Althorpe, Quinton, Ashton, Harlestone, Upper Harlestone, Guilsborough, Roade, Stanwick, Wellingborough, Raunds and areas from the East Midlands, Leicester, Peterborough, Northants, Cambridge, Norwich and Norfolk.
Hair Transplant Surgery at The Private Clinic
The Private Clinic prides itself on ensuring you have the best quality and most comprehensive care:
Highly experienced Hair Transplant Surgeons who have many years of experience.
As many post-operative care and appointments with your Hair Transplant surgeon and nursing team as required.
You won't require any stitches after your treatment. This means that the recovery time is also reduced when compared to the Strip surgery (FUT). Find out more about hair transplant recovery here.
FUE is a minimally invasive treatment (meaning there is no cutting of a strip), and carried out under local anaesthetic – many patients either watch TV, or even fall asleep during the procedure.
We use the finest instruments, resulting in as minimal trauma to your scalp as possible.
Thanks to our advanced skills and techniques, our team ensure that the donor area looks intact after the hair transplant procedure and you can keep your hair really short if you prefer without any obvious scarring.
24 hour patient helpline to ensure you are always in the best of hands.
Comprehensive patient information, every step of the way.
Outstanding clinic facilities.
You are entitled to as many post-operative care and appointments with your Hair Transplant surgeon and the nursing team as required.
Our surgeons are the only surgeons in the UK offering the Unshaven Hair Transplant (U-FUE) (the long-hair hair transplant), to those who prefer not to shave beforehand. At your consultation, we will be able to advise you on whether an unshaven procedure is suitable for you.
Our excellent reputation for patient safety and satisfaction, honest advice and outstanding care means your journey with The Private Clinic will be an exciting experience to a newfound head of hair.
Scars resulting from injuries or previous surgeries can also be corrected. This could be a previous bad hair transplant or we can cover linear scars caused by FUT hair transplants.
View our before and after results gallery
Find out more information in our blogs
Read our extensive FAQs
Hear from previous Hair Transplant patients in our patient stories and videos
We have clinics nationwide in London Harley Street, Birmingham, Leeds, Manchester and Northampton.
Our specialist hair transplant surgeons –
If you would like to find out more or arrange a hair transplant consultation with one of our leading surgeons or patient advisors at one of our nationwide locations, please get in touch via 0333 920 2471 or use our hair transplant online contact form.