Does non-surgical Liposuction really work?
LIPOSUCTION
Home » Does non-surgical Liposuction really work?
So, you've taken issue with a certain area of your body and you've decided that it might be time to put it right. Whether it's just one little area that's bending you out of shape, or a number of fatty pockets, minimally invasive Liposuction treatments can effectively help contour your body – and we have the evidence to prove it!
Based on our experience and patient feedback, we've selected some of the most common problem areas to show the results you can achieve thanks to MicroLipo and VASER Liposuction.
Sometimes you're close to your ideal weight and you lead a healthy lifestyle, but you still don't quite look the way you'd like. It might be a question of removing some fat from a large area or simply a matter of definition.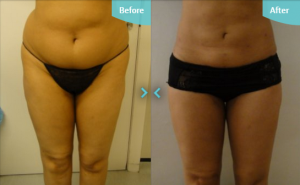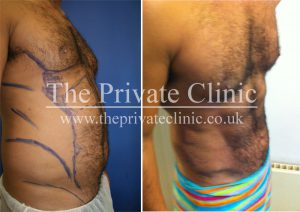 Chest
If you're a man suffering from Gynecomastia – commonly referred to as 'moobs' or 'man boobs' – you can choose between MicroLipo and VASER Liposuction.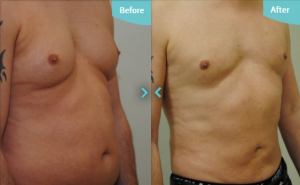 What's the difference?
Both treatments are minimally invasive and can be used to treat the same areas, but the difference lies in the method.
MicroLipo is quite straightforward: anaesthetic liquid is pumped into the area that's to be treated and isolates fat cells, extremely thin tubes are inserted and the fat is slowly suctioned out so as not to damage any surrounding tissue. The micro lipo technique has minimal downtime and involves no scarring.  The trick lies in knowing how much fat needs to be left behind in order for the area to look natural following treatment – something that our doctor's trained eye hones onto like a hawk's.
VASER Liposuction liquefies fat using ultrasound technology, which is then suctioned out, while the surgeon manually shapes your underlying muscle. The technique makes it possible to remove relatively large amounts of fat and there are different levels of definition available. Our Mid-Def option can provide you with a fit figure, while VASER Hi-Def can help you achieve an athlete's extreme and chiselled appearance. Our Consultant Cosmetic Doctors are leaders in their field and have been featured in many publications as such – so you know that you're in trustworthy hands.
Our practitioners assess each patient's case individually and will advise you on your suitability for each method.
The Private Clinic
Our clinic houses some of the best Consultant Cosmetic Doctors and Consultant Plastic Surgeons in Europe, who have developed their expertise throughout the years to consistently deliver astounding results.
MicroLipo is available at our London clinic.
Micro Lipo Surgeons
VASER Liposuction is available at our London, Birmingham, Leeds and Manchester clinics.
Vaser Liposuction surgeons
To find out more about Liposuction at The Private Clinic call 0333 920 2471 or click here to use our liposuction online contact form to book an appointment.