Dark circles are a condition that affects many, both men and women. Dark circles can affect one's confidence as they can make you look aged and/or tired.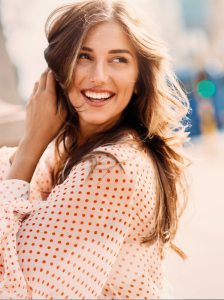 What are dark circles?
Dark circles contrary to popular belief, are not a result of tiredness or fatigue, in fact, they are caused by the hollowing of the under eye area, which in turn causes dark shadows to cast.
Other reasons why dark circles might appear include:
Hereditary factors: some people are genetically predisposed to having hyper-pigmentation under the eyes. This is particularly common among people with African or Asian skin types.
Health factors: diet, sun exposure, sleeping patterns or smoking can be contributing factors to the development of hyper-pigmentation under the eyes.
Ageing: As we mentioned before, one of the main causes of dark circles is the loss of volume under the eye are which causes a hollowing. As we age our faces tend to lose volume, elasticity, and collagen, creating pronounced hollowed areas around the face. One of the most commonly affected areas is the periorbital area (under eye).
Orbital fat prolapse: Many people suffer from excess fat or tissue around the under eye area. This issue can contribute to the appearance of dark circles, as the excess fat or tissue overhanging the skin causes the casting of shadows.
Allergies: Can be a contributor to the appearance of dark circles under the eyes as congestion or poor circulation to the lower eyelid can cause the veins around that area to enlarge and become darker.
What can we do to improve the appearance of these dark circles?
There are several ways to minimise or remove the appearance of dark circles. If the dark circles are as results of health factors, allergies or skin pigmentation, over the counter remedies, change of diet or creams and makeup can help conceal and improve their appearance.
However, if your dark circles are caused by the hollowing of the skin, loss of volume in the area or are due to orbital fat prolapse, you might need other types of treatments such as:
Tear through dermal fillers: consists of an injectable treatment to plump and add volume to the hollowed areas of the face responsible for creating the shadows. The gel injected is hyaluronic acid a component naturally present in our bodies that helps hydrate the skin and can add volume to several areas of the face. The results are younger and fresher looking skin and last from 9 months to one year.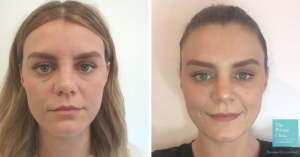 Blepharoplasty. If you suffer from under eye bags or hooded eyelids that contribute to the creation of dark circles, blepharoplasty may be the best option for you. Blepharoplasty is a surgical procedure that consists of removing the excess fat or skin around the eye area. This procedure tightens and lifts the skin around the eyes to reveal a younger and smoother looking appearance.
There are three types of Blepharoplasty:
– Upper Blepharoplasty: This procedure treats the top eyelid; it's performed under local anaesthetic and the downtime is minimal. The results are a younger and more refreshed appearance.
– Lower Blepharoplasty: This procedure focuses on the lower lids and it's performed under general anaesthetic.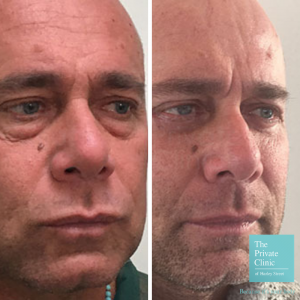 Combined Blepharoplasty: This procedure targets both lower and upper lids for full rejuvenation.
Why should you choose The Private Clinic?
At The Private Clinic, we work with the best aesthetic doctors, nurses and plastic surgeons in the UK. Our priority is our patient satisfaction and safety and always aim for the best results possible.
All our doctors and nurses are highly skilled with years of experience, so you can rest assured you are in the best care possible.
We count with state of the art facilities and use the latest technologies available.
We offer our patients a 24-hour helpline in case they have any concerns after their procedure they can easily contact a member of our nursing team.
The Private Clinic has an outstanding reputation for patient safety, honest advice and excellent care.
We have several clinics across the UK including:
London
The Private Clinic London located in 98 Harley Street W1G 7HZ between Devonshire Street and Weymouth Street. The clinic is in easy reach from Knightsbridge, Marylebone, Green Park, Bayswater, Regents Park, Hyde Park, Soho, Fulham, West End, Notting hill, Belgravia, Kings Road, Kensington, Primrose Hill, South Kensington, Chelsea, Battersea, St Johns Wood, Mayfair, Victoria, Holland Park, Earls court, and Fitzrovia.
Birmingham
The Private Clinic Birmingham is situated on 88 Hagley Road, B16 8LU in easy reach from Hampton in Arden, Lichfield, Kidderminster, Solihull, Sutton Coldfield, Leamington Spa, Stratford, Edgbaston, Shrewsbury, and Harborne.
Manchester
The Private Clinic Manchester located in 25 St John Street, M3 4DT very close to Hale/Hale Barns, Bowdon, Nantwich, Macclesfield Alderley Edge, Prestbury,  Wilmslow, Leigh, Tarporley, Cheadle Knutsford, Altrincham, Worsley,  and Deansgate.
Leeds
The Private Clinic Leeds  at 45 Park Square North, LS1 2NP is in easy access from Leeds city centre, Oulton, Scarcroft, Methley, York, Stanningley, Roundhay, Yeadon, Chappel Allerton, Headingly, South Yorkshire, Wetherby, Calderdale, Kirklees, Otley, Harrogate, Pudsey,  Sheffield and Doncaster.
Dawn Lisa, RGN, RN(Child), SCPHN, PG Dip, BSc (Hons)
Mr Philip Lim, BSc(Hons), MB ChB, AFRCS(Ed), MRCS(Eng), FRCS(Plast). GMC Number: 4219068
Northampton
The Private Clinic Northampton located at 82 Billing Road, NN1 5DF is conveniently close to Boughton, Yardley Hastings, Collingtree Park,  East Hunsbury, Great Brington , West Hunsbury, Great Houghton, Grange Park, Abington Vale, Little Houghton, Abington, Golf Lane, Harrington, Norwich Sandy Lane, Chapel Brampton, Wootton, Leicester, Kelmarsh, Maidwell,  Grendon , Kislingbury, Althorpe, Quinton, Ashton, Harlestone, Weston, Cambridge, Upper Harlestone, Roade, Stanwick, Guilsborough, Raunds, Wellingborough, Peterborough, Northants, and Norfolk.
To book a consultation at any of our clinics, please call 0333 920 2471 or visit our use our online contact form.