Breast Enlargement Before and After Photos
BREAST AUGMENTATION AND ENLARGEMENT
Home » Breast Enlargement Before and After Photos
When you are thinking about having a breast augmentation, you will be doing a lot of research to find out more about the procedure and the different decisions that you will have to make. A consultation with a plastic surgeon is a great place to find out the answers to your questions and discuss which implants would suit you the best.
Another great way to feel informed about breast surgery or any type of plastic surgery is to look at before and after photos. Here at The Private Clinic we have an array of before and after results for you to take a look at.
Here is a selection of our Breast Enlargement before and after photos;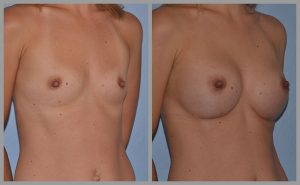 This 34 year old patient was considering breast augmentation surgery to enhance the size of her chest. Working as a swimming instructor she was conscious of choosing implants that would suit her frame and not impact her role. The patient had 300cc medium profile implants that were placed in a sub muscular position.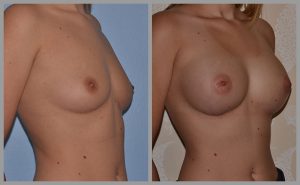 This 28 year old patient came to us wanting to enhance the size of her breasts with breast implants. After having a consultation with one of our expert breast surgery specialists it was decided that 360cc high profile round implants placed over the muscle would be best to achieve the result she was aiming for.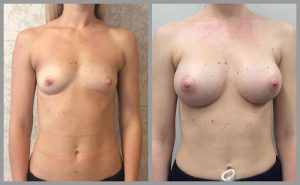 This 30 year old patient came to us wanting a really natural breast augmentation result. It was decided that to give her the result that she wanted to achieve that 280 cc tear drop shaped implants would be best. The patient was extremely happy with the outcome.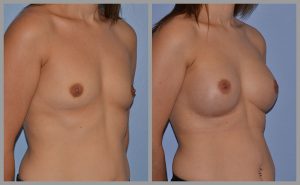 This 29 year old patient is a mother of two and was looking for a way to restore the volume to her chest after pregnancy. It was decided that the patient should go for round, 270cc, moderate profile implants that were placed over the muscle. The patient was very happy with the natural result that replicated how her breasts looked before pregnancy.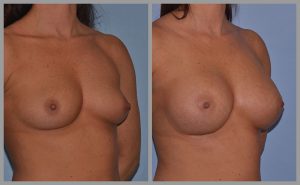 This breast augmentation patient wanted to achieve a slightly fuller appearance to her breasts. In order to get a natural looking result the patient decided on 390cc, round, medium profile implants that were placed over the muscle. The patient was very happy with the additional fullness to her breasts that the implants created without looking unnatural.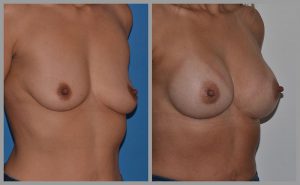 This 40 year old patient came to see us about enhancing the appearance of her bust after she noticed a significant volume loss after losing weight. The patient went ahead with round 390cc mid profile implants placed in front of the muscle. The patient healed very well after surgery and was more than happy with the improved appearance of her chest.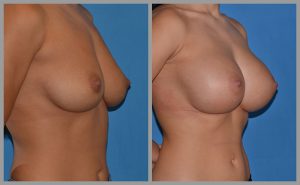 This 20 year old patient simply wanted the appearance of larger breasts. She had previously lost some weight and gone from an E cup to a smaller C cup. It was important that the larger breasts did not swamp her petite frame so round, extra full projection 470cc implants were used and placed in a sub glandular position which is over the muscle. The patient was very happy with the results of her breast augmentation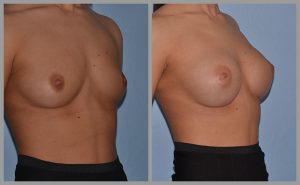 This 22 year old patient wanted to increase the volume in her bust. The patient decided that she liked the look of the 300cc mid profile implants and as she had a good amount of natural breast tissue they were suitable to be placed over the muscle. The patient was pleased with the final result.
To see more Breast Augmentation before and after photos click here.
Breast Augmentation at The Private Clinic
A breast augmentation procedure is a great way to help improve your confidence if you are feeling unhappy with the appearance, size or shape of your breasts. Many of our patients have lost the fullness to their breasts after pregnancy or weight loss and some patients just wish to enhance the size of their chest. Our breast augmentation photo gallery is a great way to see what results to expect from our expert breast surgeons. Breast surgery results are very individual, and what may suit one person, will look very different on another so it is always important to take into consideration the patient's body shape and personal circumstances.
At The Private Clinic we have been treating patients for over 35 years and have thousands of women placing their trust in us each year. We are committed to Medical Expertise, Patient Care and Satisfaction, Honest advice and most importantly the best breast enlargement results.
The Private Clinic ensures you have the best cover and quality which includes;
Consultations with a specialist surgeon
24 hour patient helpline to ensure you are always in the best of hands.
Three years cover for all surgical, hospital and nursing care, in case of any medical issue giving you peace of mind.
Lifetime guarantee on the Nagor implant for rupture and capsular contracture.
The Private Clinic offers a unique warranty of £1000 towards surgical costs in case of rupture for 10 years from the date of your operation.
Comprehensive Breast Enlargement Patient Guide.
Highly experienced Cosmetic Breast Surgeons who have decades of experience.
Outstanding hospital facilities.
As many post-operative care and appointments with your surgeon and nursing team as required.
Our experience and medical expertise makes your journey a reassuring one click here
Clinic locations in London Harley Street, Birmingham, Leeds, Manchester and Northampton
Breast Augmentation Surgeons at The Private Clinic
To book your consultation or find out more information about Breast Enlargement surgery and our team of expert surgeons click here or call 0333 920 2471.