We all like to take care of our appearance and visiting the gym and healthy eating has all become part of modern day life, so as our lifestyles change should this change how we approach surgical procedures?
When you exercise, your body burns calories and builds muscle which can lead to changes to your body. Your breasts in particular, regardless of their size are all made up of the same compounds; blood vessels, connective tissues, lymph nodes, lobules, lobes, milk ducts and of course fat. When your body fat percentage alters this can cause changes in your breasts first.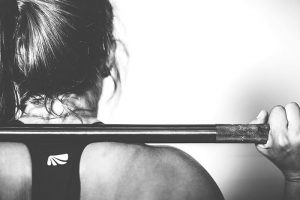 Strength Training – This is involves the use of resistance bands, weight machines and free weights. It helps to tone your muscles as well as building new muscle tissue too. Depending on your breast size to start with you may not notice a lot of difference to your size, however if your breasts are naturally very lean then you may notice an increased loss in volume. It is also possible for strength training exercises to actually lift and firm your bust.
Aerobic Exercise – This covers a large number of activities including running, swimming, tennis and even just cardio workouts. The main goal for this type of exercise is weight loss and for each pound lost you are losing body fat too. It is common that your breasts are the first place that visibly shows your weight loss.
We have many women who come to see us in clinic who have lost fat tissue in their breasts and they are now looking to restore this with a breast augmentation.  It may sound a little counter-intuitive for an athletic woman to choose to up-size their bust when many are actually reducing the size of their breasts after feeling restricted during exercise with their range of movements but for many who have experienced weight loss in the chest, it can leave women feeling masculine and self conscious when it comes to wearing certain outfits.
So what are the options?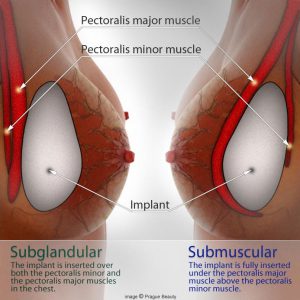 Under the muscle – This is often the default placement for breast implants if you are an athletic woman. It all comes down to the amount of tissue that you have and those with limited breast tissue will be best suited to placement underneath the muscle. However, placing an implant under the muscle also comes with its own issues. There is a slight risk of the implant moving or changing shape when the muscle is contracted during exercise. The recovery time is also a lot longer which is not always favoured upon by those with a strict gym routine.
Over the muscle – If you have enough breast tissue to accommodate the implant then you will have the option of going over the muscle which will give you a shorter recovery time. The risk with this option is that if you are very lean with thin skin over the breast and minimal breast tissue it will look more obvious that you have breast implants compared to how they would look under the muscle.
There are pros and cons for each decision which is why we always recommend you attend an informative, no obligation consultation with us so we are able to best advise you on the size, shape and placement of your implants.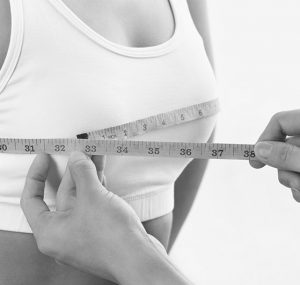 A good surgeon will listen to your thoughts on what you wish to achieve and shouldn't be persuading you to go for anything that you really don't feel comfortable with.  Ask to see before and after images and attend a sizing appointment to try out different sized implants to see how they suit your frame.
Recovery
Sometimes the biggest fear for athletic women considering surgery is actually the recovery and downtime rather than the surgical procedure itself.
It is important to remember that cosmetic surgery is just an invasive and traumatic for the body as any other surgery and so great care must be taken to ensure you achieve the best results.  The downtime depends on placement and of course the size of your new implants. If you went behind the muscle you are looking at a six week rest period or if your implant is placed in front of the muscle then you will be looking at a two week rest period.
You will be able to be up and walking around the day after your surgery, we encourage gentle walking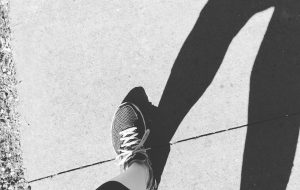 exercises as this will oxygenate bruised muscles and will help to reduce inflammation. After two weeks you will most likely be fine to start light exercise, such as a low intensity spin class, but it is best to remain seated to avoid the pressure associated with holding the handle bar. As you get to four weeks you should be able to start running again however you must not let your breasts move excessively so best to wear a good support bra or two, if your breasts are bouncing up and down then you are not wearing the right bra and you should stop your workout straight away.
After four weeks you can start to visit the gym again. We suggest you start with short and low intensity sessions and listen to your body,  do not 'push through' the pain like you would normally, this is instead your body telling you it is not ready and to stop.
At six weeks you will be booked in for a post-op check with your surgeon. It is here that you will be able to review your progress and discuss your plans to start working out again and your surgeon will be able to give you the green light if acceptable to do so.
Careless exercises following breast augmentation surgery can impact the final positioning of the implant, as well as cause further complications with your recovery. Make sure to speak to your surgeon or care team before starting any kind of exercise again as everyone heals different so what may have suited someone else may not be appropriate for you.
Case Study
We see many patients at The Private Clinic who are involved in fitness seeking breast augmentation procedures so our surgeons are very experienced in working out the best treatment plan for you.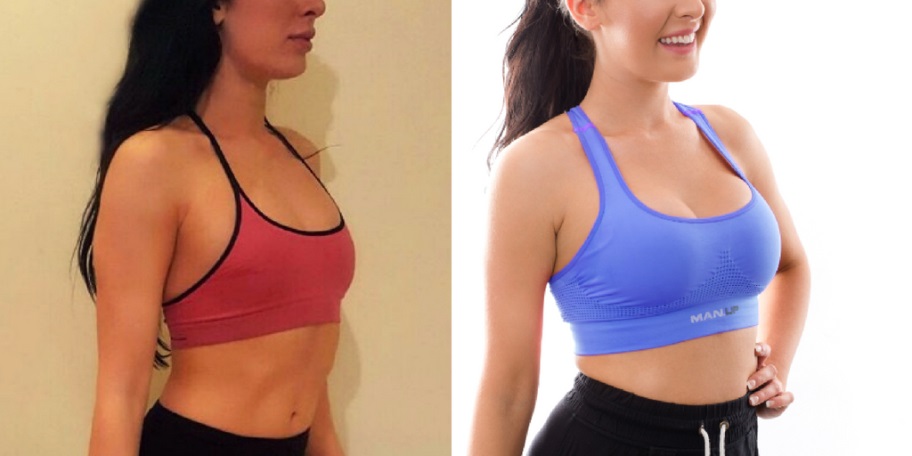 Patient Vicky first considered a breast implants after competing in her first fitness bikini competition. Training for the competition involves training hard in the gym to drop body fat and follow a strict macronutrient based diet. The work in the gym, despite earning her a high place in the competition also meant she lost a lot from her already small chest. Read more about her surgical experience here.
The Private Clinic
We are proud to offer the highest quality implants, with procedures performed by some of the UK's top consultant plastic surgeons. Our team includes some of the most recognised Breast Surgeons in the UK, based in London, Birmingham, Manchester, Leeds and Northampton – all of whom use their years of expertise to ensure you find the right option for your needs.
To find out more about breast augmentation please call 03339209135 or use our online breast implant consultation form to request a call back from our friendly and informative team.