Breast Augmentation Recovery and Aftercare
BREAST AUGMENTATION AND ENLARGEMENT
Home » Breast Augmentation Recovery and Aftercare
We believe it's important for patients to know what to expect after breast augmentation, in terms of temporary precautionary measures required, healing and recovery time and expected side effects.
So we've provided an aftercare checklist of measures to follow and laid out useful information about what to expect in the post-surgery period, along with important advice.
Aftercare Essentials:
Stay hydrated: Drinking plenty of water is important in your recovery. Constipation is common after surgery, and water can help move things along. Swelling can also be reduced with water consumption. Also ensure to avoid carbonated and caffeinated drinks at first, and completely avoid alcohol.
Surgical Bra: You will be wearing your surgical bra when you wake up after breast augmentation This must be worn for approximately 4-6 weeks after the operation depending on your healing progress. Although, between washes you can use another support bra. After this stage, you can speak to your surgeon about appropriate alternative styles of bras.
Clothing: We advise sticking to zipped jackets and button up shirts for a while after surgery. This avoids complications due to over-stretching yourself early on.
Bathing/Showering: You should avoid immersing the wound in water, for approximately 6 weeks. If you ensure not to get the area excessively wet, you should be able to have a shower a week after surgery, although following this, make sure to pat the area dry. Baths usually are not advised, however, a shallow bath where the wounds are not submersed in water should be fine.
Taking Medication: Ensure to take any pain medication with or after food to help avoid feelings of sickness and other unwanted side effects or complications.
Sleeping: Being as upright as possible is important, so we advise sleeping on your back and in an elevated position for up to 6 weeks. It may feel unnatural at first, but sleeping on your back can really help reduce swelling or discomfort, in addition to help avoid the risk of the implant shifting prior to healing.
Resting Time: We recommend resting for a week following your procedure. You can walk gently and perform very light duties, but any heavy lifting or stretching is not recommended in the first 10 days. We encourage keeping mobile however, and moving your legs, arms and body regularly to avoid becoming stiff.
Time-Off Work: We advise taking 7-10 days leave from work, although patients with manual jobs involving heavy lifting may require two weeks. For this duration, you may need to arrange help around the house, and with childcare.
Exercise: We typically advise avoiding exercise for a minimum of 4 weeks post surgery, and avoiding strenuous activities or heavy lifting until 6 weeks after the procedure and your surgeon has given confirmation.
When can I drive: Your plastic surgeon will advise on when it is suitable for you to continue driving. You do not want to risk pulling muscles or sudden movements in the breast area in the early recovery stage. Also do not drive while on your course of pain medication, which can increase drowsiness.
Healing and Recovery:
You may experience temporary swelling and bruising after the procedure, which will likely subside in two to three weeks. Ensure to use painkillers to minimise any pain, and do not worry if you feel pain just one of your breasts, as your breasts may not be healing at the same pace. You may experience some tingling or numbness, or be very sensitive on your nipples, breasts and scars following surgery. This is entirely normal and should resolve at approximately 3-6 weeks post procedure. Also, do not be concerned if you can hear a sloshing or crackling sensation beneath your skin or around your breasts. This will be air, which can get trapped in the breast pocket mid-surgery, which should dissolve within approximately 10 days.
Your stitches are internal and after a couple of weeks following surgery, they will be dissolved. If a stitch pokes out, ensure not to pull on it. Please get in touch with your clinic and a practitioner will be able to remove it. If a light crust reveals on the incision line, leave it and do not try to remove it.
Your breasts will appear fairly high up after surgery, however, they will lower gradually in the following months. Each breast may do so at a different pace, but they will both eventually settle into a natural position.
You will see your final results at approximately six months post-procedure, and after that, we advise you to undergo an MRI scan every two years in order to clarify that everything is as it should be.

Your breast augmentation surgeon should also provide you with detailed information and advice on your recovery period, and recommended aftercare measures to take in your case.
The Private Clinic's beast surgeons are:
Mr Adrian Richards, MBBS, MSc, FRCS (Plast.) GMC: 3286812
Mr Navid Jallali BSc MB ChB (Hons) MD FRCS (Plast)   GMC: 4404969
Mr Dario Rochira BS, MD GMC: 6130664
Mr Davood Fallahdar FRCS (Plast) Fellow of the Royal College of Surgeons (Plastic) GMC: 4686602
Ms Lyndsey Highton, BM BCh (Oxon) MA FRCS (Plast) GMC: 6128243
Mr Philip Lim BSc (Hons), MB ChB, AFRCS (Ed), MRCS (Eng), FRCS (Plast) GMC: 4219068
Mr Olubowale, MB ChB, MSc (Sheffield), FRCSI, FRCSI (Gen Surg) GMC Number 6044974
Mr Maisam Fazel  MA(Cantab) MB BChir MSEd FRCS  GMC: 4767420
Mr Mobinulla Syed MBBS, MSc, PhD, FRCS (Plast) GMC: 6035480
Mr Prashant Govilkar, MBBS MS MCh FRCS FRCS (Plast) GMC: 4258041
Mr Adel Fattah, FRCS (Plast.) GMC: 4764599
Mr Kenneth Kok MBChB MRCS MSc(Hons) FRCS(plast)   GMC: 4701147
Our multi-award winning breast augmentation surgeon, Mr Adrian Richards, provides aftercare advice and useful information about your recovery period, as well as a useful insight into aftercare at The Private Clinic, in the video below from his Breast Augmentation video series:
Breast Augmentation Aftercare and Recovery, Breast Implants Post Op Do's and Dont's by Mr Adrian Richards
Why choose The Private Clinic?
Our elite medical team are here to support you, offering you the highest quality of care and aftercare at every stage.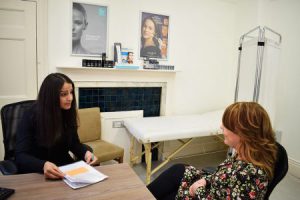 We will assign you a Patient Co-ordinator who will be at your disposal at every step of your journey, until full recovery, of whom you can contact with any concerns, at any time, both day and night. Always here to help, we additionally provide a 24-hour patient helpline direct to your surgeon and respective team.
Ensuring that you are fully informed, your specialist breast augmentation surgeon will also discuss with you our detailed recovery guide with aftercare instructions. You will also have the opportunity to ask questions or concerns you may have.
A week after surgery one of our dedicated nurses will see you, and at the end of the line, we will arrange a final consultation with your surgeon.
In the unlikely event of complications after surgery, with The Private Clinic, you will be covered for three years post-surgery for re-admission, covering all hospital, nursing and surgical care. We offer a lifetime guarantee on the implants and a warranty of £1000 towards any surgical fees for 10 years following the surgery.
"I am currently 10 weeks post op and I couldn't be happier. The Private Clinic were incredible throughout; I had so much support and care ever since I went for my first consultation, right until after my surgery … The nurses at the clinic were amazing, and I would especially like to thank Aggie, Vicki and Olivia for being the nicest team of people to accompany me throughout my journey."
"I'm so happy with the results and my care has been perfect from start to finish. Dr Adrian Richards and Aggie are so professional and really listened to what I wanted and made the whole process so easy and informative. I cannot thank them enough it has given me so much confidence and I know they will be there at any stage of my journey if needed."
To find out more about breast augmentation at The Private Clinic, see our comprehensive website, including answers to FAQ's, breast surgery before and after photos and further videos from Mr Adrian Richard's Breast Augmentation Video Series.  If you are at the stage where you would like to arrange a consultation, The Private Clinic offer free consultations nationwide with our highly experienced Patient Advisors, as well as free consultations with our industry leading breast augmentation surgeons, available in Harley Street London, Bristol, Birmingham, Northampton, Leeds, Manchester, Glasgow and Buckinghamshire.  Consultations can be booked via our website or by calling 03339209135.