For most, the idea of reducing their bust size may seem an unusual concept, especially at a time where there's a more common desire to increase cup size. Oversized breasts however, can come with so many downsides and their popularity in the spotlight is increasing with celebrities such as Amber Rose and Imogen Thomas expressing their desires to have the procedure. Romanian professional tennis player Simona Halep recently announced she had a breast reduction.
"At the time of her operation, Halep said of her breasts: 'I don't like them in my everyday life, either. I would have gone for surgery even if I hadn't been a sportswoman.' "
So why might you consider a breast reduction?
A breast reduction is exactly what the name suggests, a reduction of the breasts. The aim of the procedure is to make your breasts smaller whilst still retaining a good shape.
Women who have large breasts often complain of them being heavy and it is not unusual for them to experience back, neck, shoulder or breast pain. They may also have difficulty exercising, finding clothes and bras that support the breasts as well as feeling embarrassed, tired and even depressed.
When is a good time to have a breast reduction?
We have discussed this in more detail in a previous blog here but we often get questions regarding pregnancy and breast feeding which is sometimes a cause for breasts to become larger than they were pre-pregnancy. We always would advise waiting anywhere from six months to a year after pregnancy and breast feeding, as during this time your breasts will naturally be decreasing in size. If you were to have a breast reduction during this time your bust may continue to get smaller post-surgery.
What does the procedure involve?
There are a couple of different breast reduction techniques which vary from patient to patient depending on the size of their bust. Once the incision is made, the nipple which will remain attached to its original blood and nerve supply is repositioned, if required the areola can also be reduced at this stage.  The skin and/or tissue are then removed from the underlying breast before the bust being lifted and shaped. For larger breasts the areola and nipple may need to be removed completely and moved to a new position which would mean sensitivity is lost from the nipple and you will not be able to breast feed in the future.
What are the scars like?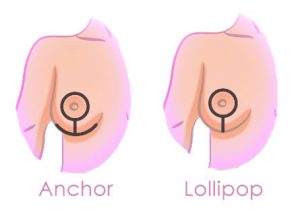 Scarring after a breast reduction is going to be visible unfortunately, this is why we like to make all our patients considering a breast reduction well aware of what to expect post-surgery. Initially the scars will be very red and lumpy but good scar care will help to reduce this and they will eventually fade into white lines.
The most common scars for breast reduction are lollipop scars and anchor scars.
How long will the procedure take?
We estimate around two hours for a breast reduction procedure. You will be under general anaesthetic and will be required to stay for at least one night before leaving the following morning.
What is the downtime?
Just like most surgical procedures, there will be a period of downtime following a breast reduction procedure. Overall for the first six weeks we advise you to take it easy and avoid anything too strenuous to avoid the stretching of the scars. You will be able to return to 'normal life' after two weeks which includes returning to work and driving your car again after confirmation from your surgeon.  You will be able to start gentle exercise again after three weeks but avoid any excessive movements or stretching of the arms. You should also avoid sleeping on your front for at least four weeks.
Is breast reduction permanent?
It is rare for your breasts to get larger again after a reduction but not impossible. Breast size comes down to the amount of fat in the breast which is usually determined by your natural body shape and size. If you gain weight for example after surgery then your breasts, as a result, are likely to increase in size. Breasts also contain glandular tissue, so if you have a breast reduction surgery at a younger age, there is a risk that your breasts will continue growing.  It is of course possible to carry out a second breast reduction if this was to occur.
The Private Clinic
Here at The Private Clinic, we have over 30 years of medical cosmetic experience and expertise. We do the groundwork for all our patients and offer you only the most reputable and specialised Consultant Plastic and Reconstructive Surgeons in the UK.
We have some of the UK's leading Consultant Surgeons as part of our surgical breast reduction team in our clinic locations nationwide including;
London Harley Street, Birmingham, Buckinghamshire, Bristol, Manchester, Leeds, Glasgow and Northampton.
and we also have consultation rooms in Newcastle, Nottingham, Milton Keynes, Southampton, Cardiff and Edinburgh.