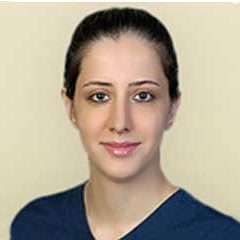 Shiva Farmani is one of The Private Clinic's Senior Technical Assistants and a member of the International Society of Hair Restoration Surgery (ISHRS). With over 8 years' experience, she has assisted hair surgeons across the world in performing the minimally invasive Follicular Unit Extraction method of Hair Transplantation.
Having worked alongside surgeons who pioneer unique, innovative methods for both the extraction and implantation of hair grafts to ensure total graft survival, Shiva has perfected the logistics of the procedure in terms of using the best possible tools and efficiently organising each process of the procedure.
Shiva also has extensive experience in assisting eyebrow and body hair transplantation.
*All images, videos and testimonials are based on the personal experiences of our patients and represent individual body shapes and results. Results may vary from person to person. All testimonials are provided voluntarily by our patients and clients and all photos and videos have been consented to and have not been altered in any way.

Treatments performed by Mr Davood Fallahdar