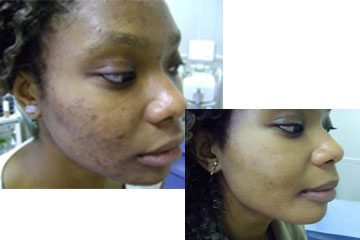 Result Driven Treatments – Acne
DERMATOLOGY
Black Hair and Beauty magazine
Severe skin conditions like acne need targeting action but how do you know what treatment to go for. These case studies provide an honest account and amazing results
What is acne?
Acne is characterized by blackheads, whiteheads, pimples and large papules that commonly affect the face, upper part of the chest and back.
How can it be treated?
Lasers are typically used to treat acne, however when it comes to darker skin it is a lot more difficult to treat. The additional pigmentation means that there is a risk of burning and permanent scarring. Dr Puneet Gupta at The Private Clinic of Harley Street is one of the few specialists in the UK who is an expert in the treatment of acne on darker skin. He uses the Pixel Laser, a non-invasive treatment to treat acne, scarring and hyper pigmentation.
The Pixel Laser uses a high-energy beam of light that is directed onto damaged areas. The laser removes the epidermis and upper dermis on targeted zones, which then triggers the body's natural healing process and stimulates the growth of healthy new skin. The treatment is suitable for all skin types, including darker skin tones leaving a more even and smooth complexion. It can also treat very small areas of skin, leaving the surrounding tissue untouched and undamaged. At least three treatments are recommended.
CASE STUDY
Elizabeth Lijoka, 31, from Edgware
'Having spent hundreds of pounds on various products and treatments, I went to see Dr. Gupta who was my final hope. The treatment I had was the Pixel Laser. It has significantly improved the texture and pigment of my skin. My complexion is now a lot clearer. Having spent years feeling very low because of my appearance, I now feel amazing and I'm grateful to Dr. Gupta for making me feel beautiful inside and out.'