Losing weight can take a large amount of time dedicated to exercise and dieting but when the results from this are a little less than satisfactory it can really affect your determination to continue. Stubborn areas of fat can be difficult to target but Vaser Liposuction is an ideal solution to help to achieve the results you desire. At The Private Clinic in Manchester, we have expert knowledge and many years of experience in carrying out Vaser lipo treatments to help you transform your body.
What is Vaser Lipo?
Vaser liposuction is a less invasive liposuction technique that uses using ultrasound technology
to breakdown fat cells removing them from the body. Vaser liposuction is best for patients who are at their ideal body weight but struggling with stubborn areas of fat that are resistant to diet and exercise alone. The procedure can provide amazing contouring and body sculpturing results and is suitable for male and females in a range of body areas such as;
Abdomen – The abdomen or tummy is one our most common vaser liposuction areas to treat. Stubborn fat in this area can cause patients to feel out of proportion compared to the rest of their body. Vaser liposuction can provide excellent results to this area offer a more contoured and toned appearance.
Legs – Fat in the lower legs can really affect the overall proportion of the body. Vaser liposuction can easily target this area to result in more shapely and defined legs to make patients feel less self-conscious about wearing shorts.
Male Chest Reduction – Vaser liposuction can be an effective technique to help reduce the appearance of 'man-boobs'. View Alex's patient story to read how vaser liposuction helped him to feel like himself again and be able to comfortably wear tighter t-shirts instead of the baggy tops he previously hid away in.
Other areas include; chin, neck, arms, back, flanks/love handles, buttocks crease, hips and thighs.
Advantages of Vaser Liposuction
No need for an overnight stay in hospital.
Performed under local anaesthetic with sedation.
Less invasive that traditional liposuction.
Reduced risk of side effects.
Minimal recovery time.
Can help to improve the elasticity of your skin.
Minimal scarring
Does not destroy the other tissues in the treated area
Click here to find out more about Vaser Liposuction
Vaser Liposuction before and after photos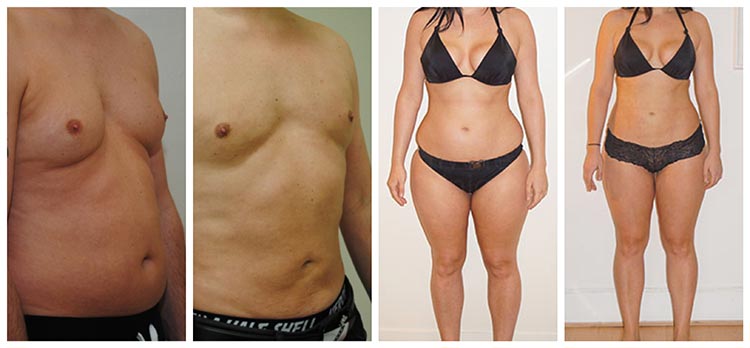 Click here to view more Vaser Liposuction before and after photos
Where are we?
Located in the Spinningfields district of central Manchester, our clinic is ideally located for patients travelling from Deansgate, Worsley, Tarporley, Nantwich, Altrincham, Knutsford, Cheadle, Macclesfield, Leigh, Prestbury, Alderley Edge, Hale, Bowdon and Wilmslow.
Why Choose The Private Clinic in Manchester for Vaser Liposuction?
Consultations with experienced vaser liposuction surgeons.
24 hour patient helpline to ensure you are always in the best of hands.
As many post-operative care and appointments with your surgeon, doctor and nursing team as required.
One year cover for all surgical, hospital and nursing care, in case of any medical issue giving you peace of mind*.
Comprehensive patient information, every step of the way
Outstanding in-clinic hospital facilities.
Competitively priced for our expertise and experience.
35 years' experience of Cosmetic Medical Excellence.
Our excellent reputation for patient safety and satisfaction, honest advice and outstanding care means your journey with The Private Clinic will be an exciting experience to a newfound shape.
To make an appointment at our Manchester clinic please call 0333 920 2471 or click here.