We have a number of clinics across the UK but we are very excited to announce the launch of our new consultation room space in Newcastle.
With clinics in Leeds and Manchester – we have a large amount of patients who make the journey over to us from Newcastle so we were really keen to secure a consultation space in the city to save our patients from excessive travelling.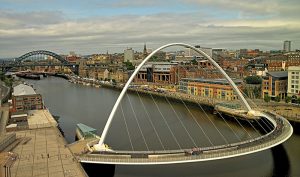 Newcastle-upon-Tyne is located in the north east of England situated on the River Tyne opposite its twin city of Gateshead. It is the most populous city in the North East with a choice of historic, cultural and contemporary attractions and places of interest.
Our new consultation room is located in The Osbourne Clinic in the residential suburb of Jesmond which boasts a number of bars and restaurants making it a prime location.
You will be able to find us on Osbourne Avenue near our close neighbours of Newcastle Cricket Club. Our nearest Metro station is Jesmond which is a 10 minute walk from the clinic, or a 30 minute drive from Newcastle's main train station.
So what can you expect at our new consultation rooms?
The clinics will be once a month on a Thursday (10am-7pm) and a Saturday (9am-12pm) and you will be able to book in for a free consultation with a patient advisor who can provide you with information about the procedure you are interested in as well as assess your potential suitability. It is a great chance for you to get more information about the procedure before committing to traveling and booking in to see a surgeon at our Leeds clinic.
What can we consult for?
Varicose Vein Treatments
Varicose veins generally are easily diagnosed by their enlarged, swollen, lumpy, bumpy or twisted appearance. Here at The Private Clinic we offer a variety of treatments which will be selected on a case by case basis. Our most popular treatment however is EVLA (Endovenous Laser Ablation) which is a minimally-invasive method of destroying dysfunctional varicose veins under a local anaesthetic.
EVLA is considered the Gold Standard of treatment for varicose veins by the National Institute for Clinical Excellence (NICE)
Vaser Liposuction
Vaser Liposuction is a minimally invasive option to the surgical liposuction process. The procedure is performed under local anaesthetic and involves minimal downtime. The procedure is perfect for anyone looking to improve the appearance of their stubborn areas of fat that no amount of exercise or dieting has been able to shift.
We have a team of some of the most sought after VASER liposuction doctors who are pioneers in the method and have decades of experience in harmonising body proportions.
Plastic Surgery
We have a team of expert plastic surgeons who work in the northeast area specalising in procedures such as;
Hair Transplants
We specialise in FUE (Follicular Unit Extraction); an advanced no visible scars, no stitches method of hair transplantation and work with some of the most esteemed, reputable and sought after Hair Restoration specialists in the world.
Unlike the Strip (FUT) procedure, you won't require any stitches after your treatment. This means that the recovery time is also reduced when compared to the Strip surgery. FUE is a minimally invasive treatment, carried out under local anaesthetic and thanks to the advanced skills and techniques from our surgeons the tell-tale signs of a hair transplant can be virtually undetectable.
The Private Clinic
With over 30 years' experience we are able to offer our patients the most advanced and effective cosmetic treatments to help you achieve your desired results. With clinics nationwide we are able to offer the broadest range of treatments that our growing team of Doctors and Surgeons specialise in.
So if you are in the area and are considering any of the suggested treatments then feel free to give us a call on 0333-920-2471 or use our online contact form and come by and see us for a helpful, no obligation consultation with our advisors to discuss the best treatment plan for you.