Everyone loves a celebrity beauty secret, anything to get the glowing, flawless and youthful looking skin that graces the red carpet and magazine covers so regularly. A common request in our clinics is how to tighten and contour your skin without injections or surgery.
Right now, the topic is particularly on everyone's lips after Judy Murray, mum to tennis player Andy Murray, revealed how she herself has utilised a non-surgical micro-needling facelift to roll back the years.
Thermage is not a new treatment and was first brought our attention in 2006 by Oprah Winfrey who frequently praised the treatment. Oprah is not the only celebrity to swear by Thermage, Gwyneth Paltrow, Amanda Holden and Jennifer Aniston.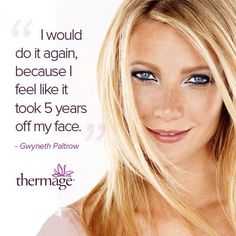 What is Thermage?
Thermage is a non-invasive skin tightening treatment that uses radiofrequency energy to heat the deep and collagen rich layers of your skin. This encourages the production of new collagen as well as tightening the existing collagen to help reduce wrinkles, improve the texture of your skin and provide a lifted appearance to your cheeks, jaw line and brows.
Where can Thermage be used?
Thermage is a versatile treatment that can be used on the;
Face – Thermage works to tighten the cheeks, the nasolabial fold and jawline reducing the appearance of sagging and tired looking skin.
Eyes – Thermage treatment can result in a more youthful and rested appearance to the upper and lower eyelids.
Body – Thermage can help smooth the skin on your body reducing the appearance of sagging skin, dimples and bulges. In some cases it could help with small areas of cellulite.
How many treatments will I need?
Here at The Private Clinic we perform Thermage as a one off treatment, however to help maintain your results we suggest that you return for treatment once a year.
When will I see results?
The results from Thermage are not always instant. The majority of the tightening will take place gradually over a period of time and results will continue to form over a 6 month period.
Does Thermage hurt?
At The Private Clinic we use the Thermage CPT system which is reported to be considerably less painful than previous generations of this type of treatment. Thermage treatment uses heat which can cause some discomfort to some patients but a cooling system is used throughout the treatment to ensure that you are as comfortable as possible during treatment whilst still being able to achieve the best results from treatment.
Is there any downtime?
The beauty of the Thermage treatment is that there is no downtime and many patients return to work or their regular daily activities almost instantly after having treatment. In some cases a little bit of redness may be present but this will fade over the course of 24 hours. There is no special care required after treatment either aside from basic skin maintenance and sunscreens as part of a regular skincare regimen.
Thermage at The Private Clinic
Thermage treatments at The Private Clinic are carried out by highly trained nurses and doctors who have extensive experience in this field and have successfully treated hundreds of patients on a variety of skin conditions.
We are able to offer free consultations with our specialist skin doctors, nurses and practitioners who can offer you expert skin advice. Our thermage clinic is located in a discreet location and post-treatment you will be able to contact us should you have any concerns or questions after your treatment. We are a multi award winning provider voted the Aesthetic award for Best UK Clinic Group 2017 and MyFaceMyBody Best Cosmetic Surgery Practice 2018. We have one of the highest patients' satisfaction rates and on TrustPilot we have a 9.4, 5 star rating and 93% would recommend us to their friends and family.
If you would like to book a free Thermage consultation with one of The Private Clinic's highly trained skin experts, please call us on 0333 920 2471  or click here.