The Hair Transplant patient journey at The Private Clinic
HAIR LOSS & HAIR TRANSPLANTS
Home » The Hair Transplant patient journey at The Private Clinic
With over 30 years of medical experience behind us, we absolutely understand the fear and anxiety that can come with Hair Loss, and we appreciate the considerations that often come hand in hand when trying to find a suitable treatment.
Patient safety, education and satisfaction form the cornerstones of how we approach and treat those who come to us, so we're relying on reviews taken from Trustpilot (a customer experience community review platform) to give you a sense of what to expect when you come in for a Hair Transplant consultation and treatment at The Private Clinic.
Prior to your consultation
Hair Transplant procedures are aimed at patients who are suffering from Hair Loss and have bald patches they wish to repopulate with healthy hair. So, for us, the first order of business when you call to book your consultation is to determine whether this is an appropriate treatment for you.
If you don't have Male Pattern Baldness (Androgenic Alopecia), your hair is only thinning and you have no bald patches, then you should see a hair health specialist, know as a Trichologist. They can determine exactly what's causing your condition and the best way to treat it. This is particularly the case for women, as female Hair Loss is usually caused by either hormonal imbalances, stress, illness, nutrition or Traction Alopecia.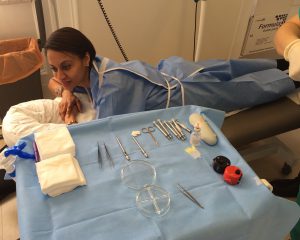 During your call we'll ask you a certain amount of key questions to make sure that you're on course for the right treatment, and we then offer you a choice between seeing one of our extensively-trained patient advisors for free, or to have a thorough consultation with one of our elite Hair Transplant Surgeons for £100. This option exists so as to provide our patients with the opportunity to gather as much information about the treatment before committing to a consultation.
This was exactly the case for Craig, who meet with our Patient Advisor Sorena to determine if the procedure was a viable option for him. He said:




Providing our patients with a comfortable environment where they can discuss their concerns with us is an essential part of the assessment process, and at this stage, our patient advisors will also be able to determine if there is any obvious reason why you may not be suitable for a Hair Transplant and if one of our other experts may be of better help to you – saving you time and money.
During the consultation
A consultation with one of our Hair Transplant Surgeons allows for 45 minutes, during which you will undergo a thorough examination of your scalp and hair, followed by a discussion of your medical history.
This is an opportunity to see if there are any underlying conditions and as Arnold found out, you should be wary of clinics that do not address these matters with you.
Arnold  said:


It would be unethical for us to offer you a treatment if we don't think it's likely to be a success. Furthermore, we work with world-class professionals who will only ever offer you honest advice, and will never push you to commit to a procedure, or give you false assurances.


Your surgeon will discuss any pre-operative measures that you may need to take, what to expect on the day of your surgery, and what kind of post-operative care will be required on your part during the appointment. Most importantly, they will manage your expectations, explain the hair regrowth cycle and the frustration you may feel during the first 4-5 months post-treatment, as well as remind you that your full results may not be visible until 9 months after your Hair Transplant.
On the day of your Hair Transplant
Your surgeon will go over the surgery and the months to follow with you once again before the beginning of the procedure. Depending on your needs and suitability, we offer Shaven (FUE) and Unshaven (UFUE) Follicular Unit Extraction. Both involve healthy hair follicles being individually taken from a donor area and being transplanted to a bold area. As the names make it clear, an FUE requires a shaved head, while it can remain unshaven for a UFUE.
Local anaesthetic is used to minimise discomfort and a 0.6mm-0.9mm punch device is used to move the hairs. The procedure lasts several long hours, so patients often chose to chat, read, watch TV or even sleep during the transplant, as most patients say they hardly feel any pain.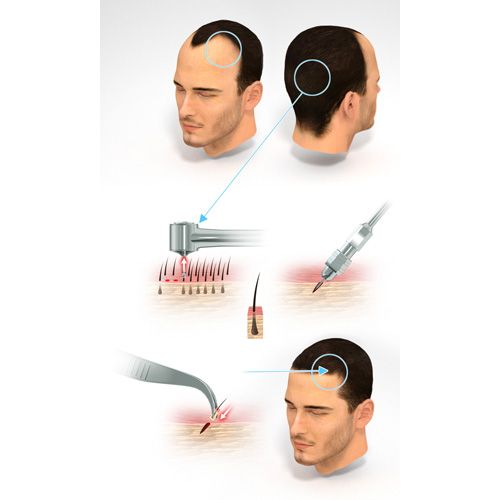 After seeing Dr Tam at our Leeds clinic, Mark said:



JCB Reed agreed, saying:



Your Hair Transplant team will be constantly checking up on you during the procedure, making sure that you are comfortable and taking care of your needs.
Follow ups and results
After the FUE the team will restate the post-operative measures you need to take, and provide you with their contact details, so that you can keep them updated with your progress.
Patients tend to worry in the seven months following the Hair Transplant, but remember that during this time of transition, we will be just a phone call away, even if all you need is a reassuring chat.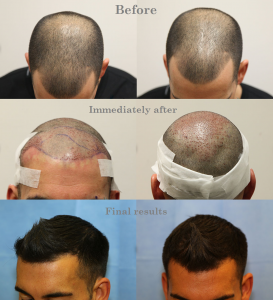 The most common feedback we receive is people telling us that had they known the possible results sooner, they would have opted for the treatment sooner.
The pros far outweighed the cons, according to Andrew:



Andrew and our other Hair Transplant patients have had very positive experiences following their procedures, often saying that the results have been life-changing – which, in the end, is what matters to us most.
The Private Clinic
We pride ourselves in having assembled an elite team of Hair Transplant experts who are renowned across Europe for their skills and as leaders in their field.
Hair Transplants are available at our Birmingham, Leeds, Manchester, London, Bristol  and Glasgow clinics.