Our fashion choices can often leave a mark on us, "no beauty without pain" may come to mind as you think about those blisters or bunions left by wearing statement shoes, that bag which causes a weeks worth of neck pain after using it for just a couple of hours, or what about those heavy earrings you used to wear which have now caused your earlobe to split…
But luckily for you, many of these issues are merely temporary and although you may have to give the heavy hoops a miss next time you dress up – your split earlobes are an easy fix here at The Private Clinic.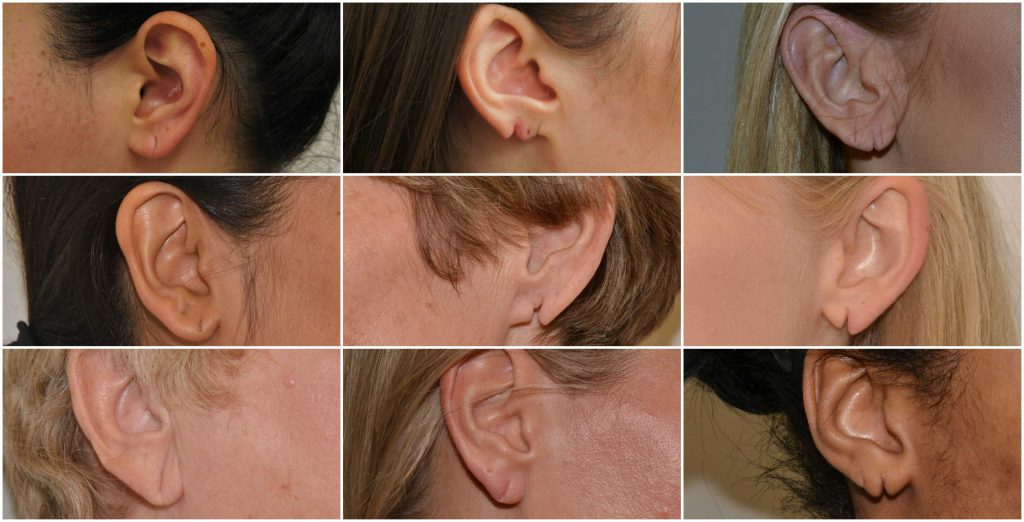 The dreaded earring tear – do any of these look familiar?
A tear to the earlobe usually occurs due to frequent wearing of heavy earrings although often it is a one-off event such as your earring getting caught and pulled which can cause a tear to appear.
Earlobe repair is actually a minor procedure carried out under local anesthetic, so there is no need to be daunted by the idea of having surgery, you will be able to walk out the clinic and get back to usual activities the same day.
The split earlobe repair technique is quite simple compared to some of our other cosmetic procedures.   Any excess tissue is removed first to tidy up the area, before the two split sides are carefully stitched together with very fine dissolvable stitches.
You can see Mr Adrian Richards of Aurora Clinics part of The Private Clinic performing the procedure in this video;
With Summer rapidly approaching your social calendar may be filling up with special events but if you find celebrations are often dampened by the thought of anyone seeing your naked ears then now is the perfect time to consider split ear surgery.
Your ear will need to heel for 2-3 months, but after that point you are free to re-pierce those ears and show off those sparkly gems once more  – although maybe opt for a smaller stud rather than a heavier pair.
Our Medical Team
We are proud to have some of the UK's leading Consulting Plastic Surgeons working with us and together we strive to deliver effective solutions coupled with the best patient care available. All of our surgeons have extensive experience and knowledge, which has made them very well respected within our industry.
Earlobe reconstruction is available at our Birmingham, Bristol, Leeds, Manchester and London clinics.
*All images, videos and testimonials are based on the personal experiences of our patients and represent individual body shapes and results. Results may vary from person to person. All testimonials are provided voluntarily by our patients and clients and all photos and videos have been consented to and have not been altered in any way.