Belly fat is a common complaint for many and despite leading an otherwise healthy lifestyle, many feel it is a tricky area to reduce fat from with diet and exercise alone. We offer a variety of procedures here to help you achieve the results you are after.
Vaser Liposuction
Vaser liposuction is performed by experienced plastic surgeons or cosmetic doctors and is ideal for patients who are close to their own weight but struggling with stubborn areas of fat. Vaser liposuction uses high frequency ultrasonic waves to break up and liquefy the areas of fat without damaging the surrounding area. The procedure is usually performed under local anaesthetic with sedation and does require small incisions, but these do not often require stitches. Depending on the result you are after, there are a variety of different variations of liposuction including hi-def which will help to emphasize the muscles in the area providing overall body contouring.
Vaser Liposuction is available in London Harley Street, Manchester, Leeds and Birmingham.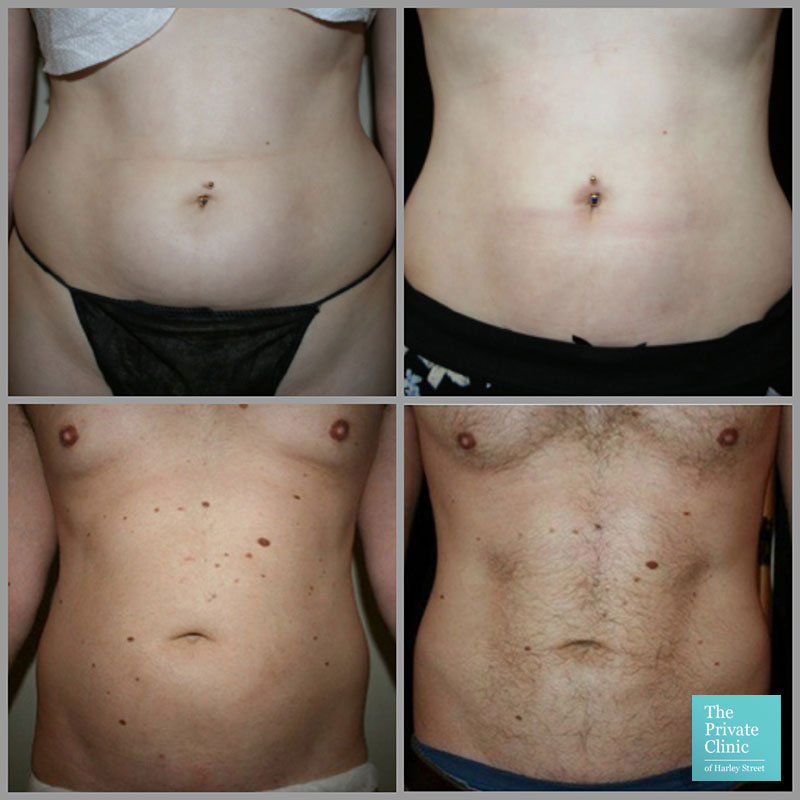 CoolSculpting
CoolSculpting, also known as fat freezing, is a fat reduction treatment that uses cooling technology to freeze fat cells in the areas being targeted. Once frozen, the fat cells are then processed naturally by the body using the lymphatic system and then exposed from the body as waste. CoolSculpting is a non surgical fat reduction treatment that can be carried out in-clinic. Patients may feel slightly uncomfortable at the start of the procedure as the fat is inserted into the applicator pad and the freezing process begins but this will soon become numb allowing the patient to sit back and relax. Treatment times take as little as 35 minutes to complete and patients can start to see their results within 8-12 weeks of treatment. It has been clinically proven to reduce up to 27% of fat cells across a range of treatment areas. CoolSculpting is an ideal treatment for patients who are looking to reduce areas of stubborn fat without any downtime or restrictions on activities such as exercise and travelling.
CoolSculpting is available in Manchester, Leeds, Birmingham, Northampton, London Devonshire Place and Stoke Poges in Buckinghamshire
Abdominoplasty Surgery
Some patients may not be suitable for vaser liposuction or CoolSculpting. This is often because it is a larger area of fat or there may be sagging skin which will continue to get worse. In these cases you may need to seek abdominoplasty surgery which involves removing excess skin and sometimes tissue from the stomach to help achieve a smoother and flatter appearance. Tummy tuck surgery is also ideal for patients who are experiencing Diastasis Recti which can occur after pregnancy. Diastasis recti, or rectus abdominis diastasis is when the abdominal muscles separate and are unable to come back together which can cause your stomach to stick out. This is fixed surgically by repositioning and tightening the muscles which can be performed during an abdominoplasty.
There are also variations on tummy tuck surgery depending on the amount of skin being removed. These include a full tummy tuck, mini tummy tuck, extended tummy tuck and a tummy tuck combined with liposuction.
Tummy tuck surgery is available in London Harley Street, Birmingham, Manchester, Leeds and Northampton
Which is the best method to achieve a flat stomach?
Choosing which method to remove tummy fat will take time and it is important to remember that everyone is different and what works for one person's body may not provide you with the same results. We recommend booking a consultation with one of our expert surgeons who will be able to help guide you into choosing a treatment that is going to meet your expectations as well as suiting your lifestyle. The best method to remove belly fat will always depend on your individual requirements.
To find out more about belly fat reduction treatments at The Private Clinic, please call 0333 920 2471 or use our online contact form.