There are few noses more famous than Cleopatra's and as we know, "had it been shorter, the whole face of the world would have been changed".
Luckily, the fate of most of our noses wouldn't have such severe consequences on the rest of the world, so you can probably go ahead and tweak yours with peace of mind.
Although the Egyptians were very particular about facial proportions, it's only in June 2014 that researchers from New York University published a study claiming to have found the ideal proportions of the female nose.
A nose tip upturned to 106 degrees – which Scarlett Johansson is praised for – is claimed to be the most aesthetically pleasing angle on fair skinned women.
Despite the sample limitations of these findings, they do show just how much of an impact small details can have on aesthetics. And as far as your nose is concerned, Rhinotip Correction is an ideal treatment for a nose that needs just a bit of refinement.
Hooks, crooks and flares
Noses truly do come in all shapes and sizes, but they aren't always completely proportionate to the rest of our face.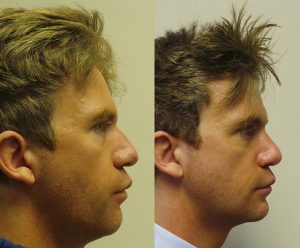 Going after 'the prefect nose' is a pipe dream, as there's no such thing, but aiming for the perfect nose for YOU is very achievable.
Whenever you alter elements of your face it's important that they stay in balance with your other features, so that a natural, overall pleasing look can be achieved.
With nose tips, there are a few common instances that can affect your overall symmetry.
Hooked tip: Can create an over-elongated effect; with the jutting out portion of the nose tip being particularly noticeable in profile.
Crooked tip: When one nostril appears larger, or when it slants to one side, making the nose look asymmetrical.
Big tip: Can cause a chunky or rounded general appearance to the nose, which can sometimes be due to thick skin in that area.
Flared nostrils: Nostrils can be larger, or their alar bases spread out too far, producing an upturned or flattened appearance.
What does a Rhinotip Correction involve?
Most tip corrections involve modifying the shape or structure of the underlying cartilage. When appropriate, excess skin is removed from the tip or the alar bases. Otherwise, alterations are made from the inside to minimise the risk of any visible scarring.
It's possible to carry out the procedure under local anaesthetic with sedation, but your surgeon will advise you if another option is more suitable.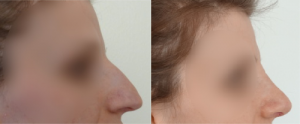 You may need to take 7-14 days off work while you recover, but as with any procedure, we'll be with you every step of the way during your aftercare.
Some swelling may persist over a few months but once it goes down, your nose will finally have its perfect finish.
The Private Clinic
Our Consultant Plastic Surgeons have adopted some of the most pioneering techniques in Rhinoplasty so as to be able to deliver effective and aesthetically pleasing results. Our rhinoplasty surgical team includes:
To find out more abour our Rhinoplasty procedures, please call 0333 920 2471 or use our online contact form to request a consultation.