Vaser liposuction is one of our most asked about treatments offered here at The Private Clinic. The procedure is a popular choice for those looking to contour their body and remove any stubborn areas of fat.
Vaser Liposuction differs to traditional surgical liposuction as it uses ultrasound to dissolve the fat and the minimally invasive technique makes recovery time a lot quicker with initial results being seen after the procedure and improving in the following weeks/month.
So is Vaser right for me?
Vaser Liposuction is recommended for patients who have small areas of fat that they are struggling to loose despite the patients best efforts at dieting and exercise. Vaser can be carried out on almost all areas of the body including the neck, upper arms, tummy, thighs and even your knees.
Vaser Lipo for the Chin/Neck 
Vaser Liposuction is often used to get rid of the excess fat stored around the neck area which can result in a double chin or drooping jowls.
Vaser Liposuction is not suitable for the face we will most likely recommend CoolSculpting for reducing fat on the chin and neck.
If you are struggling with bags under the eyes for example or are just looking for full facial rejuvenation then you may also be better off considering a blepharoplasty or full face lift.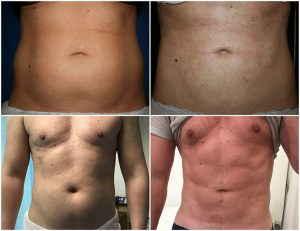 Vaser Lipo for the Torso
The most common area to get vaser liposuction tends to be around the abdomen. We see many patients who are living an active and healthy lifestyle but despite their best efforts fat pockets around the stomach and flanks are proving difficult to burn off. As long as you don't have any loose skin then vaser liposuction will most likely be the best option for this issue.
If you are struggling with loose skin as a result of weight loss, or pregnancy for example, then an abdominoplasty will most likely be recommended instead in order to get the desired result.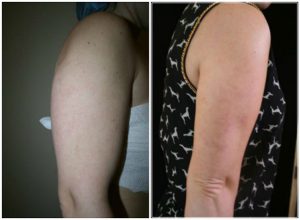 Vaser lipo for the Arms and Legs
Troublesome fat on the arms and legs can feel like a real burden when no amount of exercise seems to be shifting it. Vaser liposuction is great at targeting the pockets of stubborn fat and contouring your arms and legs.
In some cases however Vaser Liposuction may not be suitable, particularly if you have a fair amount of excess skin. If vaser liposuction is not an option then we may refer you to one of our plastic surgeons who will be able to discuss a thigh or arm lift with you.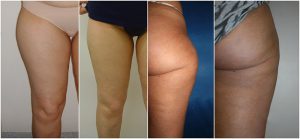 Despite its quick procedure times and short recovery periods, Vaser Liposuction is still surgery and it should not be seen as a quick fix or the easy option. Have a consultation with your doctor, surgeon or patient advisor and make it really clear what you wish to achieve.
Don't feel put down if vaser is not recommended as this would only be down to getting the best results that you desire which may instead require surgery.
Vaser Liposuction at The Private Clinic
Our Vaser Liposuction procedures are either carried out at our own local operating theatres or at specially selected hospitals close to your clinic in London, Birmingham, Manchester, Buckinghamshire, Northampton and Leeds. We tailor-make each procedure, meaning you'll always be given our full attention and we will work hard to ensure you receive the kind of results you want – whether it's an athletic, masculine figure or more subtle, feminine curves. We specialise in all forms of fat removal treatments unlike others who may only specialise in one.
We offer a full range of vaser liposuction techniques like vaser hi def and micro lipo as well as non surgical fat freezing and surgical fat removal such as the Brazilian tummy tuck.
The Private Clinic's Doctors have performed over 11,000 VASER Liposuction treatments to date, more than any other clinic in Europe. We were the first clinic to launch Vaser in the UK.
Our doctors are:
The Private Clinic prides itself on ensuring you have the best quality and most comprehensive care:
24 hour patient helpline to ensure you are always in the best of hands.
As many post-operative care and appointments with your surgeon, doctor and nursing team as required.
One year cover for all surgical, hospital and nursing care, in case of any medical issue giving you peace of mind*.
Comprehensive patient information, every step of the way
Highly experienced surgeons and doctors who have years of experience in vaser liposuction.
Outstanding hospital facilities.
Competitively priced for our expertise and experience.
With over 35 years' experience of Cosmetic medical Excellence, you are in safe hands.
Our excellent reputation for patient safety and satisfaction, honest advice and outstanding care means your journey with The Private Clinic will be an exciting experience to a newfound shape.
See our before and after photo gallery.
To find out more about Vaser Liposuction at The Private Clinic click here to view our FAQs or call 0333 920 2471 or click here to book an appointment.