Up to 50% of men have experienced some form of hair loss by the age of 50, with many seeing signs of thinning in their 20s, 30s and even late teens. It's no wonder then that FUE hair transplants have become a hugely popular way to address thinning hair – but are they really a long-term solution for the problem?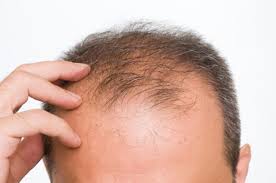 The key factor in answering the million-pound question comes down to your surgeon and their knowledge of your particular case. Quite simply, hair transplants are a permanent solution to restoring the hairline but only (and it's a big but) if you are a suitable candidate. Transplanted hairs need to be taken from a donor site that will not become bald, so your surgeon needs a thorough understanding of your type of hair loss and what that means for the future.
Are you suitable?
Male Pattern Baldness is the most common form of hair loss with 95% of men who experience thinning locks affected. The condition generally follows a set pattern which starts with a receding hairline and is then followed by thinning of hair around the crown and temples, resulting in horseshoe-esque pattern of hair around the back and sides of the head with a bald patch in the middle. Candidates suffering from Male Pattern Baldness are normally the most suitable for transplants because complete loss of head hair is uncommon, and the common donor area at the back of the head is normally full of stable, healthy hairs that will not be lost.
The importance, however, of understanding how your pattern of hair loss will progress cannot be understated. One of our patients, Paul, came to us having had a 'strip' transplant in his early twenties and told us:
"It worked well whilst I still had a good head of hair, but as I got older my hair receded further. By the time I was in my early 40s, I almost had a perfect doughnut with hair from the strip in the centre and a big gap around it." 
Because at The Private Clinic we work exclusively with minimally-invasive FUE hair transplant, we were able to restore this area with virtually undetectable precision and longer lasting results than Paul's previous attempt. However, his case shows the importance of understanding how your hairline will change in the years that follow, and surgeons need to choose the right method of treatment according to that.  
Another form of hair loss, Alopecia Areata, is an autoimmune disease which attacks hair follicles in a generally random pattern. This means that even those hairs that are transplanted from abundant areas of hair can be attacked by the immune system, and we will very rarely perform any form of transplant as a result. Knowing what's causing your hair loss is vital to how long your results will last. If you don't understand your pattern of hair loss, speak to an experienced expert who can assess you thoroughly and give you the right information to move forward.
Post-transplant care
Because of how the anatomy of hair follicles and hair growth works, you often won't see the full results of a transplant until about 6-12 months after treatment. It is incredibly important to follow your clinic's recovery instructions during this time to make sure your results are long-term.
Depending on your case, some patients may be recommended a course of medication post-treatment. Propecia and Rogaine are known to many hair loss sufferers as options prior to surgery, but your doctor will always advise on whether any medication is advised and, if it is, why.
Summary
Hair transplantation can be a permanent solution to replace hair that has been lost, however, the treatment's longevity ultimately comes down to how suitable you are for it. A good surgeon should spend time analysing you – if you're told you're not suitable, listen to them. You'll more than likely end up disappointed with the results if you don't. Providing you work with a well-known, respected surgeon who fully understands your case before going ahead, results can be long-term and can completely transform your hairline and confidence.
FUE Hair Transplants at The Private Clinic
The Private Clinic's Hair Transplant and Hair Restoration surgeons have the most extensive experience in treating Male Pattern Baldness with the minimally-invasive, no visible scarring, no stitch technique known as FUE (Follicular Unit Extraction) Hair Transplantation and have treated hundreds of patients each year. FUE is a minimally invasive treatment carried out under local anaesthetic and unlike the strip (FUT) procedure, you won't require any stitches. Thanks to our advanced skills and techniques results can be undetectable and the recovery time is minimal compared to previous strip surgery.
After surgery you will be free to wear your hair long or short as there will be no linear scaring across the back of your head and you will instead have natural results with denser packing as the hair is implanted to match your natural hair growth and only select the healthiest follicles to use.
Our surgeons are also the only surgeons in the UK to be able to offer the Unshaven Hair Transplant for those who prefer not to shave their head beforehand.
The Private Clinic prides itself on ensuring you have the best quality and most comprehensive care:
24 hour patient helpline to ensure you are always in the best of hands.
As many post-operative care and appointments with your Hair Transplant surgeon and nursing team as required.
Highly experienced Hair Transplant Surgeons who have many years of experience.
Comprehensive patient information, every step of the way.
Outstanding hospital facilities.
Our excellent reputation for patient safety and satisfaction, honest advice and outstanding care means your journey with The Private Clinic will be an exciting experience to a newfound head of hair.
Extensive videos of past patients click here
Extensive Hair Transplant FAQs click here
Hair Transplant treatment is available at our London Harley Street, Birmingham, Manchester, Northampton and Leeds.
Expert Hair Transplant Surgeons at The Private Clinic
Dr Raghu Reddy MBBS, MRCHP, DPD, GMC Number: 6041095
Dr Luca De Fazio MD, BSc, MSc, GMC Number: 7095123
Mr Michael Mouzakis S.C.F in Plastic Surgery, GMC Number: 7237640
Dr Ismail Ughratdar, MB ChB, GMC Number: 6103427
Dr Furqan Raja, MB ChB, GMC Number: 7419667
To find out more about FUE Hair Transplants call 0333 920 2471 or use our hair transplant online contact form