A study published in December 2011 estimated that around 86% of malignant melanomas in the UK were linked to exposure from the sun or sunbeds. And, while we might think we know how to look after our skin, how much do we really know?  
Our obsession with sun-kissed skin is showing no signs of slowing down and, as a result, skin cancer rates are on the rise. Last year Public Health England reported a 30% increase in the number of hospital admissions for melanoma, and there was a reported 43% rise in the number of non-melanoma skin cancer cases between 2007 and 2011.
However, for many of us, stats are meaningless until they directly link to us. In an attempt to show the effects of her own complacency in the sun, 27-year-old American nurse Tawny Willoughby shared the below selfie after being treated for skin cancer on six separate occasions since the age of 21.
On her experience with the condition, she said:
"If anyone needs a little motivation to not lay in the tanning bed and sun here ya go! This is what skin cancer treatment can look like. Wear sunscreen and get a spray tan…Learn from other people's mistakes. Don't let tanning prevent you from seeing your children grow up. That's my biggest fear now that I have a 2-year-old little boy of my own"
Check your skin regularly
Regardless of how much you think you know, or how cautious you are, we always recommend checking your skin regularly for any irregularities and any warning signs. Moles in particular are a key indicator of the condition, with many specialist organisations recommending the 'A.B.C.D.E.' method of home screening:
A

symmetry: 

One half is different than the other half.
Border irregularity: The edges of the mole are uneven or blurred.
Color: Having multiple colours in a mole can be a warning sign.
Diameter: Melanomas are often over 1/4 inch (6mm) and can sometimes grow.
Evolution: If your mole changes in colour, size or any characteristics, it's wise to get it checked.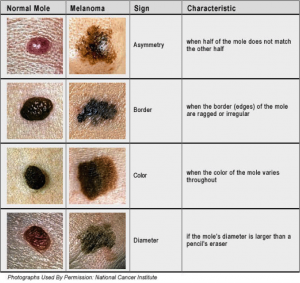 Looking after your skin is important. Specialists never say you need to avoid the sun completely, but just take care in how you act when it's out and make sure you use common sense to protect yourself. As well as preventing against skin cancer, many dermatologists recommend using sun cream daily to protect against signs of ageing.
The Private Clinic
Your skin health can seem like a scary thing. We're here to make sure it's as simple and pain-free as possible.
For a thorough consultation about your mole health checks and mole removal book a consultation with our Harley street dermatologist or Plastic Surgeon clinics in London Harley Street, Birmingham, Leeds, Manchester and Northampton
We believe you deserve the very best care from the very best professionals; with over 35 years experience and some of the UK's most respected skin experts behind us, we're here to make sure you get precisely that.