Your pelvic floor is made up of a group of muscles and ligaments that work to support the bladder, uterus and bowels. The muscles of the pelvic floor attach to your pubic bone and tail bone from the base of the pelvis.
What are the symptoms of a weak pelvic floor?
Symptoms of a weak pelvic floor include;
Leaking urine when laughing, exercising, sneezing or coughing
Sudden strong urges to urinate
Reduced sensation in the vagina
Feeling of heaviness in the vagina
Painful sex
Uncontrollable wind when lifting or bending
Problems with using tampons
Noticeable bulge at the vaginal opening
What can cause a weak pelvic floor?
There are a range of causes as to why your pelvic floor may become weakened, these include;
Pregnancy and Childbirth
Weight gain
Menopause
Previous surgery
Chronic constipation
Excessive coughing
How to test your pelvic floor strength?
If you are concerned that you may have a weak pelvic floor then we recommend visiting your GP  who will then be able to assess you or refer you to a healthcare specialist where you will may have some tests to confirm diagnosis.
A pelvic floor muscle examination will involve an examination of the vaginal area to check for any inflammation or irritation. An internal examination will also take place where the therapist will be able to assess the muscle tightness and strength.
How to treat a weak pelvic floor?
In most cases, patients will be advised to try pelvic floor muscle training (PFMT) which is also referred to as pelvic floor exercises. There are lots of forms of pelvic floor exercises but the most common is Kegels which is where you are practicing to contract and relax your pelvic floor muscles. It is recommended that patients perform Kegels 10 times at least 3 times a day in order to get the best results. Kegel exercises are not obvious movements, and many can perform them whilst sitting at their desk, watching tv or even waiting for a bus. It can take 3-6 months to notice an improvement from kegel exercises and these will need to be performed regularly on a daily basis.
Another great option for treating a weak pelvic floor with some slightly quicker results is our Emsella treatment. Emsella is a non-surgical FDA Cleared treatment designed to strengthen the pelvic floor whilst improving urinary incontinence & vaginal laxity.
The treatment is carried out in one of our discreet clinics and you will remain fully clothed throughout. You will simple be required to sit on the Emsella treatment chair whilst it applies High-Intensity Focused Electromagnetic technology (HIFEM) which brings thousands of supramaximal pelvic floor muscle contractions to stimulate the pelvic floor muscles and restore neuromuscular control.
One 30-minute session of Emsella is the equivalent of 11000 kegel exercises.

Emsella involves no downtime so patients will be able to return to their everyday activities straight after treatment and most 95% of patients reported significant improvement in their everyday life after a course of Emsella.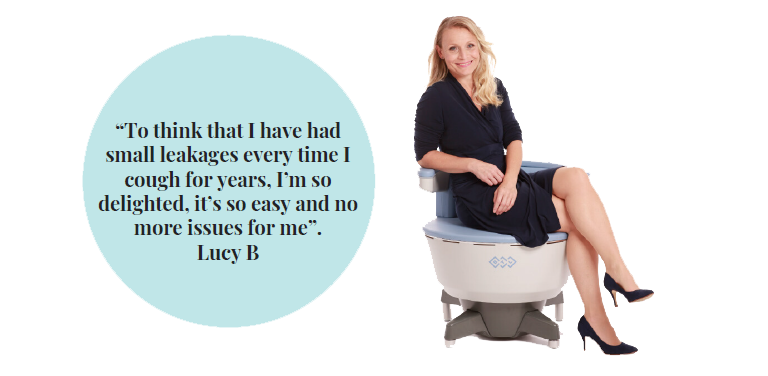 To find out more about pelvic floor strengthening with Emsella, give us a call on 0333 920 2471 or book a free consultation at our clinic in Leeds using our online contact form.