How big can you go with breast implants?
BREAST AUGMENTATION AND ENLARGEMENT
Home » How big can you go with breast implants?
The first thing that needs to be said about Breast Augmentation is that it's a very personal affair. It's a completely bespoke treatment that will see great variations between cases – with no two being the same. Ultimately, your anatomy, as well as your choice of surgeon and desired results, are what determine the maximum implant size you can go up to.



Potential patients who do their research will know that implant volume is measured by 'cc', which stands for 'cubic centimetre. Although it is said that 150cc-200cc very roughly equates to an increase in one, to one and a half cup sizes, the fact is that there is no set correlation between breast implant volume and cup size.
What factors will determine the size of my breast implants?
It's very difficult to predict the size of implants you'll require without coming in for a consultation with an experienced breast surgeon. That's because they'll need your measurements to accurately inform you of your options. The following are what they'll need to take into consideration:
Height
Weight
Chest width and height
Current breast dimensions
Skin quality
Your current amount of breast tissue, and your breasts' base width, tend to be the determining factors of how big you can go – going beyond that would be inappropriate and could leave you with distorted results. By knowing the width of your breasts your surgeon can account for the amount of skin on each side of your individual breasts, allowing them to select a well-fitting implant.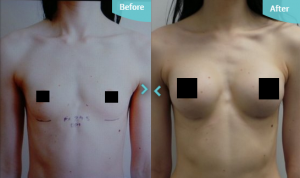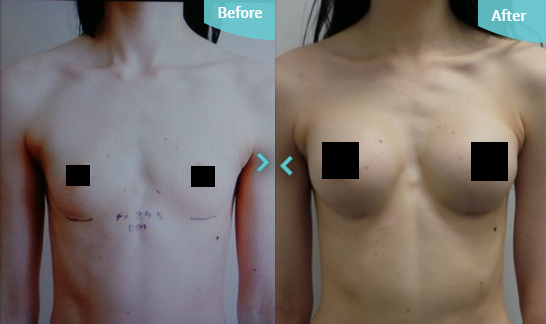 By going over this width, your implants could move sideways or below your inframammary fold, you could also be compromising your sensitivity in that area and you become far more at risk of capsular contraction, infection and tissue destruction. Plus, you would probably require several operations to let your skin stretch far enough to create an oversized look.
Your current breast dimensions and chest width are also significant factors in determining the right size of implants for you. For instance, let's say that you want to go from an A cup to a C/D cup and have a narrow frame, to achieve that result 320cc implants will be recommeded. However, the same 320cc implants would only elevate a C cup patient to a D/DD cup. Your surgeon will further advise you based on how much breast tissue you already have and whether the implants should be positioned beneath or above the pectoral muscle.
Working off all this data, an experienced surgeon will be able to suggest what implant size, shape, projection and positioning would be best suited to achieve your aesthetic goals.
What you can do to help your surgeon
Keep in mind that a plastic surgeon's job is to help you create your desired body without compromising on your safety. However, they can't do so if you aren't completely open about what you want. To obtain the results that you're after, you should be straightforward and honest. So if you aren't happy with a suggestion they've made, then tell them.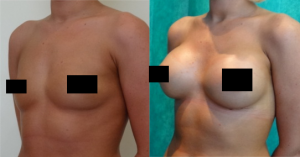 To give them the best idea of the results you're looking to achieve, the most useful thing you can do is to bring in before and after pictures of women who have achieved them and that you would like yours to be based on. This gives your surgeon a very good reference as to the size, shape and perkiness that you want. If you've seen the breasts you want on someone with a different frame to yours, then you should still bring those in as skilled surgeons are good at translating proportions. Doing so will allow for a better discussion on realistic expectations and the best way to achieve your objectives, although anatomical constraints may mean that they won't look 100% the same as the picture.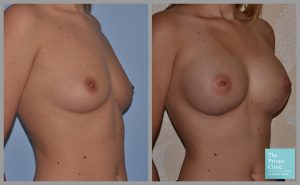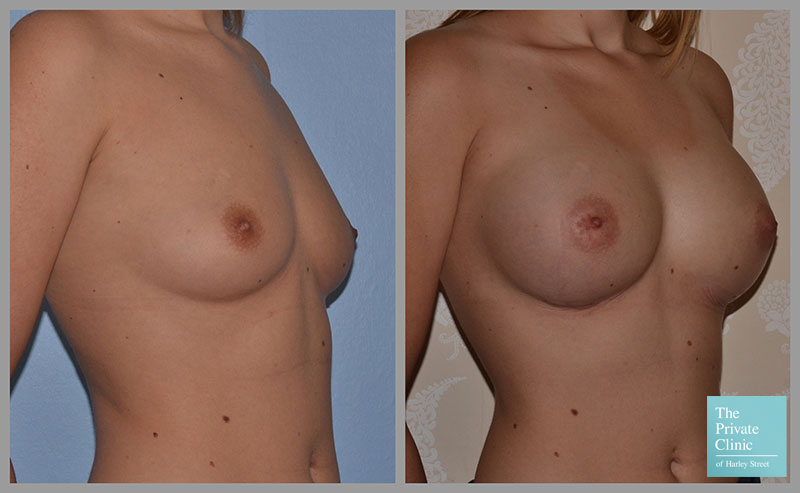 It's imperative to choose a surgeon who knows different techniques, approaches and has worked with different implant choices. Someone with a proven track record is best and you should ask for recommendations and photos of their previous work to make sure that they can be trusted. You'll be relying on their expert knowledge to reach your goals, so choosing the right surgeon may be the most important decision you make.
The Private Clinic
Our team of highly respected Consultant Reconstructive and Plastic Surgeons are here to objectively guide and advise you by relying on their years of professional experience. You can expect to be treated in complete confidence and rest easy knowing that patient safety and satisfaction form the core of our clinic.
Breast Surgeons
Breast Augmentation consultations are available at our London Harley Street, Birmingham, Leeds, Manchester and Northampton clinics.
To find out more about breast enlargement surgery, please call 03339209135 or use our online breast augmentation contact form.