Hirsutism or excessive hair growth can be a distressing condition for those who are affected. Women with hirsutism find themselves growing hair in a male pattern on the chest, abdomen, back and face which is measured by the Ferriman-Gallwey scale. Hair growth is rated from 0 to 4 in nine locations on the body that excess body hair is most commonly found.  Your score from each location will add up to a final score and a result of usually 6 or more is enough to indicate hirsutism in a mild, moderate or severe format.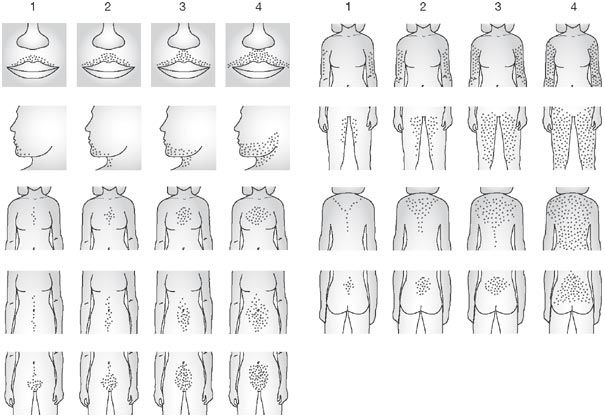 What causes excess hair growth?
There are a range of causes of excessive hair growth in women and these include;
PSCOS – Polycystic ovarian syndrome is the most common cause of excessive hair growth with 3 out of every 4 women suffering from excess hair growth having PCOS. Polycystic ovaries are when there are benign cysts on the ovaries that affect the production of hormones. Unfortunately; excessive hair growth is just one of the additional symptoms that make up PCOS along with acne, fatigue and mood changes.
Adrenal Glands – Adrenal gland disorders such as Cushing's disease can cause excessive hair growth as a side effect. Adrenal glands are located above your kidneys and are responsible for hormone production. Cushing's disease, for example, causes you to have higher levels of cortisone which can affect the way that your body is able to produce androgens.
Medication – Certain types of medication can cause excessive hair growth such as anabolic steroidscyclosporine and Minoxidil.
Idiopathic Hirsutism – The second most common cause of excessive hair growth is Idiopathic Hirsutism. There is no known cause for why this hirsutism has developed which unfortunately can make it difficult to treat and manage.
What can we do?
Here at The Private Clinic, we deal with a number of women who are suffering from hirsutism and are looking for a more long-term solution to deal with their excessive hair growth.
We have found laser hair removal to be the most effective way to reduce hair growth. Although it is not permanent, there is however a permanent reduction, many of those suffering from hirsutism find their hair has become a lot thinner and finer after a course of sessions spaced 5-6 weeks apart.
At The Private Clinic, we do not offer hair removal through IPL (intense pulse light), we use Class 4 lasers that are the most effective form of laser hair removal. Although both treatments do produce energy in order to disrupt the growth cycle of each hair follicle, reducing hair growth – IPL hair removal treatments are not laser treatments. IPL instead uses a broad spectrum of wavelengths which can't be focused into a specific beam like a laser can. These ranges of wavelengths are also unable to effectively target deeper and thicker hairs meaning the success rate is not as high compared to laser hair removal. To find out more about the differences between IPL and Laser Hair Removal please see our dedicated blog here.
Where can I have Laser Hair Removal?
At The Private Clinic, we have a number of clinics nationwide that provide laser hair removal treatment. These include;
You will be required to have a patch test before booking in for your laser hair removal treatment. We recommend booking in for a consultation and patch test with our expert practitioners who will also be able to discuss the treatment in a lot more detail and assess your skin type putting together a personalised treatment plan for you.
A patch test is our way to look at how your skin reacts to laser before you commit to a full treatment. It is also a great way of preparing yourself for what the treatment will be like. Laser hair removal can be slightly uncomfortable but the majority of patients are able to have full treatments carried out
Why choose The Private Clinic for Laser Hair Removal?
There are no hidden costs.
We don't use IPL for hair removal purposes, we only use a laser that is the most effective way to remove unwanted hair.
We always test your suitability for any of our laser treatments.
We are able to treat a variety of skin types including darker skin.
We afford all our patients the right care well before, during and long after every procedure
Our nurses and laser practitioners are all very experienced and well trained.
Our aftercare promise – you can call, email and visit us to discuss how we tailor-make each procedure and offer ethical and professional aftercare for every patient.
We are contactable 24/7, 365 days a year for patients.
We are competitively priced for the expertise and professionalism we provide every patient.
To find out more about laser hair removal or book a consultation please call 03339209135 or use our online contact form.