We've written before about the wonders of Laser Hair Removal and how and why it's considered the top treatment for removing unwanted body hair. We often get asked how many sessions it takes to remove the hair totally. The answer to that needs a little unpacking so we thought we'd write this blog to address it.
Results are not instant so you do need to commit to a course to get the best result possible. The amount of time between each session is about a month to six weeks. You don't want to leave it much longer than that or you may miss the hair regrowth cycle and risk not getting the best result. Similarly coming in too soon is not helpful and sabotages the possibility of you getting the best outcome.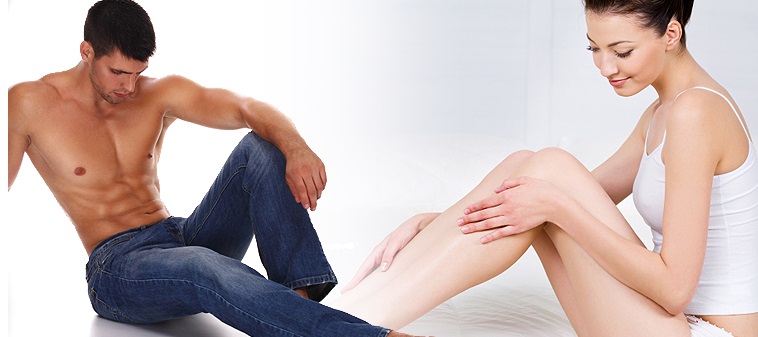 The average amount of sessions needed is six which is why we sell courses of that length. A course of six catches the full cycle of hair growth.
Your treatment can take anywhere from twenty minutes to an hour depending on the size of the area and part of the body being treated.
A top-up session or two may be needed after the course just to complete the treatment, in some rare cases, another course is needed to ensure permanent reduction. Laser hair removal is especially effective on dark hair as the laser is drawn to the pigment, so lighter hair may need more attention.
If you don't have much hair in the area you're having treated or if you've had a course before, or even just find it more convenient to pay separately you can, of course, book single sessions.
Laser Hair Removal Prices
So how much does it all cost? Here's our handy price guide to our most popular areas-
| | | | |
| --- | --- | --- | --- |
| Area | Cost – Pay As You Go | Cost – Course | Cost – Top Up |
| Underarms | £60 | £300 | £54 |
| Full Back and Shoulders | £269 | £1,345 | £242 |
| Standard Bikini | £85 | £452 | £77 |
| Extensive Bikini | £130 | £650 | £117 |
| Lower Legs | £150 | £750 | £135 |
| Full Legs | £280 | £1,400 | £252 |
| Standard Bikini and Underarms | £139 | £695 | £126 |
| Extensive Bikini and Underarms | £180 | £900 | £162 |
| Hollywood and Underarms | £210 | £1,050 | £189 |
Why You Should Choose The Private Clinic
Our prices are competitive when compared to the other large clinic groups but we do have competition from smaller clinics and websites that offer very large discounts. In our experience, it is absolutely worth investing in yourself with the very best provider of such services. If you've found a cheaper deal elsewhere then we urge you to question why it is so inexpensive, usually, corners are being cut somewhere whether it's in the experience of the staff or the effectiveness of the machine or perhaps they only do spot treatment whereas we cover every cm of the area. When it comes to your health it doesn't pay to take risks.
We are the country's leading non-invasive cosmetic clinic group and have just won the Aesthetics Award for Best Clinic Group 2017. We pride ourselves on working with only the most experienced doctors, surgeons and medical staff who have seen thousands of happy patients for over 30 years. You can even reach a member of the team around the clock every day in the unlikely event that you have any medical concerns, that is the level of dedication and care you can expect here.
With The Private Clinic, there are no hidden costs, you will only pay for the areas agreed in the consultation. We are totally transparent and ethical with our patients and you have the assurance of the same high quality of care and service in any of our clinics across the country. We are just a call or visit away.
Coming In To See Us
Our flagship is at 98 Harley Street, London, W1G 7HZ which is very close to Regent's Park underground station (Bakerloo line) and we are a short (ten minute) walk from Oxford Circus tube station (Bakerloo & Victoria lines) on the popular shopping destination Oxford Street. We are also a short distance from Tottenham Court Road, Carnaby Street, Piccadilly Circus, Leicester Square, King's Cross, Baker Street and very easy to access from the Marylebone area in general.
We are also a convenient distance from Bayswater, Hyde Park, Green Park, Soho, Notting Hill, King's Road, Kensington, Kensington High Street, South Kensington, Chelsea, Fulham, Battersea, Regent's Park, St John's Wood, Primrose Hill, Victoria, West End, Marylebone, Knightsbridge, Belgravia, Mayfair, Holland Park, Earl's Court and Fitzrovia.
Patients visit us from all over London and we have clinics across the UK
Clinics Offering Laser Hair Removal
Birmingham
Our Birmingham clinic is accessible from Lichfield, Sutton Coldfield, Solihull, Shrewsbury, Kidderminster, Hampton in Arden, Leamington Spa, Stratford, Edgbaston and Harborne.
Manchester
Our Manchester clinic is in the centre of the city and can be reached from areas like Hale/Hale Barns, Bowdon, Alderley Edge, Wilmslow, Macclesfield, Leigh, Prestbury, Nantwich, Tarporley, Knutsford, Worsley, Altrincham, Cheadle and Deansgate.
To book a consultation at any of our clinics, please call us on 0203 325 6555 or request a consultation online.