Hair removal can seem like an endless chore and with summer coming up we are all seeking the quickest and effortless way to reduce hair growth to allow us to go longer without shaving, waxing sugaring, dissolving or plucking.
But what about laser-ing? Many women are now turning to laser hair removal with the aim of reducing hair growth to make their hair removal efforts less time-consuming.  It is not just women opting for laser hair removal however, many men are seeking a more long-term way to reduce the hair growth on their chests and backs.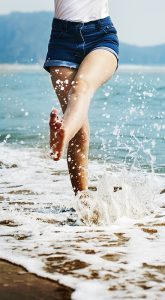 What is Laser Hair Removal?
Laser Hair Removal is a popular semi-permanent hair removal treatment. It damages the hair follicle to dramatically reduce hair growth.
Am I suitable for Laser Hair Removal?
At The Private Clinic or Laser Hair Removal is suitable for all skin types including Asian and darker skin types. Your skin is measured on a scale known as the Fitzpatrick Scale. Many Asian skin types, for example, are a Fitzpatrick skin type 4 and those with skin type 4 are more sensitive to laser treatments due to the higher amount of melanin in the skin. Our skilled practitioners will only use the most advanced techniques with lasers that are tailored to your skin type.
Where can I have Laser Hair Removal?
Laser Hair Removal can be performed practically anywhere on the body. Popular areas include underarms, legs and bikini line but it is also really effective on facial hair including the chin and upper lip. Laser Hair Removal is also suitable for men with chest, back and shoulders hair removal being another popular treatment.
How many Laser Hair Removal treatments do I need?
Most areas will need 6 sessions to achieve the best results and these should be performed 4-6 weeks apart in order to target each growth cycle of the hair follicle. Although you will notice a great improvement in hair growth, you may still require top-up treatments every 6-12 months to maintain the results.
How much does Laser Hair Removal cost?
| | | | |
| --- | --- | --- | --- |
| AREA | SINGLE TREATMENT | COURSE OF 6 | TOP UP |
| Underarms | £60 | £300 | £54 |
| Bikini | £85 | £452 | £77 |
| Lower Leg | £150 | £750 | £135 |
| Torso (Chest and Abdomen) | £230 | £1,150 | £207 |
| Full Back and Shoulders | £269 | £1,345 | £242 |
But we also run combination packages so if you are looking to treat multiple areas in within the same session the prices include;
| | | | |
| --- | --- | --- | --- |
| AREA | SINGLE TREATMENT | COURSE OF 6 | TOP UP |
| Bikini, Legs & Underarm | £350 | £1,750 | £315 |
| Male Torso | £230 | £1,150 | £207 |
To see our prices in full click here.
What are the benefits of Laser Hair Removal at The Private Clinic?
The Private Clinic has years of experience in Laser Hair Removal.
Laser Hair Removal is a safe hair removal treatment which has been tried and tested for over 20 years.
We do not use IPL for Laser Hair Removal making our treatments much more effective for achieving the best results.
Quick treatment times.
Laser Hair Removal will reduce the amount of time that you previously spent on hair removal.
Cheaper in the long run.
The risk of ingrown hairs is significantly reduced.
You will only be treated by highly qualified and specialist laser therapists.
We treat all skin types including Asian and darker skin.
Minimal side effects
You can continue shaving your hair in-between sessions where required.
Stay hair-free for longer!
We are competitively priced for the expertise and professionalism we provide every patient.
We are contactable 24/7, 365 days a year for patients
The Private Clinic has several clinics across the UK offering laser hair removal:
To find out more about laser hair removal or to book your consultation and patch test please call 0333 920 9135 or visit our laser hair removal page on our website.