This week annual figures from the British Association of Aesthetic Plastic Surgeons (BAAPS), reveal that the number of Fat Transfer procedures in the UK have overtaken the number of liposuction procedures.
Over the past few years there has been a steady increase in females looking to enhance their curves, having fat harvested from one area, typically a flabbier area such as the thighs, back and flanks, and re-inserted into another area such as the breasts, bottom or face.
The annual figures collected show that the number of women having Fat Transfer procedures has risen by 13% to 2,641. This increase in Fat Transfer procedures is being linked to curvaceous US stars such as Beyonce and Kim Kardashian. It seems that more and more women are visiting cosmetic surgeons and asking if they can have a derriere just like Jennifer Lopez!
It appears that after 2011's PIP scandal, when it emerged that thousands of British women had been given shoddily made implants that leaked and contained industrial-grade silicone, women are now looking for more natural and safer methods to enhance the shape of their figures.
Fat Transfer, also known as Fat Grafting or Fat Injections is a natural, minimally invasive treatment for replacing age-related lost volume and subtly smoothing out wrinkles. The procedure is carried out under local anaesthetic and can be performed in combination with a number of VASER Liposuction treatments.
Here at The Private Clinic we offer Fat Grafts for the following areas:
Our expert Mr Roberto Uccellini recently performed an fat transfer facelift on this patient using a combination of fat transfer and dermal filler.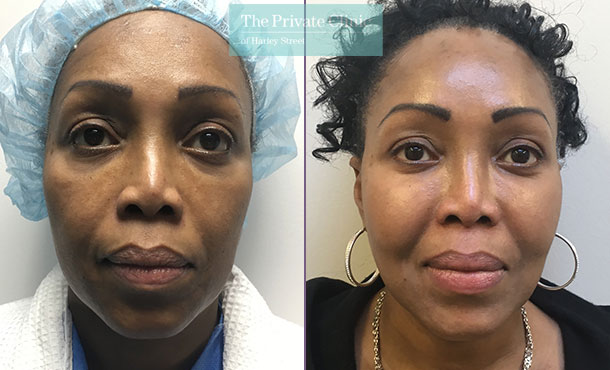 To find out more information about Fat Transfer procedures please call 0333 920 2471 or use our online contact form.