A facelift has the power to produce one of the most dramatic transformations of all cosmetic procedures.
It can give you a naturally fresher, younger-looking appearance which can sometimes leave people struggling to work out what in particular has changed.
But like any surgical procedure, it can only be as effective as the surgeon performing it, meaning looking for the perfect surgeon is the key to achieving a well performed and natural looking procedure.
When it comes to facial surgery consultations, don't be afraid to ask the surgeon questions such as how many facelift procedures he or she performs per year and enquire about viewing before and after photographs. It is so important that you find a surgeon who specialises in facelift surgery rather than one that if offering the best price.
Once you have picked your surgeon, your next task is to work out which type of facelift to go for, a full or mini?
What is the difference between a full and mini facelift?
The difference between the two techniques generally comes down to their invasiveness. A traditional full face lift usually involves a long incision that starts at the temple, and curves around the ears and hairline.
A full facelift is the best option if you are looking to improve your whole face. The procedure focuses on both your upper and lower face improving heavy or low brows, those deep lines between your nose and mouth and excess skin around the jowls area for example.
If you have sagging under your jaw, the incision can also run under the chin area. The skin is then lifted, pulled back and any excess trimmed away.
A full facelift can result in a dramatic improvement to your whole face. You may feel that you are not quite ready for a procedure with such a drastic change, or may you just feel that you are only concerned about improving one of two areas of your face, in which case a mini facelift would your best option.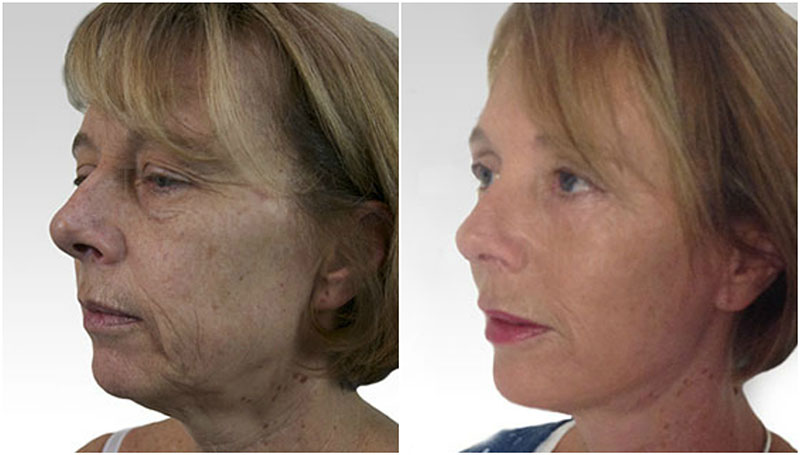 A mini facelift focuses on improving the cheeks and jowls in the lower face. The incisions for this procedure are far shorter and run from the temples down to the natural crease in front of the ear. The scarring from the surgery is typically minimal and it requires a shorter recovery time compared to the full face lift.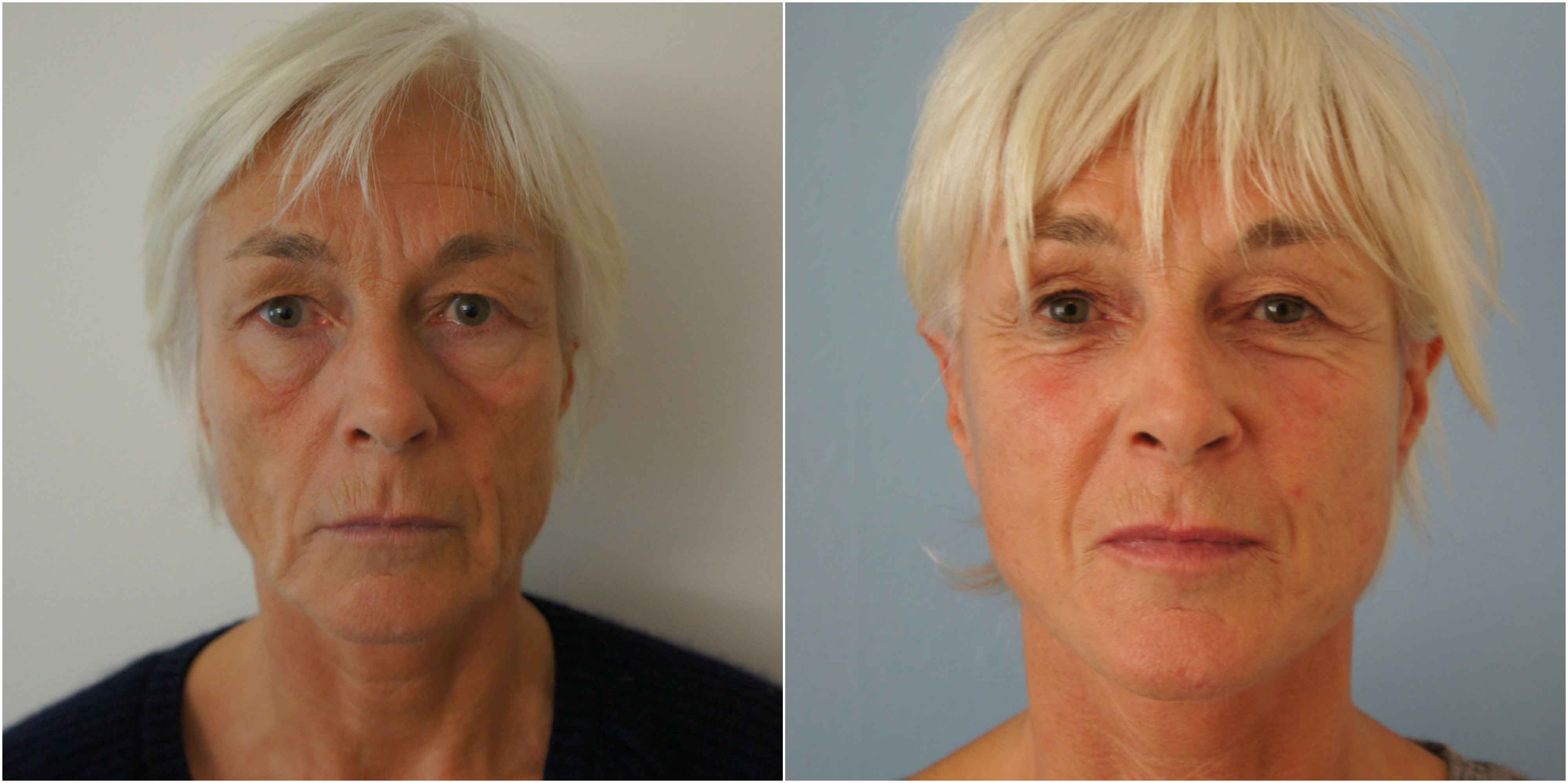 One Stitch Facelift
Another option for a facelift is our one stitch facelift technique. Performed under local anesthetic as a day case procedure this treatment is ideal for those wanting a subtle lift without the downtime. The one stitch facelift can target the mid-face and improve the jaw line with minimal hidden scarring within the hairline.
If your concern is more targeted on your upper face then our temporal lift is another minimally invasive procedure that instead targets the upper face with a short scar hidden within the temporal hair line. Both procedures are by Mr Davood Fallahdar who is available for consultations at our London Harley Street clinic.
Click here to find out more about our One Stitch and Temporal facelift procedures 
What about my neck?
Another good way to decide if you are suited to a mini or full face lift surgical procedure is to look at your neck. The mini lift is essentially a face lift that just focuses on the midface and jowls. A face lift however, also focuses on the neck. The neck lift will involve incisions behind the ear, as well as a tiny incision under the chin. The ideal candidate for a mini face lift is someone who has minimal to no issues in the neck area. Any excess tissue in the jowl area and issues with skin laxity and small amounts of excess skin and fat can be made significantly better with a mini lift. If you have noticed significant banding in the neck area, also known as turkey neck and general excess skin on the face and neck area then this would be best treated with a facelift, which adds in the neck lift too.
Deciding on your best course of action for a face lift is at a surgical consultation with your surgeon. The surgeon will be able to look at your face and listen to your concerns. From here a more informed decision can be made that is personal to you and your face. It is also important to be realistic about your expectations and always ask to see before and after photographs from your surgeon to ensure that you are making the right decision.
The Private Clinic
The Private Clinic has a second-to-none reputation for working with the best practitioners, doctors and surgeons in the UK. We afford our patients quality care before, during and long after their procedure. Our facelift team includes:
If you are considering an facelift procedure, please use our online contact form to request a consultation.