Demi Moore's youthful apperance has always left us questioning our own skin care routines and wondering what her big secret it.
It is not secret that she has previously had cosmetic procedures such as liposuction, breast augmentation and botox but her recent admission has been a non-surgical skin rejuvenation treatment known as Thermage.
Thermage is a skin tightening treatment that is often described as being a non-surgical facelift. The treatment is non-invasive and doesnt involve any surgery, incisions, injections and no downtime.
The treatment involves using radio frequency technology that heats the deep collagen fibres that lay under the skin. Over time the re-growth of collagen fibres aids the skin's elasticity and helps tighten and contour the skin.
Thermage works by stimulating your bodys own natural renewal of collagen which will give you gradual, subtle and natural results – ideal if you want to keep the treatment a secret.
It is most commonly performed on the face, neck and décolletage to treat sagging skin, loose skin, lack of jawline definiton, sagging skin under the chin and fine lines and wrinkles around the mouth and forehead. It can however also be used on the body to help smooth the skin and in some cases can temporarily improve the appearance of cellulite.
It is easy to see why Demi Moore loves this treatment, it helps to keep skin firm and young looking therefore dramatically turning back the ageing process. Let's be honest, the years have been very 'kind' to Demi and she is a testament for good cosmetic procedures working effectively and how not to go overboard. Furthermore, we admire Demi's honesty of the treatments she has had.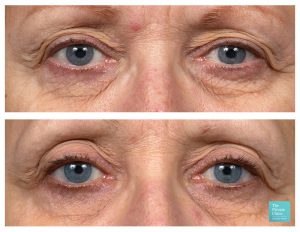 Thermage treatment is available at our London Harley Street clinic.
To find out more, or to book a consultation please contact us on 0333 920 2471 or use our online thermage contact form.