CoolSculpting Body Area Plans
COOLSCULPTING FAT FREEZING
Home » CoolSculpting Body Area Plans
CoolSculpting is a non-surgical fat removal treatment that targets several areas of the body including the chin, arms, hips, tummy, thighs, back and buttocks.
CoolSculpting treatment works by using controlled cooling to freeze or crystallise the fat cells in the area being treated. This freezing technology, also known as cryolipolysis can effectively target the fat cells without damaging the surrounding tissue. Once treated, the fat cells are then destroyed and removed from the body via your natural inflammatory clearing process. Find out more about what happens in a fat freezing treatment here.
The results of CoolSculpting treatment are gradual with the best results being seen within 8-12 weeks but the treatment involves no downtime and is performed with minimal discomfort.
Here are some of our top CoolSculpting treatment plans available at our clinics in London, Leeds, Manchester, Birmingham, Northampton and Buckinghamshire.
The 'Belly Fat' Plan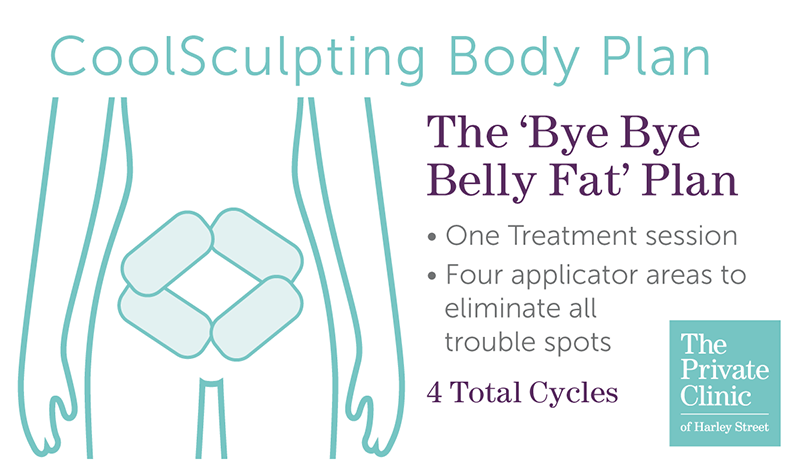 The stomach is one of the most popular areas that we treat. Fat in the abdomen can cause us to look out of proportion to the rest of our body and cause clothing to fit incorrectly. CoolSculpting is very effective at treating this area and works best on patients who have pinchable fat which is subcutaneous fat that sits just below the surface of the skin.
Our 'Belly Flat' plan involves four applicator areas which means the entire stomach will be treated to eliminate all trouble spots. Find out more about treating belly fat with CoolSculpting here.


The 'Back' Plan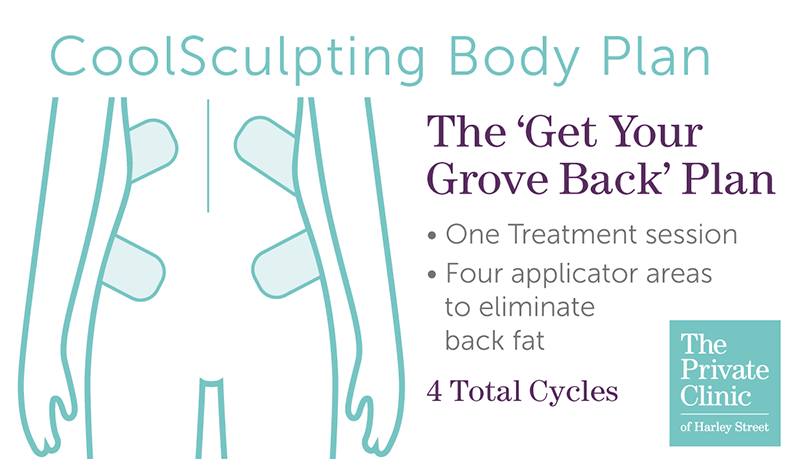 Back fat can be particularly stubborn, and diet and exercise are often unsuccessful in reducing fat in this area. Back fat can show up in a number of areas, , but the most common areas are underarm fat and lower back fat which our 'Back' plan aims to target.
The plan features four applicator areas to help eliminate back fat to help achieve a more contoured shape.


The 'Love Handle' Plan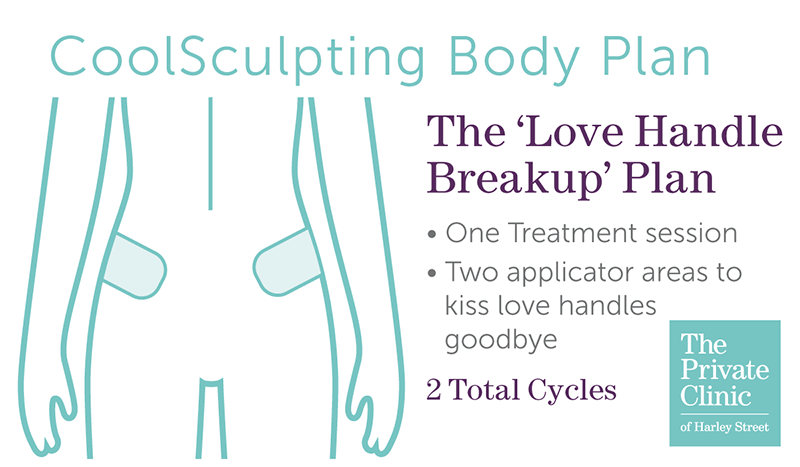 Our 'Love Handle' plan is designed to target the waist or flanks. It can be a tricky area to target with exercise which is why we see many patients who live a very active and healthy lifestyle, come to see us seeking help to reduce fat in this area.
Our 'Love Handle' plan can be carried out in one treatment session and involves two applicator areas to target each side.   Find out more about CoolSculpting for love handles here.


The 'Low-Rise' Plan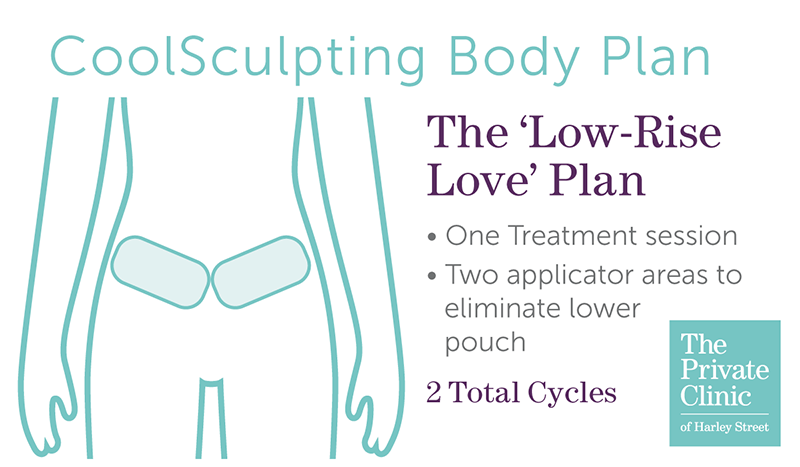 Lower stomach fat may be caused by hormonal changes, ageing, dietary choices, and certain lifestyle choices such as not burning enough calories and poor sleep. Our 'Low Rise' plan aims to help patients to reduce fat in the lower belly by using two applicator areas to eliminate the lower pouch.


The 'Muffin Top' Plan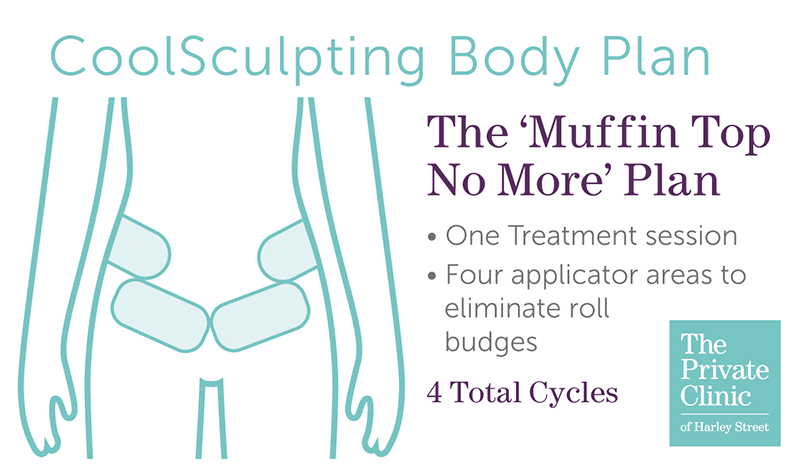 Muffin top fat is a slang term that refers to fat that sits on the hips/flanks and lower abdomen. Much like a muffin expands beyond its paper case, fat in this area can expand out of clothing making wearing certain items of clothes difficult. The 'Muffin Top' plan targets 4 areas on the hips and stomach to help eliminate roll bulges.


The 'Tummy Trimming' Plan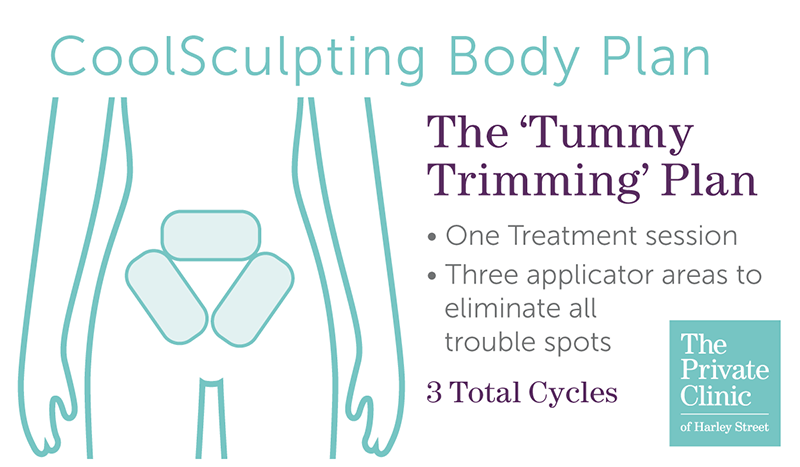 The stomach is one of our most popular treatment areas which is why we offer numerous different techniques to help our patients get the best results as the location of the fat differs from patient to patient. Our 'Tummy Trimming' plan uses three applicator areas to target stubborn tummy fat and reduce it.

Why choose CoolSculpting at The Private Clinic?
CoolSculpting is a FDA Approved Treatment for Fat Loss
Over 7 million CoolSculpting treatments have been performed worldwide
No anaesthesia is required during the treatment
The procedure involves no surgery, no needles and little to no downtime
It is a clinically proven method of fat loss
CoolSculpting targets specific fatty areas of concern
Patients can see noticeable results within 8-12 weeks
The treated fat cells are permanently destroyed
CoolSculpting produces gradual and natural looking results
Consultations are available at our CoolSculpting clinics in London, Leeds, Birmingham, Manchester, Northampton and Buckinghamshire.
See our previous patient stories
Read our extensive CoolSculpting FAQs
Find out more information in our CoolSculpting blogs
To find out more about CoolSculpting treatments please call 0333 920 2471 or use our CoolSculpting online contact form.