What happens in a fat freezing treatment?
COOLSCULPTING FAT FREEZING
Home » What happens in a fat freezing treatment?
Fat freezing treatment, also known as CoolSculpting in our clinics is a non-surgical fat reduction treatment. At your consultation, our coolsculpting experts will assess your suitability for treatment and develop a personalised treatment plan that is going to give you the best results.
What happens in a fat freezing treatment?
On the day of your fat freezing treatment pre-treatment photos are taken to document the result of your fat freezing treatment.
The areas being treated are marked up and then you will settle on the treatment bed.
A sterile gel pad is placed over the treated area to protect the skin.
The CoolSculpting applicator is applied to the area, it uses a vacuum to pull the skin up and into the applicator head.
Controlled cooling is activated. The temperature within the applicator head drops causing the area to become numb.
Treatment time takes 35-60 minutes where you will remain on the treatment bed.
Once the treatment is complete, the applicator will be removed, and the area will be massaged to help improve the final results.
How long does fat freezing take to work?
Fat freezing is a gradual process and it will take your body a period of time to naturally process the frozen fat cells before removing them from the body. Many patients start to see their results 4-6 weeks following treatment, but your body will continue to flush out the fat cells for 3-6 months.


Does fat freezing treatment work?
The fat freezing treatment that we offer in our clinics is known as CoolSculpting. CoolSculpting is an FDA Approved Treatment for Fat Loss with over 7 million treatments performed worldwide.
CoolSculpting has been rigorously tested through research and has many published clinical papers, reports and peer-reviews that testify its efficacy and effectiveness. It has also been clinically proven to reduce up to 27% of fat cells across a range of treatment areas.
CoolSculpting treats;
Chin / Double Chin / Submental region
Upper arms / Bingo wings
Bra fat / Auxiliary Puff
Back fat / Upper Back / Lower Back
Flanks / Sides / Love Handles
Abdomen / Tummy
Thighs
Buttocks / Banana Roll

Can you freeze your fat off at home?
We would not recommend attempting the method of fat freezing at home. Fat freezing or CoolSculpting treatment should be carried out in a clinic with practitioners who are properly trained and licensed to carry out the procedure. Carrying out fat freezing treatment at home puts you at great risk of frostbite and poor results.


How does frozen fat leave the body?
Fat cells are frozen during CoolSculpting treatment and a natural process called apoptosis is started. The frozen cells are broken down and cleaned out of the fat layer by your body's immune cells. The fat cells are then metabolised by the liver and excreted from the body usually within your urine.


Why choose Fat Freezing treatment at The Private Clinic?
The Private Clinic are a multi-award-winning Cosmetic Surgery provider
We have over 35 years' experience in Medical Cosmetic procedures and advanced non-surgical non-invasive treatments.
We see over 15,000 new patients every year performing over 10,000 procedures
We have one of the highest patients' satisfaction rates, Trustpilot 9.4, 5-star rating, 96% would recommend us to their friends and family.
View our online gallery of CoolSculpting results.
Read our CoolSculpting extensive FAQs.
See our fat freezing patient stories here.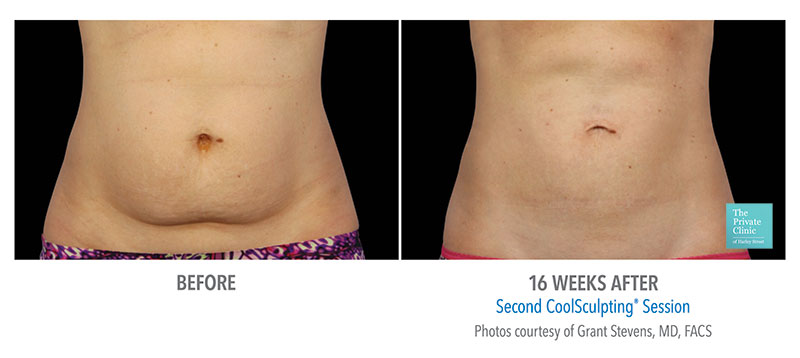 We offer free fat freezing consultations at our clinics in Leeds, Manchester, Birmingham, Northampton, London Marylebone and Stoke Poges, Bucks. To find out more or book a consultation, please call 0333 920 2471 or use our coolsculpting online contact form.