The Private Clinic has a state-of-the-art non-surgical skin clinic in Harley Street, London offering a wide range of treatment options to help reduce the appearance of lines, wrinkles, pigmentation, dull skin, acne and much more.
Our team of medical aestheticians, doctors, nurses and laser specialists work alongside our surgical consultants and expert dermatologist to deliver a range of cosmetic skin treatments with the aim of providing patients with natural and long-lasting results. All of our injectable treatments are performed by medical doctor and nurse professionals and our laser practitioners have regular training on advanced laser techniques.
We have a unique offering of injectable, laser and med-spa treatments;
Injectable Treatments
Dermal Fillers
Dermal fillers are a popular injectable treatment that uses hyaluronic acid to add volume to the face. Treatment areas include;
Tear Trough Dermal Filler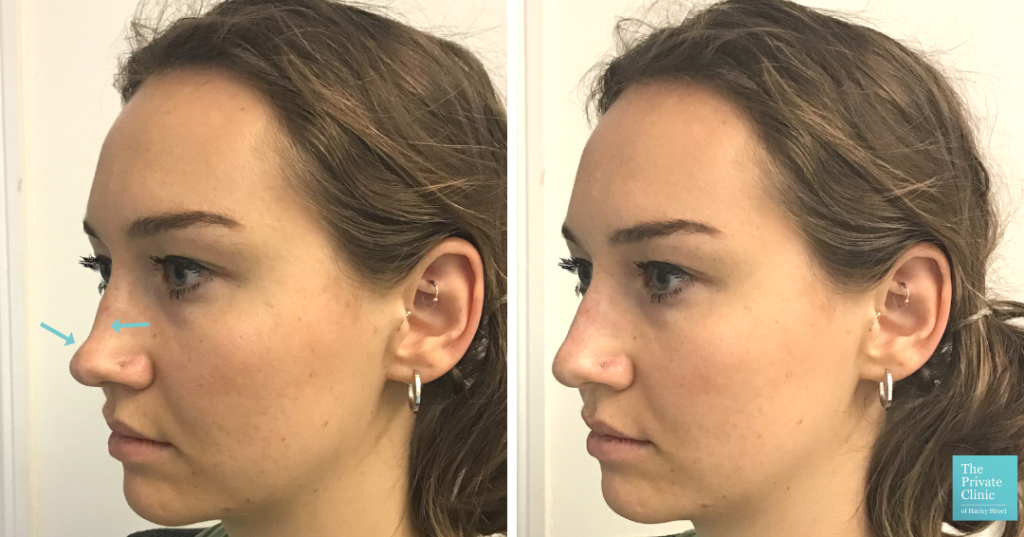 Non-Surgical Rhinoplasty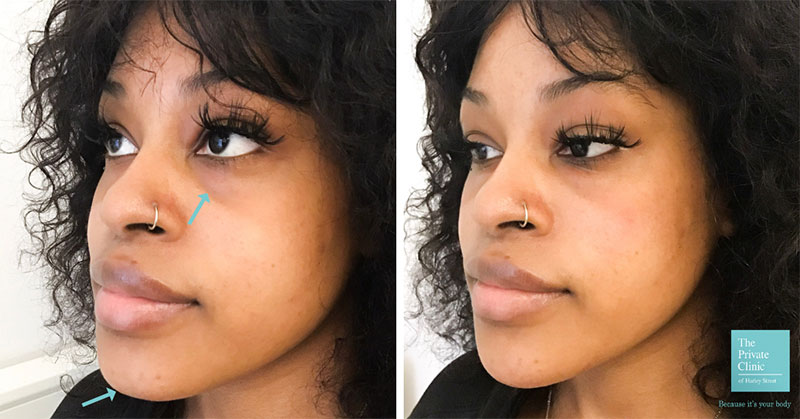 Dermal Chin Filler
Wrinkle Injections
We can use wrinkle injections to help relax the facial muscles and reduce excessive facial movements which as a result smooths and reduces the appearance of fine lines and wrinkles. Find out more about wrinkle injections in a no obligation consultation with one of our medical experts.
Profhilo
Profhilo is a unique bio remodelling injectable treatment which encourages the production of collagen and elastin within your skin. The treatment also uses hyaluronic acid to instead remodel the skins structure and nourish the dermal cells which as a result treats skin laxity and can restore firmness of your skin.
Thread Lift
A thread lift is a great way to reduce the appearance of sagging or ageing skin without the need for any incisions or surgery. Bio-degradable sutures are placed under the skin which to lift the skin which can help to restore volume, redefine the jawline, elevate the brow and reshape the neck resulting in a more youthful appearance.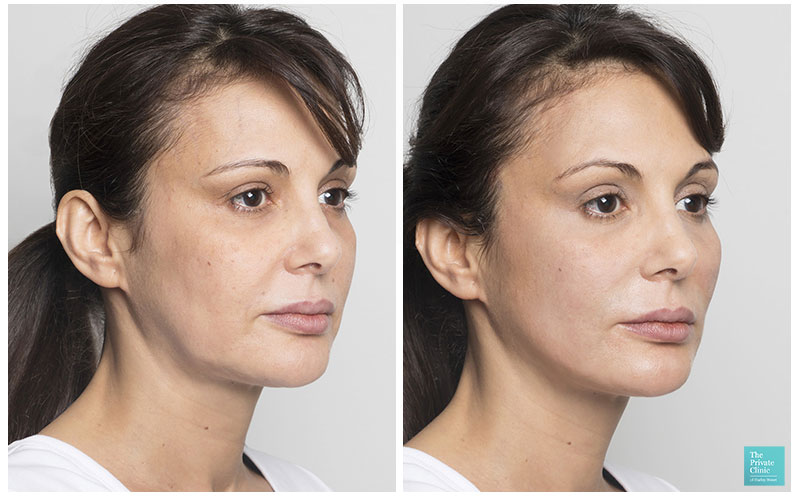 Mesotherapy
Mesotherapy is an aesthetic treatment that involves injecting a series of pharmaceutical and homeopathic medications, plant extracts, vitamins, and other ingredients into the skin. It can be used for skin rejuvenation, hair loss and cellulite reduction.
We recommend that you book a consultation to find out more about the range of injectable treatments we have on offer at our London skin treatment clinic where our medical experts will be able to recommend the best treatment for you.
Laser Treatments
Laser Skin Resurfacing
Laser skin resurfacing treatment is a great way to help reduce the appearance of wrinkles, pigmentation, sun damage and uneven skin tone. We offer three laser skin resurfacing treatments and we will be able to tailor a treatment package that is most suitable to your skin type and concerns.

Laser Hair Removal
Laser hair removal is one of our most popular treatments in London. A course of laser hair removal treatment aims to provide an overall reduction in unwanted hair growth on areas such as the upper lip, underarms, chest, back, legs and bikini line. We are able to treat a range of skin types and tones at our London laser clinic including Asian or darker skin and all patients will receive a free patch test before being able to book their course of treatment to ensure that they are suitable.
N-Lite Acne

Acne is one of our most common skin complaints that we have in clinic. At our skin clinic we aim to treat the root cause of acne by using N-Lite laser treatment to target the bacteria within the skin that is causing the infection. The treatment also works to stimulate new collagen and reduce inflammation resulting in clearer skin. We often put together a course of acne treatments that may combine skin peels to ensure that our patients achieve the best results possible.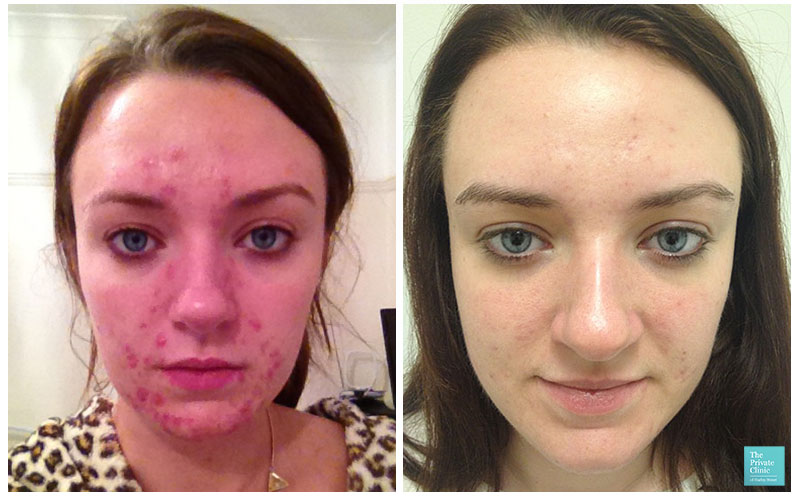 Intense Pulsed Light Photorejuvenation
Intense Pulsed Light Photorejuvenation also known as IPL is a non-invasive skin treatment that uses IPL light waves which are exposed to the surface of the skin which work to reduce the appearance of redness, brown spots and discolouration on the skin.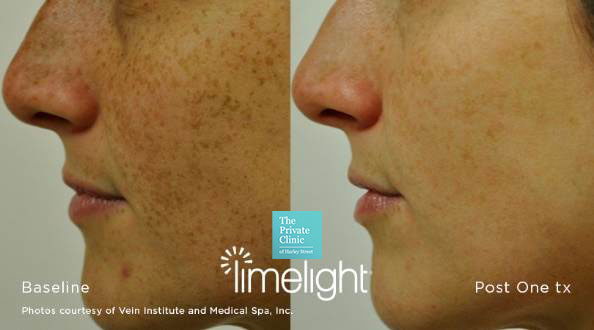 Laser Skin Tightening / Laser Genesis
Our laser skin tightening treatment is FDA approved for reducing the appearance of fine lines, wrinkles, skin laxity, sagging and loose skin. It can be performed on the face, neck, chest, arms or hands and offers patients gradual and natural results. We also offer patients our Thermage treatment which is ideal for patients with more significant loose or sagging skin.
Plasma Pen Non-Surgical Eyelift
Handy Plasma non-surgical eyelift treatment is a great alternative to eyelid surgery. The treatment uses plasma technology to effectively vaporise excess skin leaving younger and tighter skin in place of what was removed. The treatment works best to lift and smooth the appearance of hooded, heavy or double eyelids as well as being able to reduce eye bags and crows' feet wrinkles.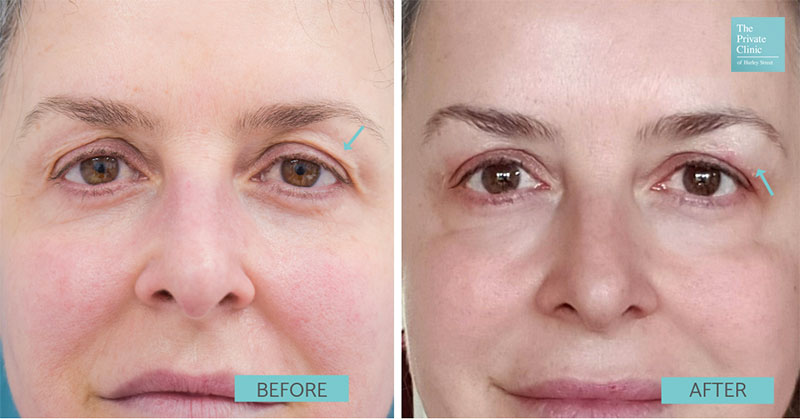 The Private Skin Laser Clinic has a team of qualified experts who will be able to recommend the most effective treatment for you following a no-obligation consultation. During this consultation a free patch test can be carried out for any of our laser treatments to help ensure that you are suitable for treatment.
Med-Spa Treatments
Chemical Skin Peels
Chemical peels can be really effective at treat a number of skin problems, including sun damage, acne scarring, hyper pigmentation, fine lines, wrinkles and tired looking skin. Following a consultation with one of our skin experts, they will decide upon the ideal type and strength of peel to use in order to give you the best results. Chemical peels work as an intense exfoliating process where the chemical products remove dead cells on the surface of the skin. Our London skin clinic offer a wide range of chemical peel treatments from superficial light peels to medium peels which will penetrate further into the skin treating specific skin complaints.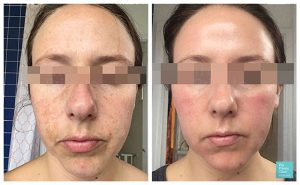 Microdermabrasion
Medical microdermabrasion is a great treatment for refreshing the skin. The treatment uses medical grade crystals to exfoliate and remove the superficial layer of dead skin cells on the face. Microdermabrasion is often used as a skin preparation treatment before proceeding with another skin treatments such as a chemical peel.
Dermapen
Dermapen is a form of microneedling which can be really effective for acne scarring, skin texture, pigmentation and fine lines. It involves small needles being applied to the surface of the skin creating 'damage' which encourages the renewal of skin cells and the production of collagen and elastin in the skin.
Bespoke Youth Trio
Our Bespoke Youth Trio is a combined treatment package that we offer in our London skin clinic. It is ideal for patients looking to refresh and revitalise their skin ahead of an event with no downtime. The treatment starts with an Enzyme Exfoliating Treatment before applying a Latic Peel. The treatment finishes with a laser genesis treatment which uses infrared light to encourage the formation of new collagen. It is a great introductory treatment for those who have not had a facial treatment before.
Body Ballancer
The Body Ballancer is a compression therapy treatment that uses the techniques and principles of manual lymphatic drainage massage. Patients will be required to wear a specialised compression garments which will inflate to deliver a gentle but invigorating massage. Body Ballancer treatment is ideal for patients who have recently had liposuction or coolsculpting treatment, improving gut health, reducing the appearance of cellulite, helping with the symptoms of lymphoedema, improving skin tone, encouraging a natural body detox, fat burning, massaging sore muscles after exercise and stress relief.
Our skin specialists are able to design a personalised treatment programme for all patients to address their specific skin concerns and help them achieve the most effective results.
To find out more about any of our non-surgical skin treatments available at our clinic in London or to book a consultation please call 0333 920 2471, or use our online contact form.