Black Friday is upon us and despite it's original American heritage, it has hit the UK ground running in the past years with mass hysteria occurring in many stores.
Black Friday Offers
Be first to know about our 2019 Black Friday Offers.
Click here to see our 2019 Offers
So what have we got to offer you? We may not have the latest games console or that Smart TV that's on your list, but we do have some sensational skin offers that may just take your fancy!
This Friday we are offering up to 50% savings on laser hair removal, skin treatments, laser pigmentation and rejuvenation.  So once you are done raiding the shops, why not treat yourself to something special, or if you are struggling to work out what to buy for a friend of family member – treat them to fantastic skin for the new year!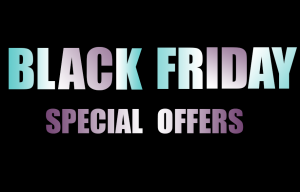 First up in our range of offers is 40% off Laser Hair Removal. Eliminate the constant chore or maintenance to remove unwanted hair with our laser hair removal treatment. Suitable for men and women of all skin types our treatment can offer you fantastic results with complete hair removal in just a few sessions.
Struggling with troublesome skin? Now is the time to take action with 40% off our N-Lite Acne Laser Treatment! This non-invasive treatment is suitable for all skin types and involves the laser targeting and destroying acne causing bacteria resulting in clear and healthy looking skin.
If you are a bit of a sun worshiper you may have noticed some slight discolouration to you skin, these are known as sun spots and IPL Laser Rejuvenation is ideal at restoring both the texture and colour to your natural skin tone. Today you can book a course at 40% off to remove those blemishes, uneven pigmentation, birthmarks and broken veins leaving you with flawless skin!
Are you a little too glad that winter is finally upon us as you can finally hide those legs away again? Up to 84% of us have thread veins on at least one of our legs. Our Cutera CoolGlide laser treatment is a non-invasive way to deal with these pesky little veins by using pulses of light energy to dissolve the vein. As part of our Black Friday exclusive deals; our thread vein removal treatment is now 40% off and now is the perfect time of the year to start your course!
Skin looking a little dull? Bring some life back into your face with our Pixel Laser treatment which removes the layers of damaged and ageing skin leaving your skin feeling rejuvenated. Treat yourself with 40% off all courses booked today.
Or if you are looking for something a little less intense then try our Microdermabrasion treatment which provides deep exfoliation for your skin promoting new collagen and elastin production giving you a youthful glow to start the year! Microdermabrasion courses are also 40% off in our Black Friday offer.
Don't worry, these chemical peels are designed to brighten and smooth your complexion rather than harm your skin like the name might suggest. Invest in a course of skin peels today at 40% off and say hello to healthier and regenerated skin!
They say there is no beauty without pain, and this is the case for our dermaroller treatment. If you have acne scars, fine lines or hyperpigmentation then the dermaroller treatment is ideal at stimulating the skin production of collagen which in turn renews your skin leaving you with smoother and brighter skin. Why not give it a try with 40% off courses today only.
And that rounds up our offers for Black Friday, don't say we don't treat you!
We are opening  our phone lines today at 8.30am to take your calls on 033-920-5689
Visit our Black Friday page for more information about all the treatments listed as well as a list of our Terms & Conditions