There are many different terms for the various lipolysis or liposuction techniques available today, such as Tumescent Lipo, SmartLipo, LaserLipo, Waterjet Lipo among others. Choosing a liposuction treatment to give you the best results will often purely rely on the skill and experience of the surgeon rather than the technique used. At The Private Clinic, we offer free consultations with our liposuction surgeons to help you feel well informed and realistic about what results they are able to achieve from treatment.
What is SmartLipo?
In the mid-2000′s SmartLipo was approved by the FDA.
SmartLipo is an older technique of fat removal, which involves melting fat with a laser probe, without aspiration (suction). The melted fat is left inside the body and is naturally eliminated by the body. It generally takes 4-5 months to see any result and the fat reduction is often minimal and far below the patients' expectations.
SmartLipo results were slow and have not been satisfactory for both patients and practitioners in the past, and is, therefore, becoming less popular, with several result driven procedures taking over. In 2008, aspiration was introduced to the procedure to improve results. However, results have been nowhere near those of the VASER procedures.
SmartLipo vs Vaser Liposuction
| Smart Lipo | Vaser Lipo |
| --- | --- |
| | Uses ultrasound technology |
| | Minimises excess tissue damage |
| Not particularly selective to fat | Much more selective for liquefying fat |
| | |
| Fat is left inside the body (unless additional aspiration performed) | Fat removed from the body |
| 4-5 months to see results | Instant results that continue to improve over 5-6 weeks |
| Less effective on dense tissue | Useful on dense tissue (back & male chest) |
Not only is VASER Liposuction less invasive, but it is also more effective, as it allows for greater volumes of fat to be removed – up to 2.5 litres – and has a shorter procedure time than SmartLipo. VASER Lipo also stimulates the production of collagen in the treated areas, resulting in tightened skin and an enhanced overall appearance of the area.
Vaser liposuction does not require a general anaesthetic and patients are treated under local anaesthetic with sedation. The majority of our patients experience minimal downtime and are able to return home to recover on the same day with no need for an overnight hospital stay. Vaser liposuction is very effective at treating excess fat in all areas of the body including the abdomen/tummy, buttocks, hips/flanks, chest, neck/chin, knees, thighs and upper arms.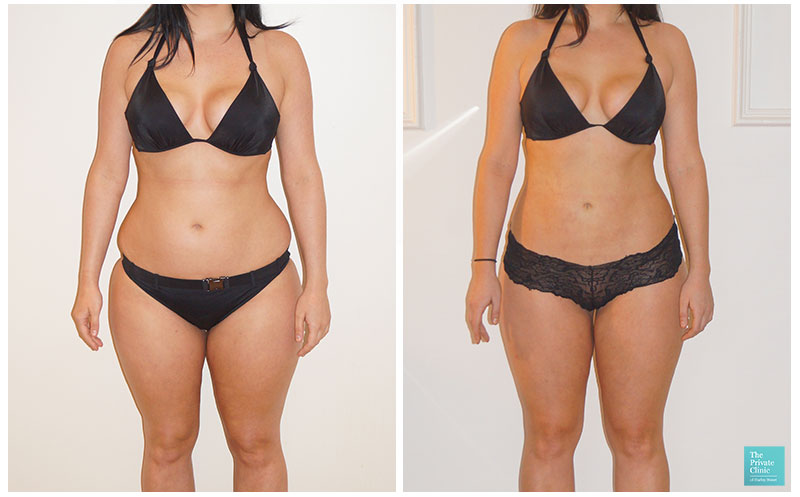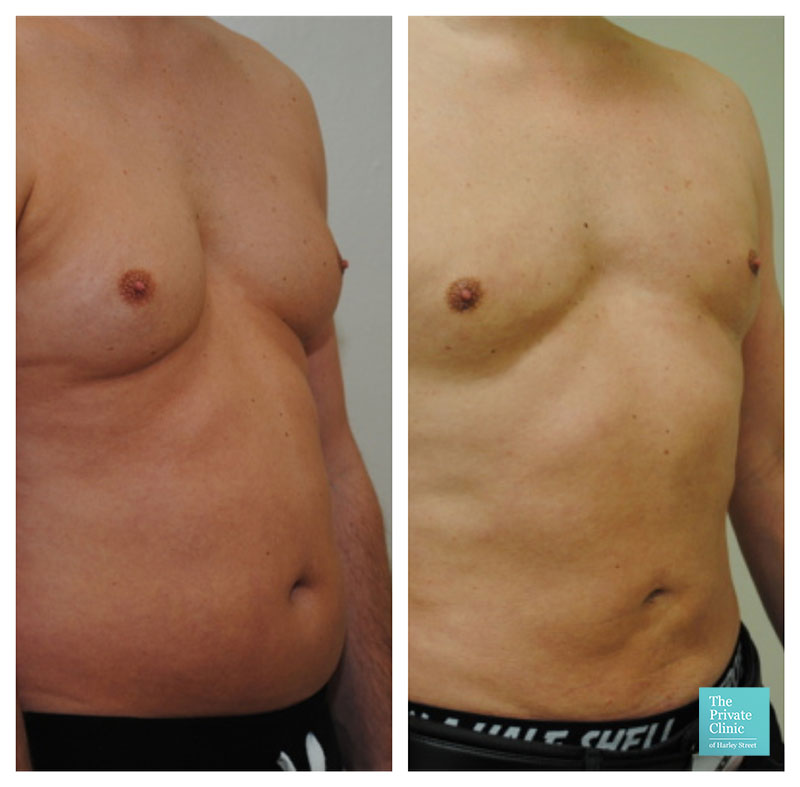 The Private Clinic's Doctors have performed over 7,000 VASER Liposuction treatments to date, more than any other clinic in Europe. We were the first clinic to launch Vaser in the UK.
The Private Clinic prides itself on ensuring you have the best quality and most comprehensive care:
We offer free consultations with our specialist liposuction surgeons.
Our 24-hour patient helpline ensures that you are always in the best of hands.
You will be entitled to as many post-operative care and appointments with your surgeon, doctor and nursing team as required.
We offer one year of cover for all surgical, hospital and nursing care, in case of any medical issue giving you peace of mind.
We provide comprehensive patient information, every step of the way.
Our highly experienced surgeons and doctors have years of experience in vaser liposuction. If however for any reason Vaser liposcution is not recommended for you by our medical team, we are able to advise on the best liposuction method. We have experience in all methods of liposuction and it is for this reason we are the UK's leading provider of Liposuction performing over over 1,300 liposuction and body contouring procedures a year.
Be treated in our outstanding hospital and clinic facilities.
We are competitively priced for our expertise and experience.
With over 35 years' experience of Cosmetic medical Excellence, you are in safe hands.
Our excellent reputation for patient safety and satisfaction, honest advice and outstanding care means your journey with The Private Clinic will be an exciting experience to a newfound shape.
Clinics in London Harley Street, Birmingham, Bristol, Glasgow, Leeds, Manchester, Buckinghamshire and Northampton.
Liposuction procedures at The Private Clinic
The Private Clinic offers a wide range of different liposuction procedures including;
Getting the best result from liposuction comes from the skill and experience of the surgeon as well as the aftercare carried out. It is important that our patients are well informed and realistic about what results they are able to achieve from treatment.
Choosing the best liposuction procedure comes down to your personal preference and the suggestions from your surgeon. There is no clinical evidence to prove that one type is safer than the other and most modern forms of liposuction are considered to be equally safe and effective when performed by an expert surgeon or doctor.