Umar Raj
Medical Technician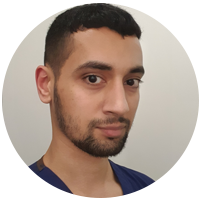 About Umar Raj
Umar Raj is a Medical Technician with over a decade of experience in the Hair Transplant industry.
Born in London, Umar graduated from Queen Mary, University of London with a Bachelor's in Biomedical Materials Science and Engineering (BEng) in 2009. He then has assisted renowned Hair surgeons in both FUT and FUE hair transplant surgeries. He has a keen interest in the non-invasive FUE Hair Transplant procedure and has worked alongside Hair Transplant surgeons as a technician for this method and was working within the very first few clinics in England that offered this method. 
Umar takes a lot of pride in his role and has always enjoyed seeing patients happy with their results and meeting their expectations. He is very ethical and has set very high standards for the team to follow. He takes exceptional care of the patients and has an excellent hand eye coordination.  
Umar's passion for hair loss treatments has led him to specialise further in this field. He has trained in Scalp micropigmetation (SMP) and Phlebotomy to assist in Non surgical hair loss treatments and mesotherapy treatments. 
Umar is available at our London Harley Street clinic for Scalp Micropigmentation treatment.
Treatments performed by Umar Raj

Scalp Micropigmentation
We help clients rebuild lost confidence and self-esteem due to hair loss/thinning