Fiona is a 58-year-old patient advisor in London who wanted to revitalise her lower face with a liquid facelift.
Concerned about sagging skin across her cheeks, jowls and lower face, she wanted to seek out a minimally invasive procedure that would refresh and revitalise her skin quickly and effectively without any surgery or downtime.
After considering a range of different options, she sought out a holistic hyaluronic acid filler treatment to lift her mid and lower face. She opted for the use of liquid injections instead of a classic surgical facelift, which involves recovery time. This non-surgical treatment seeks to lift and reflate sagging pockets of skin while instantly smoothing fine lines and wrinkles.
Fiona's 'Liquid Facelift' Experience
To address her skincare concerns, Fiona consulted with Dr Hanson Yu, an experienced dermal filler practitioner at The Private Clinic. Having spent many years performing rejuvenating non-surgical treatments, he is adept at targeting signs of ageing in patients over 50.
Upon meeting Fiona and analysing her skin condition, he recommended a comprehensive treatment plan to restore volume to hollow areas of her skin. He also recommended firming up loose skin around her cheeks, jowls and jawline. Due to Fiona's age, he also decided to replenish lost hyaluronic acid to the creases and wrinkles that had developed across Fiona's face as part of the ageing process, like marionette lines, nasolabial folds and smoker's lines.
By delivering dermal fillers to a number of different areas across Fiona's face, the liquid facelift would rejuvenate Fiona's face intensely and rapidly to achieve an instantly flawless result.
Before the treatment, Dr Hanson explained the expected outcome of this holistic treatment plan:
"Today we will be treating Fiona's mid-face and lower face with fillers as part of a liquid facelift. With this treatment, we place fillers strategically in key places to lift up the ligaments, restore and reflate the cheek area, softening wrinkles and shadows in the process while also creating a smooth jawline. The result will be a rejuvenated appearance where Fiona will look fresh again."
Dr Hanson's Dermal Filler Treatment Plan
Dr Hanson started by treating the mid-face area to restore volume and lift to the cheeks, before moving down to the areas around Fiona's mouth and jawline.
Mid-face fillers
Fiona's cheekbones were targeted first to reflate and plump them with moisture and volume. The effect is to redefine the shape of Fiona's cheeks to give her a more sculpted and contoured look that is typical in a younger patient. Her tear trough hollows were also replenished to minimise the appearance of dark circles and sagging skin under her eyes.
Jowl fillers
Dr Hanson then addressed one of Fiona's main concerns by lifting up the sagging skin below her cheeks. Jowls form when skin becomes thinner and less elastic during the ageing process as we naturally lose collagen, elastin and hyaluronic acid. By replenishing hyaluronic acid to the skin below Fiona's cheeks with cheek fillers, Dr Hanson is able to strengthen the skin's structure so that it looks plump, firm and refreshed instead of loose and saggy.
Mouth area fillers
Fiona also suffered the effects of ageing across her mouth area. Smoker's lines had formed above her lips, while her nasolabial folds needed softening. Dr Hanson also detected the appearance of marionette lines around her mouth, which gave Fiona a tired and sad look. By filling these zones with hydrating hyaluronic acid, Dr Hanson was able to fill the lines with lost volume to immediately reduce their appearance.
Jawline fillers
The final area of treatment was Fiona's chin and jawline. Dr Hanson's goal was to lift sagging skin that had formed around Fiona's jawline and chin area to improve the shape of her jawline. This gave Fiona a sharply contoured jaw that took years off her visible appearance.
Fiona's Liquid Facelift Results
After completing the treatment, Dr Hanson explained to Fiona how the complete liquid facelift had achieved revitalisation across Fiona's key areas of concern:
"We placed filler on the cheekbones and restored the anterior medial cheeks while softening the nose-to-mouth lines. We then restored length to the face while creating some projection on the chin and smoothing the outer jawline."
Before and After Photos – Fiona
Front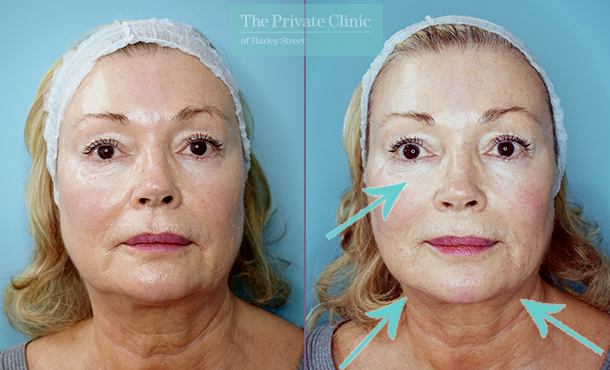 Side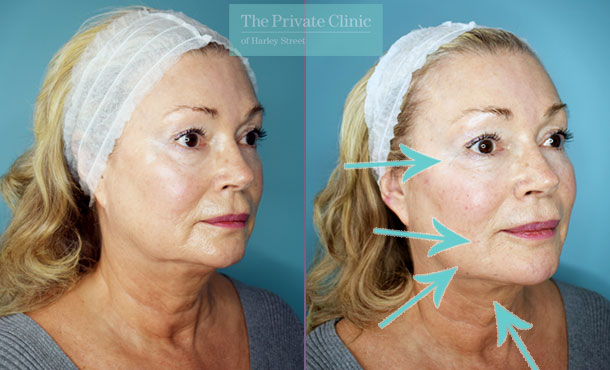 Fiona loved her instantly uplifted and refreshed new look:
"It just looks amazing. You can see that my chin and jaw are so much smoother. The treatment was much more comfortable than expected. I'm very happy with the subtle yet natural-looking results."