World Hair Transplant Repair Day with ISHRS
HAIR LOSS & HAIR TRANSPLANTS
Home » World Hair Transplant Repair Day with ISHRS
World Hair Transplant Repair Day is an event hosted by the International Society of Hair Restoration Surgery (ISHRS) who are the world's leading medical authority on hair loss and hair restoration.
The day is being held on November 11th, 2021 and will form part of the ISHRS's Fight the FIGHT global consumer awareness campaign launched in 2019. This was in response to this widespread problem and the substantial risks posed to patients considering Hair Transplant procedures. Fight the FIGHT is an acronym for Fight the Fraudulent, Illicit, and Global Hair Transplants.
When Hair Transplants are performed by a qualified surgeons who are expertly trained in the art and science for hair transplantation, then hair transplant surgery can be an ideal procedure to treat hair loss safely and effectively. However, when performed by the wrong people, hair transplants can have devastating results and are often being performed illegally.
ISHRS members and Hair Transplant Surgeons at The Private Clinic, Mr Michael Mouzakis and Dr Furqan Raja are participating in World Hair Transplant Repair Day. They will be helping to encourage affected patients in the community to learn more through the campaign's website at www.HairRepairDay.org.
What is a revision hair transplant?
Revision hair transplant procedures are becoming very common, they often involve surgeons having to attempt to correct:
Poor results
Severe infections
Wrong medication which can cause long health issues
Poor donor area planning
Over-harvested donor areas
Irreparable aesthetic results
ISHRS discusses how to avoid needing a revision hair transplant
The lure of cheap deals and promise of great results are enough to make most patients consider these often-fraudulent options but the quality of hair transplant that they will be receiving is often less to be desired.
ISHRS urges potential patients to ask the following questions as part of their research, as well as questions regarding costs, risks and short- and long-term benefits and planning:
Who will evaluate my hair loss and recommend a course of treatment? What is their education, training, licensure, and experience in treating hair loss?
Who will be involved in performing my surgery, what role will they play, and what is their education, training, licensure, and experience performing hair restoration surgery?
Will anyone not licensed by the state (or country) be making incisions or harvesting grafts during my surgery? If so, please identify this person, explain his or her specific role and why this person is legally permitted to perform it.
Is everyone involved in my surgery covered by malpractice insurance?
Hair Transplant Revision before and after results
Mr Michael Mouzakis has recently performed a hair transplant revision case where the patient was unhappy with the poor result of his previous hair transplant surgery procedure.
The patient went abroad seeking a hair transplant procedure to restore his hairline, the patient felt that despite 10,000 hair follicles being used, his hair line was not improved and had patchy areas.
Mr Mouzakis believes that although the full amount of hair follicles promised were implanted, they were implanted incorrectly and due to poor blood supply, so they did not grow and that is why the result is gaps.
The treatment plan involved using 2,000 hair follicles to reshape the hairline and match the density to the rest of the hair.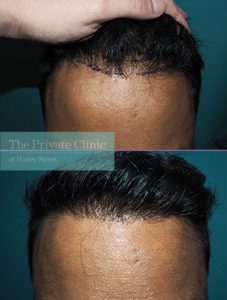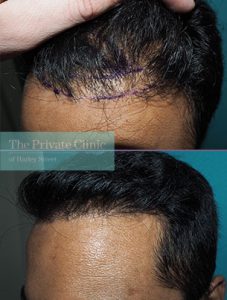 "Today, more than ever, it is imperative that patients do their homework when selecting a surgeon to perform their hair transplant," said Mr Michael Mouzakis "Forewarned is forearmed when it comes to avoiding being a victim of unscrupulous black market hair clinics."
For more information or to take part in this worldwide educational campaign and event, contact fightthefight@ishrs.org and visit www.HairRepairDay.org.
Or to find out about how our expert team of Hair Transplant surgeons could help you, call us on 0333 920 2471 or click here to use our online Hair restoration consultation form.
Why choose The Private Clinic for a FUE Hair Transplant?
We've been treating our patients for over 35 years and have an excellent reputation for patient satisfaction, safety and outstanding care offering all of our patient's transparent and honest advice.
We're proud to have the highest Trustpilot rating in the industry.
We have a team of highly experienced Hair Restoration specialists Doctors with years of experience, who have undertaken thousands of hair transplants.
You will be provided as many post-treatment appointments as you require and will be provided comprehensive patient information at every stage.
View our gallery of FUE Hair Transplant before and after results here.
Hear from previous hair transplant patients by reading their stories here or viewing videos here.
Find out more information in our blogs
Read our extensive FAQs
Hair Transplant consultations are available nationwide in London Harley Street, Birmingham, Leeds, Manchester and Northampton.