One of the biggest concerns following an implant removal is drooping of the breast or loss of volume particular in the upper portion of the breast. This can often cause patients to avoid breast implant removal surgery or seek implant replacement which may not be what they want.
It is always hard to tell what a patients breasts are going to look like following an implant removal procedure as every patient will heal differently. It is possible for your breasts to return to how they were prior to your original breast augmentation procedure but this is unlikely to occur instantly and will be a gradual process over time.
For some patients it may be over optimistic to expect this to happen, especially if you have had implants for a number or years and if they are particularly big in size which may have caused the skin to stretch. In cases like this a breast auto augmentation may be recommended.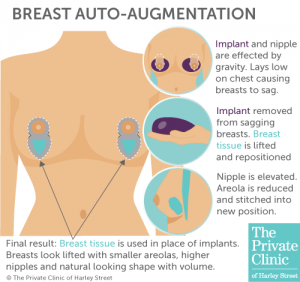 Previously, in order to correct breast sagging following an implant removal procedure, a breast uplift / mastopexy would have been suggested.
A breast uplift is a cosmetic procedure, where the excess skin from the breast is removed so that the remaining skin can be tightened and the nipple moved to a higher position, resulting in a firmer appearance. This is a great option following a breast implant removal however surgeons have since discovered a new technique called a breast auto augmentation which allows them to restore lost volume to the upper portion of the chest without the need for an implant.
A breast auto augmentation is commonly mistaken for a mastopexy or breast uplift procedure. Although similar; a breast auto augmentation is more of a breast reconstruction procedure  and uses the natural breast tissue to help increase volume in the upper pole without adding any volume or weight to lower pole.
How a breast auto augmentation works
A breast auto augmentation procedure first starts with an anchor or lollipop shaped incision being created from around the areola down to the lower portion of the breast within the inframammary fold.  The breast implant will then be extracted from the breast before the outer layer of excess skin known as the epidermis is removed. The breast tissue from the lower portion of the breast is then rotated up into a new position in the upper portion of the chest within the breast pocket. The breast tissue is not cut so as to preserve the blood supply, but it is instead secured into place on the chest wall and upper breast tissue. The nipple and areola is then relocated to a higher position before any excess skin is removed and the incision is closed with absorbable stitches. The result is a more youthful-looking shape and appearance to the breasts.
To see more Breast Auto Augmentation videos click here.
Expert Breast Auto Augmentation Surgeons
A breast auto augmentation is a specialised plastic surgery procedure and so to ensure that you are getting the best results it is best to find a board-certified plastic surgeon with plenty of experience in auto-augmentation breast lifts.
Consultant Plastic Surgeon, MBBS, MSc, FRCS (Plast.) GMC Number: 3286812 Mr Adrian Richards has been performing the breast auto augmentation technique for a number of years now and is highly experienced in all forms of breast surgery. After completing his medical training in 1988, Mr Richards has specialised in plastic surgery since 1999 and was awarded Top 100 Most Influential Cosmetic Doctors by consumer website RealSelf and has been named Leading Breast Surgeon UK by The Independent on Sunday.
Consultant Plastic Surgeon Mr Dario Rochira, BS, MD, GMC Number: 6130664 is a highly experienced and respected UK cosmetic surgeon who also performs Breast Auto Augmentation procedures here at The Private Clinic. He has an outstanding record of patient satisfaction and performs all of his procedures to the highest of surgical standards.
Consultations for Breast Auto Augmentation are available in London Harley Street, Buckinghamshire and Northampton.
To find out more about Breast Auto Augmentation procedures, please call 0333 920 2471 or use our breast auto augmentation online contact form to request a call back.