Having a caesarean section, or c-section, may have not been in your original birthing plan but when it comes to delivering your baby safely, you'll do anything to ensure that happens.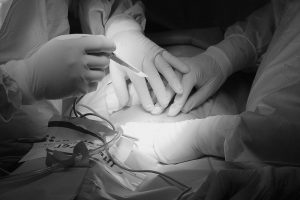 During a caesarean, layers of your tissue and muscle in your tummy are cut so that the surgeon can access your womb. This can cause scar tissue to form and the skin on your stomach to sag and no amount of exercise seems to be helping you tone back up so there is no surprise that we get a number of enquiries about tummy tucks for post c-section mums.
It may appear that women, especially celebrities are back to normal life straight after pregnancy and having a c-section but recovering from a c-section in preparation for a tummy tuck is something that can't be rushed.
What can a tummy tuck do?
A tummy tuck or an abdominoplasty can provide many benefits to those who are healthy and have recovered fully after her pregnancy and a caesarean section.
A tummy tuck procedure involves removing excess skin and fat to flatten the tummy, however during a tummy tuck you can also ask your surgeon if they are able to repair your rectus abdominis muscles which many have separated during pregnancy.
If you do have a separated rectus abdominis muscle then the procedure will be able to tone and strengthen your tummy and waist again as well as removing  the c-section scar and any stretch marks.
How soon?
We recommend waiting at least 6 months after a c-section before considering surgery as this will give your c-section scar enough time to heal, any swelling to go and your body to return to its pre-pregnancy state before further surgery is carried out. It may also be beneficial for both you and your child that you wait until they are a little older as a tummy tuck is still major surgery and the downtime means you may find tasks like lifting difficult and struggle to keep up with the demands of a new baby.
It is also best to be at your ideal weight before you book in for a tummy tuck as keeping at a stable weight before and after the procedure will ensure that the results last.  It can be challenging to lose weight whilst breast feeding so we would also recommend waiting until you are no longer doing this as any medications taken during surgery could also have negative effects on your baby.
Another factor to consider is if you are likely to continue having children, in order to get the best results it is probably better if you were to wait until you have no more plans for future children.
What about the c-tuck?
When doing your research about a tummy tuck after a c-section, you may have seen the term 'c-tuck' appearing which is where the tummy tuck is performed at the same time as the c-section.
Although seemingly a great idea, in respect of everything mentioned above we would not recommend this at all.  Your body changes so much during pregnancy, your skin and muscles are stretched now but they will contract back down on their own meaning that the type of tummy tuck procedure you require may be different in a few months' time.
A c-section is a major operation in itself and you will need to take the time out to recover. Having another operation on top of that is not only going to add to the risks and complications but it is also going to affect your recovery time when you should be focusing your time and efforts on caring for your newborn.
So although it may be tempting to rush into getting your pre-pregnancy body back, for the first year at least we suggest focusing your time on your child and instead exercising to ensure your body is in the best condition for surgery and of course always make sure to do your research.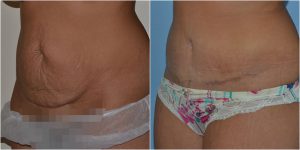 The Private Clinic
Working with only the very best surgeons ensures that we can produce the results you want safely. We're proud to have some of the UK's most respected doctors as part of our Tummy Tuck team, including:
Tummy tuck consultations are available in London, Birmingham, Northampton, Leeds and Manchester.
If you would like to discuss tummy tuck options please call 03339209135 or use our tummy tuck online contact form to book a consultation with one of our surgeons or advisors.