The Private Clinic now offers the 8 Point Lift Non-Surgical Facelift, also known as the Fluid Facelift and Liquid Lift. Non-surgical facelifts have risen to the fore recently thanks to celebrities like Judy Murray, mother of tennis star Andy Murray, who recently revealed how she underwent a non-surgical facelift herself, using micro-needling and pigmentation removal such as for example IPL.
As demand for non-surgical facelift options continues to rise, we have designed our comprehensive 8-point lift to generate impressive results, without any surgery or downtime.
Dr Amendola is trained and certified to carry out this specific treatment, which targets key areas of the face to lift and revitalise the whole lower and mid face.
The Private Clinic uses Juvéderm dermal fillers, a leading brand made by Allergan, for the 8 Point Lift, available at our city of London (Cheapside) clinic.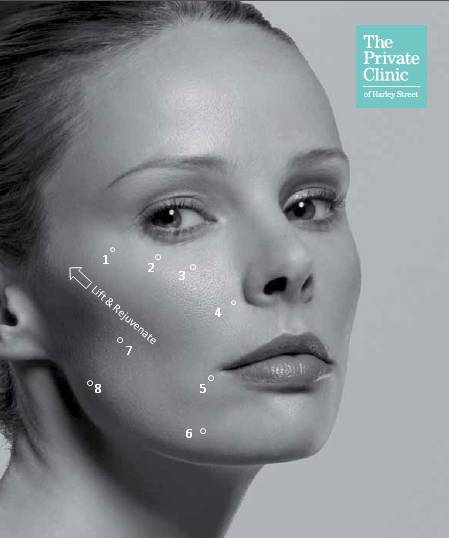 What?
The 8 Point Lift is a specialised treatment that restores volume to the face for a revitalising and rejuvenating effect, using dermal fillers.
It is a more holistic treatment compared to typical dermal filler treatments and offers a more complete solution to soft tissue loss associated with ageing than individual dermal filler treatments.
Results can typically last for around 18 months.
Why?
As we age we lose soft tissue in the face, resulting in drooping skin that visibly ages people.
The 8 Point Lift can restore volume to the face to lift and combat the sagging skin.
The face is usually the first thing people notice about someone. It's usually always on show and many women and men look for ways to easily and comfortably look fresh and good for their age. Dermal fillers offer a solution but a lot of practitioners do not have the training or experience to achieve the great natural look many patients seek. This is where The Private Clinic comes in. We take the face and assess it in its entirety to establish the best possible treatment available.
The Private Clinic
Our medical team can assess your suitability for the 8 Point Lift at a consultation. We have over 30 years of experience treating patients with non-invasive and minimally invasive treatments. Find out more by giving us a call to book a consultation, emailing us or asking us on social media. The Private Clinic: https://www.theprivateclinic.co.uk/