Our London clinic located in London Harley Street is home to the top medical experts and private specialists in the UK.  We pride ourselves on being able to offer our patients world-class doctors and surgeons in Cosmetic & Plastic Surgery, Body Contouring & Liposuction, Hair Transplants & Restoration, and Rejuvenation and non-surgical treatments for Men and Women.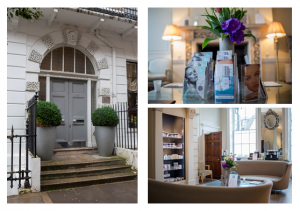 When visiting The Private Clinic at 98 Harley Street you can expect to receive a high level of patient care and satisfaction. We occupy the entire building with consultation and treatment rooms spanning the entire 6 floors and carry out a number of procedures in our in house CQC registered theatres, so there is no need to travel. Our team will ensure you are feeling relaxed and stress-free ahead of your consultation or treatment. The best of Harley Street's doctors, surgeons, nurses and practitioners will then be on hand to discuss all the latest new treatments and offer you a personalised care plan to ensure you reach your desired goals.
Established for over 35 years, we are confident that we are able to offer you outstanding care, medical expertise, honest advice, patient satisfaction and excellent customer care. To find out more about key values click here.
Our Harley Street Clinic is in London Marylebone and offers the widest range of surgical, aesthetic and minimally invasive treatments performed by only the best plastic surgeons, doctors, vascular surgeons and hair transplant surgeons;
Treatment
Surgeons
Plastic Surgery
·         Mr Adrian Richards

·         Mr Davood Fallahdar

·         Mr Navid Jallali

·         Mr Roberto Uccellini

·         Mr Dario Rochira

·         Mr William Van Niekerk

·         Mr Mobin Syed

Body Contouring
·         Dr Dennis Wolf

·         Dr Roberto Uccellini

Varicose Veins
·         Mr Dynesh Rittoo

·         Mr Constantinos Kyriakides

Snoring
·         Professor Kamami
Hair Transplant
·         Dr Raghu Reddy

·         Dr Luca De Fazio
Exclusive to our London Harley Street Clinic is our minimally invasive bunion surgery which is performed under local anaesthesia using keyhole techniques by expert Orthopaedic surgeon, Dr Bianchi. Our bunion removal surgery does not use any fixation devices and you will be able to walk after surgery without the need for crutches.
We also offer a new Treatment for Piles/ Haemorrhoids known as the Rafaelo procedure which is a 15 Minute walk in walk out procedure performed under local anaesthetic by consultant surgeon Mr Nick West. There is minimal downtime and you will be able to return home afterwards with minimal post-operative pain.
As well as our wide range of surgical treatment, we also have a specialist skin treatment centre dealing with common conditions such as pigmentation, wrinkles, sagging jowls, excess hair growth, acne, excessive sweating and thin lips.
Treating thousands of patients every year we pride ourselves on our knowledge and expertise and have a team of some of the most experienced specialists in the industry that can advise on the best treatments including;  wrinkle relaxing injections, laser rejuvenation, dermal fillers, skin rejuvenation peels, micro needling, laser hair removal and non-surgical thread lifts.
Walking through the doors of our Harley Street clinic, you can feel reassured that you will be receiving dedicated pre and post operative care, treatments performed in state of the art clinical or hospital facilities, comprehensive information covering all stages of your procedure or treatment and access to the best Harley street doctors.
Our surgical procedures are carried out at our privately owned hospital located just around the corner from our Harley Street clinic on Fitzrovia Square. Discreetly placed, our hospital offers your privacy and flexibility when it comes to booking your procedure. Our modern facilities, coupled with world-leading expert medical staff, mean only the best for you.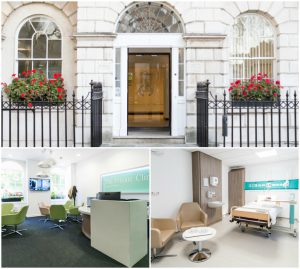 At The Private Clinic our aim is to ensure that every patient's journey is impeccable from beginning to end. Our commitment to patient care is why we are the proud winners of 'Best Cosmetic Surgery Practice' at the 2017 MyFaceMyBody awards and Best UK Clinic Group 2017 at the Aesthetic awards.
We also have one of the highest patients' satisfaction rates on Trustpilot with a 9.4, 5 star rating and 93% would recommend us to their friends and family.
If you are looking to find out more about our London Harley Street Clinic or book in for a consultation please call 0333 920 9135 or click here.
Our London Harley Street clinic is ideally located close to Primrose Hill, Swiss Cottage, Kensington, South Kensington, Chelsea, Pimlico, Victoria, St Johns Wood, Soho, Regents Park, Marble Arch, Belgravia, Green Park and Holborn.