Agnes, a London-based receptionist, wanted to refresh her look while bringing out her own distinctive features.
As a confident 37-year-old, she wanted to accentuate the flattering features of her face like her naturally contoured high cheekbones and striking eyes. At the very same time, she also wanted to improve her imperfections.
One of the main issues that she wanted to correct was the appearance of dark circles and undereye hollowing. As we age, we lose collagen, elastin and fat in this undereye zone, making it look dark and shadowed.
She was also concerned with improving definition across her jawline, to give her side profile a smoothly defined and contoured look.
Agnes' Dermal Filler Treatment Journey
To address these concerns while adding definition to her already sculpted cheekbones, she sought the professional help of Dr Hanson Yu, an expertly qualified dermal filler injector at The Private Clinic. With years of experience in facial rejuvenation treatments and a passion for fuss-free procedures, he explained how Agnes could benefit from a series of hyaluronic acid injections across her jawline, cheeks, nasolabial folds and undereye area.
Dr Hanson discussed Agnes' concerns in a detailed consultation first to get a clear understanding of her beauty requirements. He then recommended the application of deeply nourishing and refreshing fillers to add volume back to the areas that had lost volume, like her naso-labial folds and undereye hollows. Placement of filler across the cheeks and jawline were also recommended to enhance the definition and projection of her jaw and cheeks.
Agnes explains these areas of concern:
"My overall goal was to emphasise the features of my face that I was already happy with, like my visible cheekbones. However, my nasolabial wrinkles and hollowing under my eyes was giving me a constantly tired look. I also wanted to add greater definition to my jawline by creating a subtly pointed shape in my chin, which I always lacked."
Dr Hanson designed a holistic plan to remove dark eye bags while beautifying the cheeks and jaw.
Dr Hanson's Recommended Treatments
Dr Hanson utilised soft dermal fillers to restore plumpness and volume to hollow areas. He then used stronger consistencies to produce a sculpted projection to the cheekbones and jaw.
Tear Trough (Under eye) Fillers
Tear trough fillers instantly revitalised Agnes' bold eyes. This minimised the appearance of her dark circles while brightening her periorbital area. She looked more awake, alert and refreshed as a result.
Cheek definition fillers
Cheek fillers helped to give Agnes a more defined look to her cheekbones. They also lifted and plumped the skin for a streamlined appearance.
Nasolabial Fold Fillers
Nose-to-mouth lines directly contributed to Agnes' tired appearance. By injecting volumising fillers into these deep creases, Dr Hanson was able to smooth them away, giving Agnes a youthful uplift.
Chin augmentation fillers
Chin fillers gave the chin and jawline a more angular and structured shape. Prior to her treatment, it was difficult to detect a clear distinction between her chin and neck area. With this in mind, Dr Hanson applied fillers around Agnes' chin to correct this lack of definition while giving it a gentle yet natural sense of projection. This also has the added benefit of slimming the surface of the chin.
The Results
Agnes was instantly impressed with her visibly lifted and contoured results:
"My cheeks look lifted and I can see the shape of my chin finally. I'm very happy overall and could see the results straight away."
Agnes also commended the natural look of the results:
"The results look amazing, yet very natural. My face glows again and my chin has a much better shape! Dr Hanson is very professional and has a great sense of patient needs. He perfectly addressed my imperfections and knew what had to be corrected and what facial features he needed to accentuate."
Before and After Photos – Agnes
Front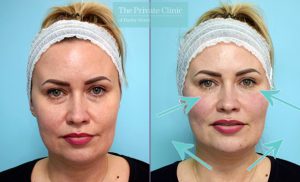 Side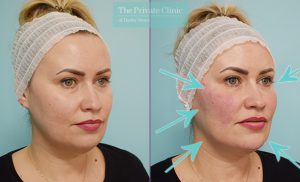 A Painless Lift
When asked about her favourite part of the treatment process, the fact that it was so comfortable and painless was a big win for her:
"The treatments were painless, which was a big surprise to me as I am very sensitive and I often find treatments to my face uncomfortable. Overall, I highly recommend the experience."