After careful consideration, you have now decided to go ahead with a hair transplant and it's time to decide which clinic to go for.  Choosing the right clinic for your Hair Transplant procedure can be a difficult decision as there are a few things to consider ensuring you achieve your desired results. In this blog post, we will be giving some top tips on how to find the best hair transplant clinic to achieve the best hair transplant results.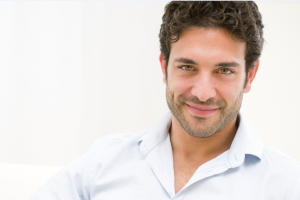 Choosing the right hair transplant clinic.
When looking for a hair transplant clinic there are a few points to consider. The first thing we recommend doing is to look into what type of hair transplant methods they have.
Is the advanced FUE hair transplant technique available? Do they offer the U-FUE, the Unshaven Hair Transplant? What would happen if you are in a premature stage of hair loss? Clinics like The Private Clinic have a trichology department to help treat premature hair loss and address scalp issues or other hair problems.
Are face to face consultations offered? In order to best assess your scalp and recommend the best treatment for each patients need it is imperative that a face to face consultation is arranged. All reputable surgeons will require you to attend a face to face consultation pre-procedure. They will not suggest that you just send over a photo.
Another important tip is to research the hair transplant aftercare available. It is important to find out how many follow up consultations are provided and the availability of on-call medical staff in case you have some questions or concerns that need answering after your procedure
In order to know what type of results can be expected from a hair transplant at a particular clinic or from a particular surgeon, looking at hair transplant before and after photos is imperative. Before and after pictures can give you a general indication of the type of result that can be achieved. Are the results natural? Is the hair densely packed?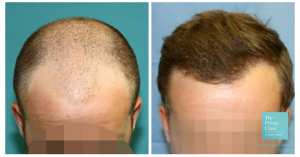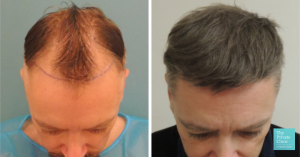 Another important tip is to look for patient reviews on online websites such as Google reviews, Trustpilot or Facebook. Patient reviews can give a first-hand insight on what to expect from the clinic, the results and customer care and aftercare.
Does the clinic have registered medical facilities? Research if the clinic has CQC (Care Quality Commission) registered medical facilities.
How do I know if the hair transplant surgeon is good?
Choosing the right surgeon is very important in order to achieve the best results. You should research the surgeon's experience, possible affiliation to certain societies (ISHRS, International Society of Hair Restoration Surgery).
At The Private Clinic, we count among the world-class hair restoration surgeons some members of the International Society of Hair Restoration Surgery (ISHRS) and the Italian Society of Hair Restoration (ISHR). Our surgeons are highly experienced performing FUE hair transplant procedures and have years of experience treating male and female pattern baldness.
Expert Hair Transplant Surgeons at The Private Clinic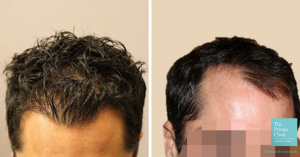 Make the most out of your hair transplant consultation.
Whether you are set on having a hair transplant or you are just considering one, we recommend booking a consultation to find out more information about the treatment, what to expect from it and asses your suitability.
A consultation is the best way to start your hair transplant journey and get to know your surgeon so you can feel confident and comfortable with your decision. At a consultation, you can ask about the possible results for your case and see what can be achieved.
Why you should choose The Private Clinic.
At The Private Clinic, we work with highly acclaimed hair restoration surgeons who work across our clinics in the UK.
We offer the FUE hair restoration technique which is the most advanced and effective hair restoration technique available.
This procedure requires minimal downtime and doesn't leave a linear scar because this procedure extracts the healthy and strong hair follicles from the donor area, located in the back of the head, and then implants them into the treatment areas causing minimal trauma and no linear scarring.
The results are outstanding, resulting in a natural-looking and densely packed head of hair.
At The Private Clinic, we also offer the U-FUE (Unshaven Hair Transplant), an alternative to FUE hair transplant that doesn't require the patient to shave their hair, making this procedure very discrete. We find this one popular for busy businessmen be it Directors, Senior Managers, Department heads, Divisional Directors, CEO's, MD's who do not want people to know what they are doing.
We offer attentive patient care and aftercare
Consultations are with our expert hair transplant surgeons.
24 hour patient helpline to ensure you are always in the best of hands.
We provide detailed pre and post-procedure information to our patients
We offer unlimited face-to-face follow up sessions with your surgeon.
View our before and after results gallery
Find out more information in our blogs
Read our extensive FAQs
Hear from previous Hair Transplant patients in our patient stories and videos
We offer hair transplant consultations in our clinics located in London Harley Street, Manchester, Birmingham, Leeds and Northampton.
To find out more about Hair Transplants or to arrange a hair transplant consultation please get in touch via, 0333 920 2471 or use our online hair transplant contact form.