Robotics and hair transplants are relatively new hair transplantation technique and there is a lot of information online about robotic hair transplants as well as manual hair transplant procedures. In this blog we are going to look at robotic hair transplants and see how they compare to the FUE procedure that we offer here at The Private Clinic.
What is a Robot Hair Transplant?
A robotic hair transplant may also be called an R-FUE or ARTAS. The actual technique of the robotic hair transplant is the same as an FUE hair transplant procedure however half of the procedure is performed robotically rather than manually.
The procedure starts of just like a standard FUE hair transplant procedure would with the donor area being shaved and local anaesthetic being administered to the area. A skin tensioner is then applied to the donor area which aids in the precision of the technique.  The robotic system then uses cameras to get footage of the donor area and then using image processing software it is then able to identify the different properties of the hair follicles. Once the footage has been processed it is ready to start extracting hair follicles from the donor area using a robotic arm and small dermal punches. The surgeon is able to make adjustments to help make the process more precise when necessary.  Once loosened the hair follicles are collected by the surgeon and the technique returns back to a standard FUE procedure where the follicles are prepared before being manually transplanted into recipient areas.
What is a FUE Hair Transplant?
An FUE procedure extracts individual hair follicles from the donor area which are then grafted into areas that are bald or thinning. The ARTAS system has essentially been built to replicate the FUE hair transplant procedure that is traditionally performed manually by your hair transplant surgeon.
We favour the FUE Hair Transplant technique here at The Private Clinic as a minimally invasive hair transplant procedure that aims to give the patients natural and undetectable results.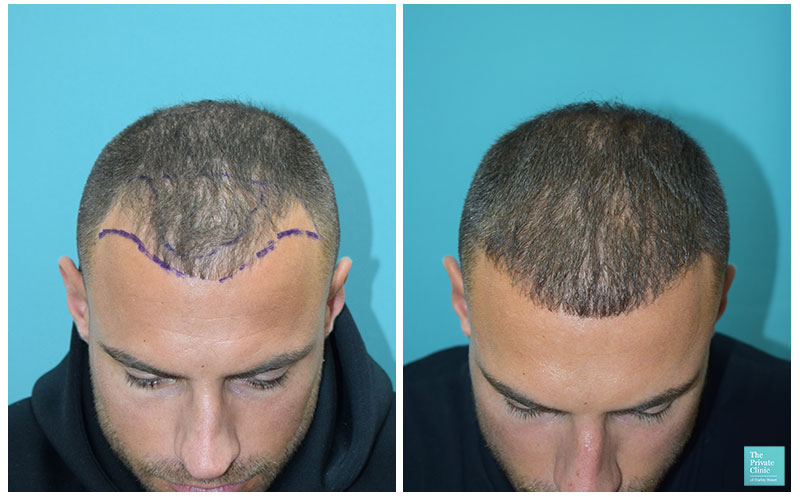 Robotic vs FUE Hair Transplant Procedures
When it comes to comparing the two procedures there are a range of pros, cons and differences to take into consideration. The biggest difference is that the entire FUE procedure is performed manually compared to the Robotic technique where half of the procedure is performed automatically and only the transplantation section of the procedure is performed by your surgeon. The patients that are suitable for Robotic hair transplants using the AARTAS machine can be limiting as it is often only used on patients who are dark straight hair. FUE Hair transplants can be performed on patients with a variety of hair textures including African or Caribbean hair. AARTAS also uses punches that are larger in diameter compared to manual FUE punches which does open the risk to healing complications and the potential to damage nearby follicles.
At The Private Clinic your hair transplant will be performed by one of our experienced hair transplant surgeons who will analyse your scalp, hair growth and hair texture so that they are able to personalise your hair transplant procedure in order to best achieve your desired results.  We work by hair, not per graft – this ensures that only the strongest, healthiest follicles are selected for your transplant procedure. Your donor hair is a limited source which is why we work by hair, not per graft ensuring that only the strongest, healthiest follicles are selected for your transplant procedure.
We understand that many people will have different options on which methods can offer the best results which are why we highly recommend doing your research about the different options and meeting with surgeons to discuss all the options available.
Why choose The Private Clinic for Hair Transplant?
See our comprehensive Hair Transplant videos here.
Click here to see our extensive library of Hair Transplant before and after photos.
You will only be treated by our highly experienced Hair Transplant surgeons who are specialised in FUE (Follicular Unit Extraction) and have treated thousands of patients.
FUE is a minimally invasive treatment (meaning there is no cutting of a strip), and carried out under local anaesthetic – many patients either watch TV, or even fall asleep during the procedure.
You won't require any stitches after your treatment like you would with a strip (FUT) procedure which means your recovery time is reduced.
Only the finest instruments are used resulting in as minimal trauma to your scalp as possible.
The advanced skills and techniques used by our hair transplant team ensures that your donor area will look intact after the hair transplant procedure allowing you to keep your hair really short if you prefer without any obvious scarring.
We aim to deliver only natural looking results with denser packing. This is achieved by implanting the hair in the direction that replicates your natural hair growth.
Our surgeons are the only surgeons in the UK offering the Unshaven Hair Transplant (U-FUE) (the long-hair hair transplant), to those who prefer not to shave beforehand. At your consultation, we will be able to advise you on whether an unshaven procedure is suitable for you.
Scars resulting from injuries or previous hair transplant surgeries can also be corrected.
Read our extensive hair transplant FAQs
Find out more in our Hair Transplant blogs
Hear from previous hair transplant patients in our patient stories here or watch videos here
For more information or to book a consultation with our expert Hair Transplant surgeons click here or call 0333 920 2471.
Expert Hair Transplant Surgeons at The Private Clinic
Hair Transplant consultation are available at our clinics in London Harley Street, Birmingham, Leeds, Manchester and Northampton.