Many of us take our hair for granted, not truly knowing the upset it can cause when you notice your hair thinning out or your hairline receding. There are a variety of products and supplements out there that can help to restore thicker looking locks but if the hair has been lost then often the damage has already been done. In these cases, a hair transplant is usually the treatment of choice for many men. Hair transplant procedures are consistently growing in popularity and we have put together a source of all the information you need to know before making the decision to proceed.
What is a hair transplant?
A hair transplant is a surgical procedure designed to restore hair into areas on the scalp that are thinning or receding. Donor hair is taken from the back of the head and reinserted into the areas that are being treated. There are a few different types of hair transplant procedures, FUE and FUT being the most common techniques.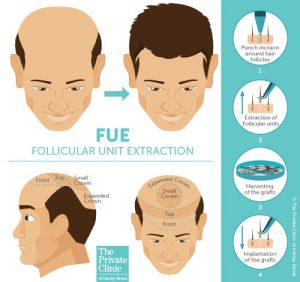 FUT otherwise known as Follicular Unit Transplantation or strip harvesting involves taking a strip of hair from the back of the scalp which is then cut and divided into separate hair follicles which are then inserted back into the scalp into the areas being treated.
FUE or Follicular Unit Extraction hair transplant procedures require the surgeon to make multiple small entry points using a specialised punch device into the back of the scalp to take hair follicles directly from the donor area. The follicles are then prepared and placed back into the areas being treated.
At The Private Clinic, we have been perfecting our FUE technique over the past 10 years and we are able to achieve the most natural results. Many patients are put off by the risk of being left with a long linear scar at the back of the hair following a FUT transplant and for this reason, more and more patients come to us for FUE.
See our website for more information about Hair Transplant procedures at The Private Clinic.
Hair transplant Clinics Locations UK

All hair transplant procedures carried out at The Private Clinic are performed in our own clinics. There is no need to travel to a hospital and the procedure will be carried out at the same clinic where you had your consultation or another one of our clinics nearby. Our clinics have outstanding top of the range facilities and are CQC qualified with only expert hair transplant surgeons performing out of them. Our highly experienced doctors are members of the International Society of Hair Restoration Surgery (ISHRS). To see our full list of hair transplant surgeons click here.
Our clinics are located in;
London Harley Street, 98 Harley Street, W1G 7HZ

Consultations and Hair Transplant Theatre Available at our London Harley Street Clinic.
Located close to; Bayswater, Hyde Park, Green Park, Soho, Notting Hill, Kings Road, Kensington, South Kensington, Chelsea, Fulham, Battersea, Regents Park, St Johns Wood, Primrose Hill, Victoria, West End, Marylebone, Knightsbridge, Belgravia, Mayfair, Holland Park, Earls court and Fitzrovia.
Birmingham, 88 Hagley Road, B16 8LU

Consultations and Hair Transplant Theatre Available at our Birmingham Clinic.
Located close to; Lichfield, Sutton Coldfield, Solihull, Shrewsbury, Kidderminster, Hampton in Arden, Leamington Spa, Stratford, Edgbaston and Harborne.
Leeds, 45 Park Square, LS1 2NP

Consultations and Hair Transplant Theatre Available at our Leeds Clinic.
Located close to; Farsley, Leeds City Center, Methley, Oulton, Stanningley, Yeadon, Roundhay, Chappel Allerton, Scarcroft, Wetherby, Pudsey, Calderdale, Kirklees, Otley and Harrogate.
Manchester, 25 St John Street, M3 4DT

Consultations and Hair Transplant Theatre Available at our Manchester Clinic.
Located close to; Hale/Hale Barns, Bowdon, Alderley Edge, Wilmslow, Macclesfield, Leigh, Prestbury, Nantwich, Tarporley, Knutsford, Worsley, Altrincham, Cheadle and Deansgate.
Northampton, 82 Billing Road, NN1 5DF

Consultation only at our Northampton Clinic, Procedure performed at Birmingham clinic.
Located close to: Yardley Hastings, Collingtree Park, Boughton, East Hunsbury, Great Brington, West Hunsbury, Great Houghton, Grange Park, Little Houghton, Abington, Maidwell, Golf Lane, Harrington, Sandy Lane, Chapel Brampton, Wootton, Kelmarsh,, Abington Vale, Grendon , Weston, Kislingbury, Althorpe, Quinton, Ashton, Harlestone, Upper Harlestone, Guilsborough, Roade, Stanwick, Wellingborough and Raunds.
To book a consultation, please call 0333 920 2471 or use our hair transplant online contact form.
Hair Transplant UK Reviews
"Dr Ismail Ughratdar and the staff took time to answer all my questions, explained the Hair Transplant procedure well and made me comfortable, confident and competent in the skills of the team. I am delighted the results of my Hair Transplant, previously I was sporting the world's best comb over, but now I can sport more than one hairstyle, for which I am grateful and smiling as I write this review. Thanks a million to all at the Private Clinic."
"I have undergone multiple treatments with Dr Raja including a hair transplant and non surgical hair loss treatment. Throughout my whole experience I've been treated with respect and made to feel comfortable at all times, both my care on the day of my treatments and before/after has been amazing and way above what I expected. I would absolutely recommend Dr Raja and the wider team to anyone looking to undergo hair related treatments."
R Devlin, Manchester – TrustPilot
"After looking at plenty of clinics for a hair transplant I settled on The Private Clinic after reading the great reviews. From the initial consultation with Dr Mouzakis, Sorena and Nabeel to the day of my transplant the team have been superb. The surgery was practically painless and I am very happy with my new hairline, all the team were constantly ensuring I was ok and were very professional. The aftercare I have received has been great and I've had phone call already to check how I am. I like also like knowing that I can phone at any time if I need any advice."
Sean, Leeds
View more hair transplant reviews here, or watch hair transplant patient testimonials here.
Hair Transplant UK Before and After Photos

For more FUE Hair Transplant before and after photos see our online gallery.
Hair Transplant Blogs UK
Another great way to find out more information about Hair Transplants is to view our blogs section. We write regular blogs on all the treatments we offer here at The Private Clinic covering hot topics, celebrity news, recovery tips, frequently asked questions, treatment recommendations and more in-depth information about the procedures we offer. Some of our top hair transplant blogs include;
To see more of our Hair Transplant blogs, visit our blog section.
Hair Transplant FAQs
Our most frequently asked hair transplant questions are covered in our FAQs. These are regularly updated to cover all the latest questions and is a great place to browse should you have any queries regarding anything involving or regarding a hair transplant, from what causes hair loss in men to what happens during a hair transplant procedure and how long to avoid exercise to whether you can wear a hat post procedure.
For the answers to these questions and more, see our FAQ section.
Why Choose The Private Clinic for a Hair Transplant Procedure?
You will be treated by highly experienced Doctors. Our Hair Transplant surgeons are highly skilled in FUE (Follicular Unit Extraction) and treat hundreds of patients every year.
FUE is a minimally invasive treatment (meaning there is no cutting of a strip), and carried out under local anaesthetic – many patients either watch TV, or even fall asleep during the procedure.
You won't require any stitches after your treatment. This means that the recovery time is also reduced when compared to the Strip surgery (FUT).
We use the finest instruments, resulting in as minimal trauma to your scalp as possible.
Thanks to our advanced skills and techniques, our team ensure that the donor looks intact after the hair transplant procedure and you can keep your hair really short if you prefer without any obvious scarring.
Following treatment, there will be no linear scarring across the back of your head as seen with the strip method (FUT) – you'll be free to wear your hair long or short.
We choose the best follicular unit (a group of hairs), this ensures that only the strongest, healthiest grafts are used for your hair transplant procedure.
Your results will look natural, with denser packing – the hair is implanted in the direction that matches your hair growth.
We are one of the very few clinics able to offer the Unshaven Hair Transplant (U-FUE) (the long-hair hair transplant), to those who prefer not to shave beforehand. At your consultation, we will be able to advise you on whether an unshaven procedure is suitable for you.
Scars resulting from injuries or previous surgeries can also be corrected. In fact 30% of all patients that come to us have been somewhere before and need further work to improve on a disappointing result. This could be a previous bad hair transplant or we can cover linear scars caused from FUT hair transplants.
View our before and after results gallery
Find out more information in our blogs
Read our extensive FAQs
Hear from previous Hair Transplant patients in our patient stories and videos
Expert Hair Transplant Surgeons at The Private Clinic
For more information or to book a consultation with our expert Hair Transplant surgeons call us on 0333 920 2471 or use our online hair transplant contact form.