Coco Chanel once said "you can be gorgeous at thirty, charming at forty, and irresistible for the rest of your life".  It's time to get irresistible…  
By the time we approach 50 our skin has normally gone through a lot of changes from younger adult years, but that doesn't have to be for the bad.  Although hormone changes, children and general wear and tear might leave your skin looking less radiant than it once did, a proper skincare regime and the right treatments can make all the difference…
Loss of firmness and sagging
Our skin thins as we age. Collagen and elastin production slows down, while accumulated cell damage prevents natural repair. At the same time, the fat that gives our skin volume and shape begins to lessen causing it to sag and shift downwards. This can make even those of us who have the most rigorous beauty regime look older, particularly as there's very little we can do to slow down the depletion of fat.
Face Fat Transfer
In terms of treatment options, there's thankfully a range of minimally-invasive offerings designed to replump the face and get it back to its natural fullness. One of our most popular (and 'natural') is an innovative procedure called Fat Transfer, which involves the extraction of fat through minimally-invasive liposuction from elsewhere on the body before it is transferred to the face. This is particularly popular with patients due to its organic nature (and the 2-in-1 aspect of toning elsewhere at the same time), though it does require the patient to have suitable levels of fat on the body – meaning it's not ideal for everyone.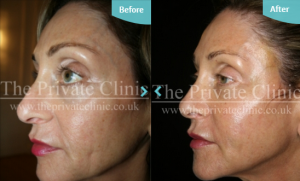 Thread Lift
For those who don't have suitable levels of fat or aren't keen on using liposuction, another popular treatment is something called the Silhouette Lift (also known as a Thread Lift, Puppet Facelift or Silhouette Soft) which, performed under local anesthetic, uses bio-degradable threads to lift areas of sagging and loose skin. It's an incredibly effective treatment for those who are suitable, with minimum downtime and no need for extensive time off work, however you have to be able to trust your clinic and doctor entirely to ensure it will make the difference you want.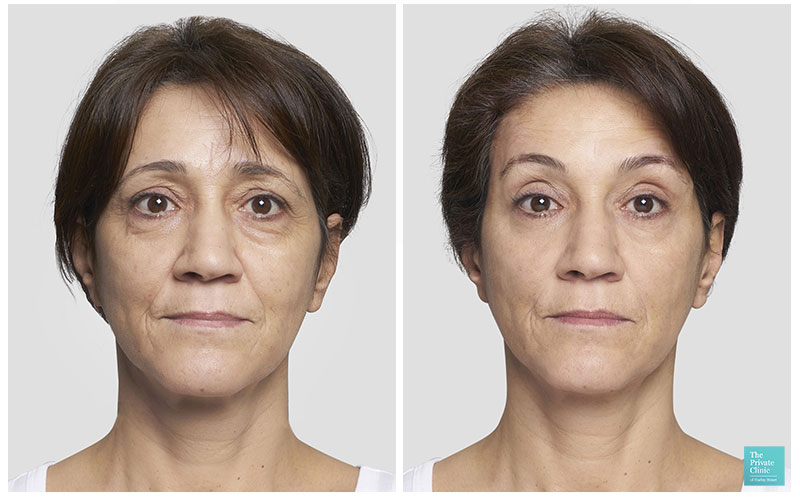 Thermage
Another great option for sagging skin is Thermage treatment.
Thermage is the only non-invasive procedure that helps tighten and contour your skin in a single treatment—with no surgery, no injections, and no downtime. The treatment works on all skin types on and off the face. It produces subtle and gradual results resulting in smooth, sleek skin and an overall younger looking appearance.
Thermage treatment involves using radiofrequency technology to heat the deep and collagen rich layers of your skin. This heat works to remodel the existing collage as well as increasing the production of new collagen which as a result will improve the overall texture and smoothness of the skin.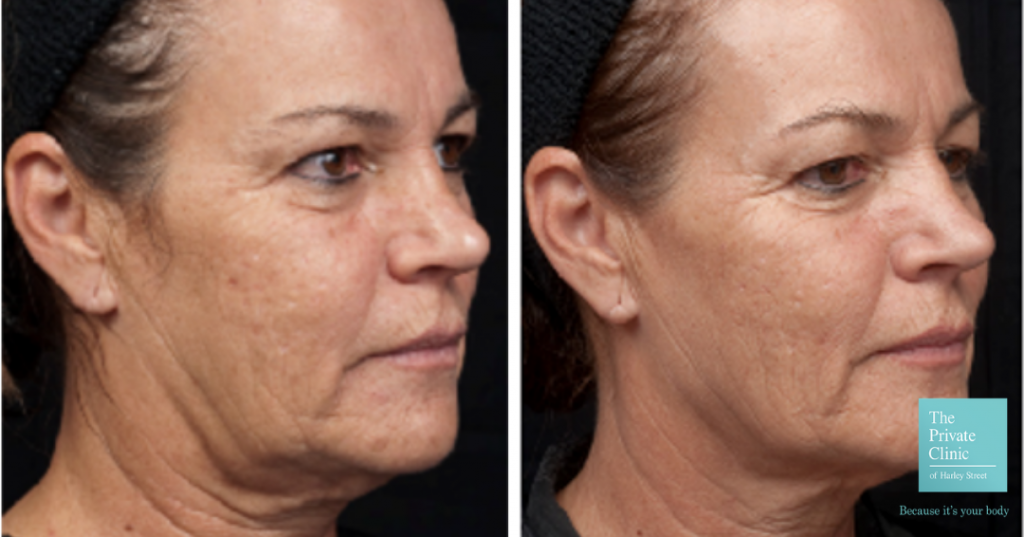 Dry Skin
As our hormones change, so too does the skin's ability to produce its natural lubricator – sebum. This means our face longer moisturises itself in the same way, leading to dryness, a lack in radiance and dull skin. Your first step to addressing the problem is always to invest in a good skincare regime. We'd recommend medicosmetic companies like Epionce, Obagi and Circadia, though the best way to discover a skincare plan is normally by arranging a consultation with a therapist or advisor according to your complaint. It can be expensive spending money on products if they aren't suited to you or if you aren't using them in the right way; collagen, for example, is too large a molecule to penetrate the skin if simply applied by itself. No matter how much of the protein a cream might have, if it's not applied correctly it will just rest on the surface of the skin, doing nothing to sort out your skin complaint. Make sure anyone you speak to has extensive training in skincare and understands the best combination for your needs.
Chemical Peels and Microdermabrasion can be a great way to get rid of a build up of dead skin cells that have made the face appear less radiant, with TCA peels particularly suitable for more mature skin. After getting your skin to the stage you want it, upkeep is absolutely vital and it's here your home care plan comes into play. A high-factor sun cream used everyday is our dermatologists' secret weapon- not only does it protect against nasty illnesses like skin cancer, it also stops some of the key signs of ageing taking place.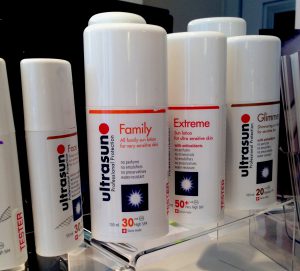 Wrinkles and lines
The fine lines and delicate creases of younger years have normally formed into full-blown wrinkles by our fifties and, despite what marketing ploys try to tell us, creams and lotions will very rarely do much to reverse them. If you've got your skincare plan in place to prevent further damage but are still keen to sort our existing problems, two of the most popular treatments are wrinkle injections and dermal fillers which tackle problem creases in different ways.
Wrinkle Injections
Wrinkle injections work by blocking the impulse from the nerve to the facial muscles, preventing the contractions that cause wrinkles in our skin. There's a range of variations available, though the most popular (and by far the most well known) is Botox; Allergan's trademarked term for the protein and neurotoxin Botolinum Toxin. Because wrinkle injections block the nerve action taking place they, in turn, have a cumulative effect meaning you'll need less as time goes on. Botox is, however, a prescription drug and should only ever be administered by professionals – the concerning trend of Botox parties and small salons offering wrinkle treatments is extremely dangerous. If it seems too cheap to be true, it normally is.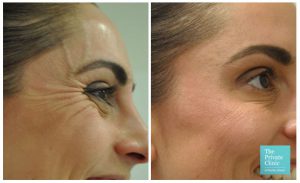 Dermal Fillers
Dermal fillers are often confused with wrinkle injections but they work in an entirely different way – instead plumping areas lacking in volume or experiencing wrinkles with a gel containing Hyaluronic Acid which restores shape and fullness. Again there are many fillers on the market that are substandard or, sometimes, even dangerous. If you're considering fillers ensure that the person performing them is fully qualified and only using one of the most recognised brands (like Galderma or Allergan).

Laser Skin Resurfacing
Our laser skin resurfacing treatments are another great option for patients who are experiencing fine lines and wrinkles but doesn't like the idea of injections. We offer three types of Pearl Resurfacing Treatment available; Pearl, Pearl Fractional and Pearl Fusion. The three different treatments allow our expert practitioners to create the most tailored experience for your skin's needs and achieve the best possible outcome. Each patient's requirements are entirely individual, but Pearl Laser Resurfacing is normally most suitable for finer wrinkles and damage, while Pearl Fusion is a much deeper treatment for more active rejuvenation on damaged skin.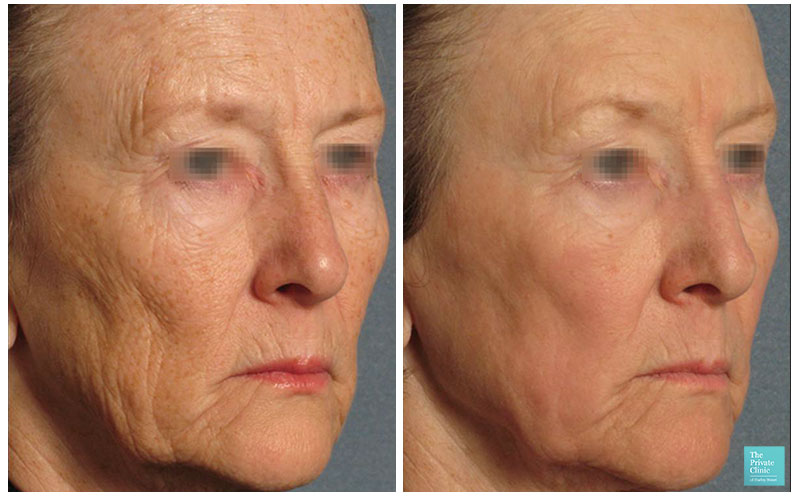 Surgical options
Your fifties may be when you start to consider your surgical options for rejuvenation, which vary depending on what you're looking to achieve. Facelifts can help those who have experienced more severe sagging or dramatic loss in volume, though a surgeon will be able to advise on your options. Likewise, treatments like Blepharoplasty (eyelid lifting/eye bag removal) can make a huge difference to the entire face, with many performed under local anaesthetic. Surgical treatments are always a huge thing to consider, which is why you need to work closely with a good surgeon to ensure they are the best way forward for you.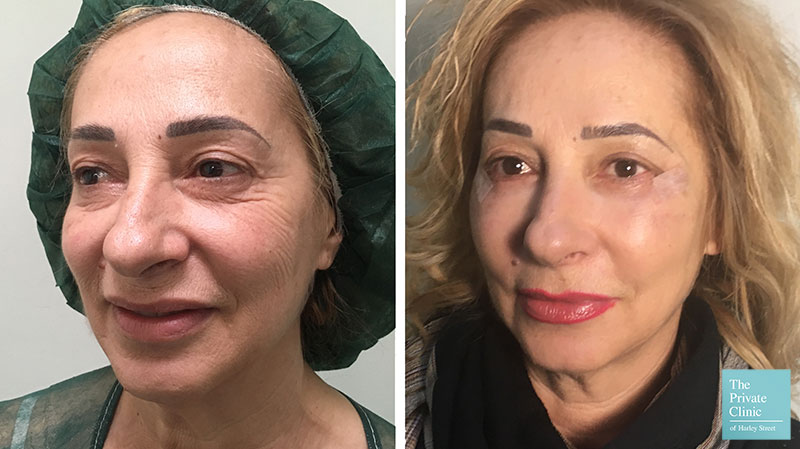 Summary
Like Coco Chanel, we believe your fifties are the time to start feeling irresistible. Finding the right skincare plan always comes down to your individual needs, and your first step should be to meet with the right professionals to understand what your skin requires. Whether it's someone who is able to advise on the right retail products for you, or a qualified surgeon who can take you through more long-lasting options; your face is too important to let anyone but the best tell you how to go forward.
Our clinics are located in London Harley Street, Birmingham, Bristol, Buckinghamshire, Leeds, Manchester and Northampton.
For more information on the range of procedures available at a clinic local to you, please contact us on 0333 920 2471 or use our online contact form.