Mike Thurston is a personal trainer and online fitness coach who came to us back in early 2019 seeking hair loss advice.
Mike had always been prepared to experience a degree of hair loss as he knew his dad had suffered with hair loss from an early age. Having previously had quite thick hair during his teens, Mike started to notice his hair thinning and certain hair styles were making this more prominent.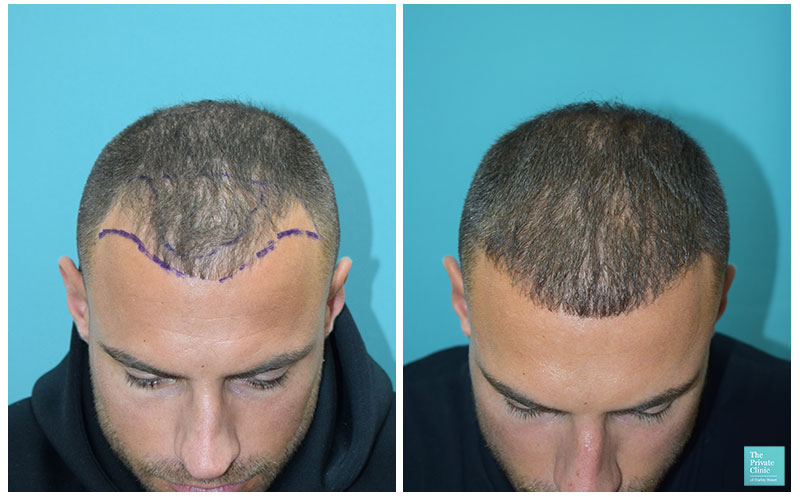 In 2017, Mike decided to admit defeat and shave his hair off to a buzz cut which at the time he felt would disguise the bald pattern of hair loss however he started to grow his hair back and used products to make it appear fuller with a stronger hairline. Over time however he felt this was a lot of effort to maintain and he either needed to commit to a buzz cut or start looking into a more permanent solution such as a hair transplant.
Mike started his research to find out more about the procedure and decided to come along for a consultation at The Private Clinic with expert hair transplant surgeon, Dr Ragu Reddy.
Dr Reddy provided Mike with a lot of information and advice for him to think about and consider before he decided to go ahead with a FUE Hair Transplant procedure.
"The big thing about when you get a hair transplant done is that it really is down to the surgeon who is doing the procedure. If I am getting something like this done on my hairline, which is very important to me and which a lot of people are going to see…  I want it to be done by the best of the best and I don't care if it does cost me a lot of money. It is like anything in life, you get what you pay for. So I wanted to find somebody who knows what they are doing, somebody who has experience, somebody who has been doing it for years, someone who has been very consistent with delivering results and somebody who a long list of testimonials that I could look at and get some confidence from"
Mike arrived at The Private Clinic of Harley Street ready for his 2-day FUE Hair Transplant procedure. Around 1270 grafts were extracted and used to treat the hairline and the crown.
The recovery period for Mike went well and the only problem he found was not being able to exercise which was previously part of his daily routine. After three weeks, Mike did experience shock loss to his crown, and it was not until 6 months post-procedure that he started to notice the results in that area – which is very normal.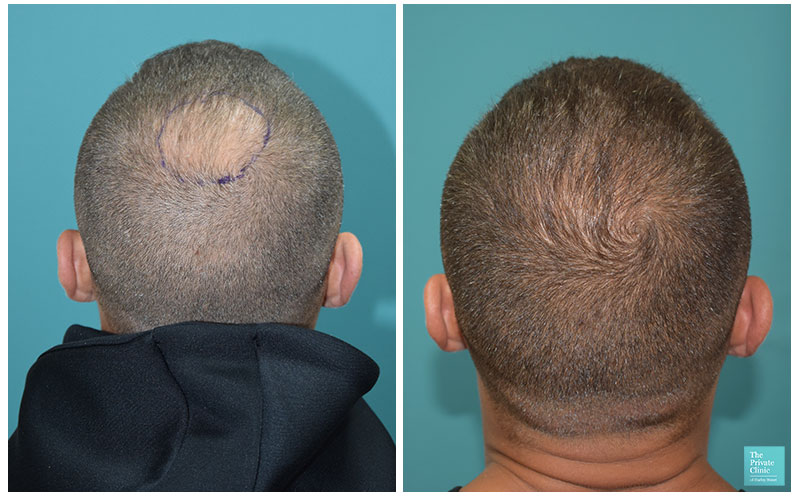 Mike prides his recovery on his healthy lifestyle including:
Eating a nutritious diet
Regularly exercise
Reduced alcohol consumption
Getting enough sleep
Not getting stressed
Mike also took finasteride and applied topical minoxidil which he felt has helped to maintain his results.
Now, 12 months on Mike is thrilled with the results from his hair transplant and offers any patients considering a hair transplant the following advice:
Do your research into the procedure, clinic and surgeon
Attend a consultation to assess your suitability
Shave your head first to see if you like it – you may not choose to go ahead with a hair transplant
FUE Hair Transplant at The Private Clinic
You will be treated by highly experienced Doctors. Our Hair Transplant surgeons are highly skilled in FUE (Follicular Unit Extraction) and treat hundreds of patients every year.
FUE is a minimally invasive treatment (meaning there is no cutting of a strip) and carried out under local anaesthetic – many patients either watch TV, or even fall asleep during the procedure.
You will not require any stitches after your treatment. This means that the recovery time is also reduced when compared to the Strip surgery (FUT).
We use the finest instruments, resulting in as minimal trauma to your scalp as possible.
Thanks to our advanced skills and techniques, our team ensure that the donor looks intact after the hair transplant procedure and you can keep your hair really short if you prefer without any obvious scarring.
Following treatment, there will be no linear scarring across the back of your head as seen with the strip method (FUT) – you will be free to wear your hair long or short.
We choose the best follicular unit (a group of hairs), this ensures that only the strongest, healthiest grafts are used for your hair transplant procedure.
Your results will look natural, with denser packing – the hair is implanted in the direction that matches your hair growth.
We are one of the very few clinics able to offer the Unshaven Hair Transplant (U-FUE) (the long-hair hair transplant), to those who prefer not to shave beforehand. At your consultation, we will be able to advise you on whether an unshaven procedure is suitable for you.
Scars resulting from injuries or previous surgeries can also be corrected. In fact, 30% of all patients that come to us have been somewhere before and need further work to improve on a disappointing result. This could be a previous bad hair transplant, or we can cover linear scars caused from FUT hair transplants.
Read our extensive hair transplant FAQs
Find out more from our informative Hair Transplant blogs
Hear from previous hair transplant patients in our patient stories and videos
FUE Hair Transplant Surgeons at The Private Clinic
We offer consultations in London Harley Street, Birmingham, Bristol, Leeds, Manchester and Northampton.
To find out more about hair transplant procedures, please call 0333 920 2471 or use our hair transplant online contact form.