As summer slowly approaches now is the time that patients start to consider their surgical options to be healed in time to show off their new shape on the beach.
As we all start to take a keen interest in having a healthier lifestyle and exercising on a regular basis our bodies are almost prepped and primed for the big reveal once the plane wheels hit the tarmac. But for some, their efforts of weight loss have been brushed aside with the issue of sagging skin now being the source of their body concerns. Excessive weight loss can cause the appearance of sagging skin due to the skins laxity not being able to tighten and restore to its new shape.
Pregnancy can also cause sagging skin with many mums struggling to get their body back to its former glory.
So what can be done?
An Abdominoplasty is a common body contouring procedure that is targeted at removing excess skin from the stomach and tightening the abdominal muscles if needed too.
The procedure is carried out under a general anaesthetic and in most cases does require an overnight stay. Excess skin and fat are removed from the stomach before the belly button is lifted to a higher position with the aim of creating a smoother and tighter appearance.
In certain cases, a mini abdominoplasty may be recommended which is suitable for patients who just have an area of excess skin located between the belly button and pubic bone compared to the whole area. There is also not normally a scar around the tummy button after a mini tummy tuck procedure as the belly button is not repositioned.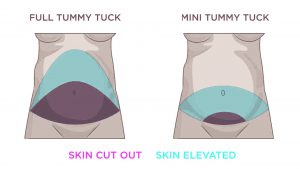 What is the recovery like?
Recovering from a tummy tuck will vary between individuals but we usually recommend patients to take between 1-3 weeks off of work depending on their job role. You will be prescribed pain killers to help reduce any pain but swelling and bruising will be present and you may find carrying out certain tasks uncomfortable such as reaching up, standing up and being upright for long periods.
The recovery time after a mini tummy tuck is slightly shorter in some cases but it should still be classed as major surgery and the appropriate post-op care will still be required.
When can I travel after surgery?
We usually advise patients to wait 6 weeks before travelling. This allows you to heal fully and for your surgeon to see you at your 6 week appointment to give you the all clear before you go. Travelling abroad especially should ideally not be before 6 weeks as, should anything happen you may not be covered by your travel insurance and your surgeon will not be able to travel to see you.
When can I sunbathe after surgery?
Ideally, we do recommend that patients keep their scars out of the sun for the first year after surgery. Scars in these early stages are more prone to pigmentation and darkening when exposed to sunlight and UV rays.  If planning a summer beach holiday then it is important that you take care of your scar, keep it covered and protected with sun cream with limited exposure to direct sunlight.
But that doesn't mean you can't enjoy some time spent away with many patients taking full advantage of their new shape to wear clothing they previously felt they couldn't with a new found feeling of confidence.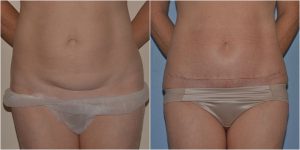 Why choose The Private Clinic?
The Private Clinic sees over 15,000 new patients every year and perform over 10,000 procedures, with one of the highest patients' satisfaction in the sector, TrustPilot 9.4, 5 star rating, 96% would recommend us to their friends and family. We are a multi award winning provider and have been voted the Aesthetic award for Best UK Clinic Group 2017.
The Private Clinic prides itself on its commitment to Medical Expertise, Patient Care and Satisfaction, Honest advice and most importantly Results. We are above all committed to Quality. Please feel free to contact us for any Tummy Tuck advice or to book a consultation with one of our expert surgeons;
Consultations are available at;
London Harley Street, Bristol, Buckinghamshire, Birmingham, Leeds, Manchester, Northampton and Glasgow and at our consulting rooms in Milton Keynes.
If you would like to discuss tummy tuck options please call 03339209135 or use our tummy tuck online contact form to book a consultation with one of our surgeons or advisors.