FUE Hair Transplant Results after 3 Months
HAIR LOSS & HAIR TRANSPLANTS
Home » FUE Hair Transplant Results after 3 Months
FUE Hair transplant procedures are great at restoring a hairline or filling out thinning hair but the best results are seen from those who have taken the best care during their recovery time. Hair transplants will always involve a certain amount of time for the recovery, healing and growth of the news hairs and patients in clinic frequently ask us how long it takes for the hair to regrow.
How long does it take for hair to grow after a FUE Hair Transplant?
You will be able to see the new outline of your hairline immediately following your hair transplant procedure but there is a recovery process involved meaning it can take up to 12 months for your final results to be seen. Our expert hair transplant surgeons will be able to provide more information on what to expect following a FUE Hair Transplant and ensure you have realistic expectations from the procedure before proceeding with treatment.
0 – 7 days post FUE Hair Transplant
Immediately after your hair transplant you will be able to visually see the shape of your new hairline but this is not your final result. The follicles have been implanted into their new positions but there is a process of recovery they need to go through before you can start accurately judging your final results.
You may start to notice some scabbing around the newly implanted hair follicles but your hair transplant surgeon will give you a spray to try and reduce this but the scabs will be very small and will heal quickly over a few days.  You may also notice some swelling on the back of the head in the donor area. Swelling is only temporary and will reduce over a matter of days post procedure. Redness may be present over the graft implant site and you may experience some tenderness or soreness which can be managed with pain relief medication.
Your surgeon will give you a full list of aftercare advice which may include things like elevating your head whilst sleeping and when you can wash your hair post procedure. We recommend that you follow the surgeon's recommendations and then both the transplanted and donor areas will settle down within 5-7 days.
Many patients return to work within 1-2 days after their procedure but some many prefer to take a week off to fully recovery if their workplace is unaware of your procedure or if your work is particularly strenuous.
Exercise including heavy lifting should be avoided for at least 10 days and we recommend not using steam rooms, saunas and any other activities that might cause excessive sweating too.
We also recommend that patients do not drink alcohol for around 7 days as this can affect the blood supply to your scalp which can affect the rate in which your transplant heals.
Find out more about FUE Hair Transplant Aftercare here.
1 day post procedure
2 days post-procedure
5 Days post-procedure
1 Week post procedure
2 weeks post-procedure
Two weeks after your FUE Hair Transplant you may notice some hair loss in the areas treated. Your surgeon will have advised you on this, this is a very normal and common side effect from the procedure often referred to as shock loss. It just means the old hairs are falling out and there is no issue with your grafts taking root.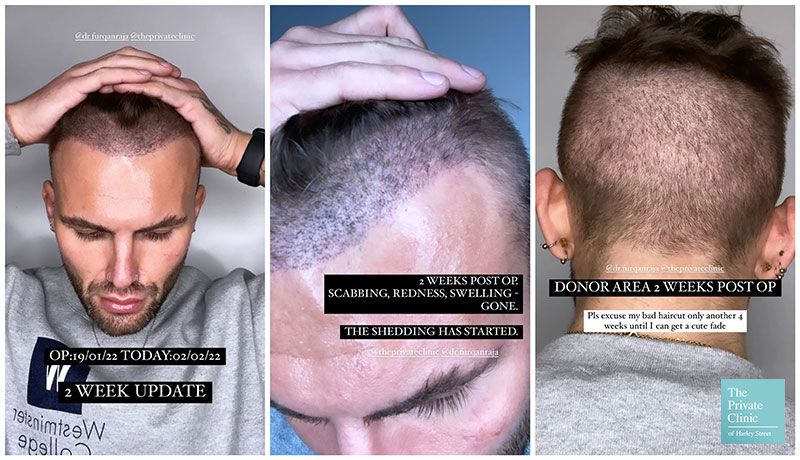 3-5 Months post-procedure
You may not notice a huge change to your FUE Hair Transplant results at 3 months. After your initial shock loss, your new hair will only be growing 1cm per month so it is going to take a little bit of time before it begins to resemble the result that you were hoping for.
At 4-5 months your hair should have grown enough so you will be able to start to see what the final appearance is going to look like. You should continue to look after your new hair follicles as advised by your surgeon for 18 months post procedure.
Your hair in the donor area should have fully grown back by this stage too.
1 year post procedure
As 12 months approaches your new hairs should have established themselves and be growing at a normal rate acting the same as your other hair follicles. After 12 months you will be able to have your hair trimmed or dyed.
The results of a hair transplant can take up to 18 months to fully be visible.
2 years post procedure
FUE Hair Transplants are permanent hair restoration procedures and aim to achieve lifelong results. At 1-2 years post-procedure no one should be able to notice that you have undertaken a hair transplant procedure and you will be completely free to have your hair in whatever style you choose.
For more information about what to expect during the recovery process of a FUE Hair Transplant procedure view our patient's video diaries;
Doug's FUE Hair Transplant Diary
See more videos from Doug here.
Steven's FUE Hair Transplant Diary
See more videos from Steven here.
FUE Hair Transplant Before and after photos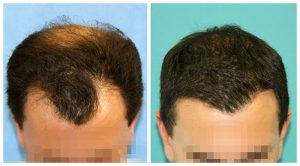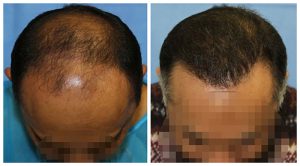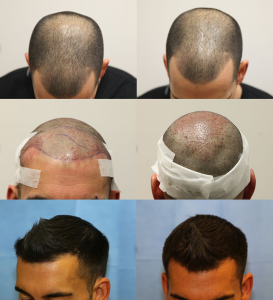 See more hair transplant before and after results here.
FUE Hair Transplant Reviews
"I received my hair transplant at the Private Clinic in Manchester. At first I was very unsure what to expect, however Alex and the team where all fantastic at providing information throughout the entire process, start to end, and I couldn't thank them all. A big Thankyou to Dr Raja who completed my surgery. He was excellent at providing me information about the surgery, to making me feel totally comfortable on the day. The process itself was pain free and the team went above any beyond for me. I am absolutely thrilled with the results and aftercare I received through him and his team. I would definitely recommend Alex, Dr Raja and the team at the private clinic Manchester to anyone who is considering any treatment, not just a hair transplant. Amazing from start to finish. Thankyou again."
Mike – Manchester
"Very pleased with the hair graft procedure and aftercare I received from Dr Mouzakis at TPC. Being a completely new experience for me Dr M was able to advise through every step of the journey which was a huge factor for me when considering a domestic procedure. The procedure itself was very comfortable and I would not hesitate to use Dr M again in the future. 12 months on and I am delighted with the result."
Chris, London
"Dr Ismail Ughratdar and the staff took time to answer all my questions, explained the Hair Transplant procedure well and made me comfortable, confident and competent in the skills of the team. I am delighted the results of my Hair Transplant, previously I was sporting the world's best comb over, but now I can sport more than one hairstyle, for which I am grateful and smiling as I write this review. Thanks a million to all at the Private Clinic."
Stuart, Birmingham
Our specialised hair transplant surgeons are:
Hair transplant consultations are available at our clinics in London Harley Street, Birmingham, Leeds, Manchester and Northampton.
Why choose The Private Clinic for your Hair Transplant procedure?
You will be treated by highly experienced Doctors who are highly skilled in FUE (Follicular Unit Extraction) and treat hundreds of patients every year.
FUE is a minimally invasive treatment (meaning there is no cutting of a strip), and carried out under local anaesthetic – many patients either watch TV, or even fall asleep during the procedure.
You won't require any stitches after your treatment. This means that the recovery time is also reduced when compared to the Strip surgery (FUT).
We use the finest instruments, resulting in as minimal trauma to your scalp as possible.
Thanks to our advanced skills and techniques, our team ensure that the donor looks intact after the hair transplant procedure and you can keep your hair really short if you prefer without any obvious scarring.
Following treatment, there will be no linear scarring across the back of your head as seen with the strip method (FUT) – you'll be free to wear your hair long or short.
We choose the best follicular unit (a group of hairs), this ensures that only the strongest, healthiest grafts are used for your hair transplant procedure. See our Hair Transplant videos here.
Your results will look natural, with denser packing – the hair is implanted in the direction that matches your hair growth.
We are one of the very few clinics able to offer the Unshaven Hair Transplant (U-FUE) (the long-hair hair transplant), to those who prefer not to shave beforehand. At your consultation, we will be able to advise you on whether an unshaven procedure is suitable for you.
Scars resulting from injuries or previous surgeries can also be corrected. In fact 30% of all patients that come to us have been somewhere before and need further work to improve on a disappointing result. This could be a previous bad hair transplant or we can cover linear scars caused from FUT hair transplants. Find out more here.
We treat Afro-Caribbean hair loss, as well as eyebrows, beard and facial hair.
Read our extensive hair transplant FAQs
Find out more from our informative Hair Transplant blogs
Hear from previous hair transplant patients
To find out more about FUE Hair Transplant procedures, please call 0333 920 2471 or use our Hair Transplant online contact form.