Surgeon Spotlight: Dr Dennis Wolf
VASER LIPO
Home » Surgeon Spotlight: Dr Dennis Wolf
Dr Dennis Wolf is a highly experienced Vaser liposuction surgeon at The Private Clinic.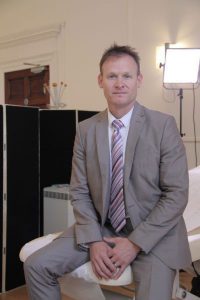 Dr Wolf has been working within the cosmetic surgery world since 2008 after completing his medical training initially in South Africa before coming over to the UK undertaking various training roles in London training hospitals. After leaving the NHS, Dr Wolf focused his time on training within the private health sector in cosmetic surgery – in particular body contouring and fat transfer procedures.
At The Private Clinic, Dr Wolf runs a consultation clinic in London Harley Street and primarily operates out of our purpose built theatre in Fitzroy Square, London.
Dr Wolf specialises in vaser liposuction and is actually one of the few doctors in the UK perfecting the revolutionary VASER Hi-Def Liposculpture.
Vaser Liposuction
Dr Wolf has carried out over 3,000 vaser liposuction procedures at The Private Clinic to date. It is a minimally-invasive liposuction procedure that is usually performed under local anaesthetic with no need for an overnight stay.
Small incision holes are created which only leave minimal scars and generally heal very well. A small probe is inserted into the area to be treated via the incision holes which is then used to transmit the ultrasound energy and liquefy the fat cells before they are removed from the body through a gentle suction process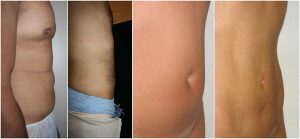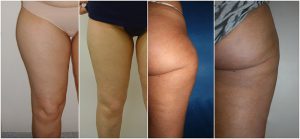 Vaser Hi-Def
Vaser Hi-Def is not commonly performed at the majority of cosmetic surgery clinics with The Private Clinic still being one of very few groups in the UK to be certified to perform the treatment.
The procedure of Vaser Hi-Def is similar to Vaser liposuction however it works to remove both superficial and deep fat that surrounds muscle groups with the aim of creating a more sculpted and athletic appearance to the body by enhancing the visibility of underlying toning and musculature.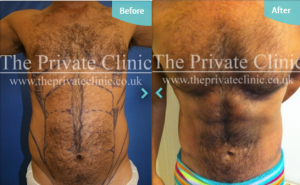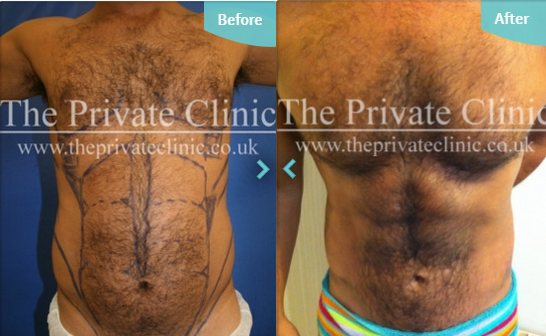 Why choose Dr Wolf and The Private Clinic for Vaser Liposuction?
You will be able to have a consultation with Dr Dennis Wolf to discuss your concerns and potential treatment plan.
We have a 24-hour patient helpline to ensure that you are always in the best of hands.
You will be able to have as many post-operative care and appointments with your surgeon, doctor and nursing team as required.
You will be covered for one year for all surgical, hospital and nursing care, in case of any medical issue giving you peace of mind*.
You will be given one of our exclusive Liposuction Patient guides ensuring that you have comprehensive patient information, every step of the way.
Our highly experienced surgeons and doctors have had years of experience in vaser liposuction.
We have outstanding and state-of-the-art hospital facilities.
We are competitively priced for our expertise and experience.
Our excellent reputation for patient safety and satisfaction, honest advice and outstanding care means your journey with The Private Clinic will be an exciting experience to a newfound shape.
We are excited to announce that our very own Dr Dennis Wolf is going to feature in the popular medical TV show; 'Dr Christian Will See You Now'.
The show is hosted by Dr Christian Jessen who is a British doctor best known for presenting Channel 4 programmes such as Embarrassing Bodies and Supersize vs Superskinny.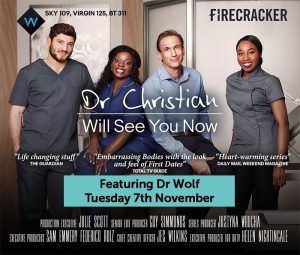 'Dr Christian will see you now' is a TV programme set in Dr Christian's state of the art clinic and is focused on showcasing various medical conditions, both common and uncommon. You will see patients who desperately need his help visiting him in clinic to be firstly diagnosed before going through the recommended treatments for their condition.
On Tuesday November 7th on channel W (Sky channel 109, Virgin Channel 125, Virgin Channel 512 and Channel 311 for BT, Talk Talk TV and PlusNet) Dr Dennis Wolf with feature on 'Dr Christian will see your now' meeting patient Candice who is struggling with her weight gain and difficulties in losing weight. Candice is diagnosed with a condition called Lipoedema which is when fat cells deposit in a disproportionate manner mainly in the lower part of the body and the weight gains in this area often do not respond to any natural attempts of weight loss like dieting and exercise.
Although Vaser liposuction has not been proven to cure this condition, it can certainly play a big part in helping by removing the bulk making it less likely for the condition to progress and easier to control.
To find out more about Dr Wolf, get some more information on vaser liposuction, or book a consultation please call 03339209135 or use our vaser lipo online contact form.